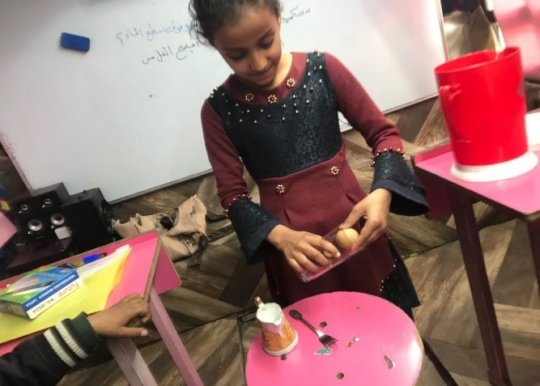 Dear Friends of Iraqi Children:
March 8th is a great day to celebrate the girls and women in Iraq! On International Women's Day, we think of the vulnerable Iraqi girls you support with legal protection, tutoring, health care, nutrition, and help in stopping work or avoiding early marriage. Just as important, they are getting inspiration, confidence, and hope for the future! What else can fuel a little girl's audacious dream to be an astronaut or the first woman president of Iraq? But yes, that is what they told us.
We also think of the Iraqi women ICF has worked with. We think of our friend Hala, a Fulbright scholar and public health expert with whom we worked on a clinic for babies, children and families who fled ISIS. We think of three amazing women lawyers - Aliya, Eman, and Fatima - on the Street Lawyer team that protects and defends young girls from trafficking and exploitation. We think of the teachers at the Hope Buses - like Sarah and Rania - who have poured their hearts into teaching poor orphaned and working girls to dramatically change the trajectory of their lives.
Don't be surprised, but on this day for women and girls, we also think of men. Yes, men here in the US who provide significant leadership and resources to protect and educate young Iraqi girls. And men in Iraq - like Firas, Ahmed, and Yasir - who are on the team of lawyers and social workers defending and supporting girls at the margins of society. These men challenge the cultural, legal, and social barriers young Iraqi girls face and we are proud of them for it.
Last, take a bow yourself! All of you - the men and women who support Iraqi orphans and street kids - are making some pretty dramatic changes for the girls who are at the bottom of the ladder of Iraqi society. We are proud of you too!
Gratefully,
Cindy
Board Member
Iraqi Children Foundation
CFC #95191
701 W Broad St., Suite 301
Falls Church, VA 22046
cindy@iraqichildren.org
703.963.3832 mobile