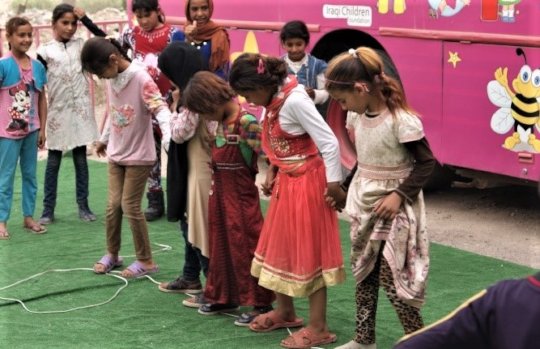 Zahra* (15) is a former Hope Bus student, who graduated in 2018 and had dreams for her future. But, now she was facing a life-changing crisis: early marriage. She came back to the Hope Bus to plead for help in preventing her father from forcing her to marry a 26-year old man.
Hope Bus staff and social workers attempted to mediate with Zahra's father, but he categorically refused their appeals and expelled them from his home. Two weeks later, Hope Bus staff got word that she had indeed gotten married.
We are heartbroken. But renewed in our passion to prevent as many child marriages as possible. Our hope is that her time on the Hope Bus gave her hope and resilience to handle what lies ahead. And as the staff told us, "After we failed to prevent this marriage, we can only pray that (she) is well and can face her new life."
Like a mamma bear with little cubs, we are fiercely protective of the most at-risk Iraqi children, like girls in extreme poverty who are vulnerable to the economic pressures that lead to early marriage. For the desperately poor orphans, street kids, child laborers, trafficking victims, disabled and ill, we want to be the helping hand they long for.
The Street Lawyers, social workers, and Hope Bus teachers are our super heroes and do a great job. Your gifts are the wind at their backs when they face cases like Zahra's and when even their best efforts may not be enough. Thank you for standing with us on their behalf!
Gratefully.
Cindy
* * * * * * * * * *

Cindy Fogleman

Staff Advisor

Iraqi Children Foundation - CFC#95191
Mobile: +703.963.3832
cindy@iraqichildren.org