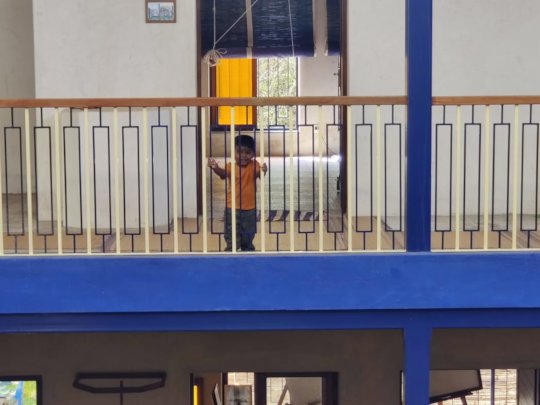 These days, there is a new measurement of time here : Before Lockdown and After Lockdown.

The Covid-19 lockdown was extremely severe here in Auroville and nearby Pondicherry. Everybody had to stay home and the border between Auroville and Pondicherry was closed from one morning to the afternoon. Since we are dependent on Pondicherry for many things including construction items, this affected us.
One thing we did manage to do was to buy the glass for the inlet shafts downstairs on the West side. They were delivered the Friday before Pondicherry went into lockdown. Something told us to rush and get that glass. Thank heavens we listened to that little voice!
Unfortunately, we missed the chance of buying the super adhesive needed to join wood to glass. We managed to buy a sample along with the glass, and tested it, and it was perfect. But then, we needed to buy five more. We were meant to go pick them up Monday morning. Our carpenter reached there Monday afternoon, and the shop was closed and didn't reopen until last week!
But blessings were there too. Our carpenter came nearly every single day for a half-day during the lockdown and his presence was a security for the building. And he was able to fit the glass for the inlet shafts. The reapers were fixed partially, as you can see from the pictures.
It was all very discrete with all measures of Covid security including frequent handwashing, masks, sanitiser, were in place.
There has not been a single case of Covid in either Auroville or any of its immediate villages. We kept close tabs the whole time. It was even reported in the media.
https://www.thehindu.com/news/cities/puducherry/no-covid-19-cases-so-far-in-auroville/article31187845.ece
https://www.thehindu.com/news/cities/puducherry/remaining-covid-free-the-auroville-way/article31627028.ece
From March 16, we've been officially closed. No students, no Tomatis until very recently when we opened up in a tiny, very measured way. All the workers (with the exception of the carpenter) and majority of the staff stayed home for almost two months. A skeletal staff kept the Lab building secure day and night.
When it seemed like we could, within measure, start some work again, we managed to do the grill work upstairs for Nilavan. If you follow our GlobalGiving Women's project reports, you will remember reading that Kushboo went on extended maternity leave of a full year. Well, she started back in February, and we allowed her to bring her child with her to work, since she had no other choice and no one to look after the child in the day. Thus Nilavan or Nila for short, joined our team as its littlest member. He keeps us smiling and laughing and is a huge element of joy. He and Foxy have a thing going. Well, since he started walking, we realised that the railings of the first-floor corridor were too far apart for him. It was dangerous because there was a chance that he could fit through and possibly fall! We hadn't planned on such a small child being a regular user of the building! Anyhow, we realised we needed to do something pronto. So we gave the order for more grillwork to fill in the in-between spaces. But, Covid lockdown! Getting the metal rods was next to impossible! Towards the end of May, after the first easing of lockdown restrictions, our welder managed to procure those and work started. We're happy to say, it is all finished and it is 100% secure now - not just for Nila, but for any other smaller child who might come to us. The painting work is over too.
One more thing we managed in the lockdown was the purchase and commissioning of a professional floor cleaner and polisher for our stone and cement floors. This too happened after the first partial easing of the lockdown restrictions. It got delivered but could not be commissioned because the Service Engineer from the company who was responsible for Pondicherry had returned to his "native place" - ancestral village - and all bus transport had been stopped. (This still is the case). Finally, the company managed to send us another Service Engineer who taught 3 of our staff how to use it. It was a huge decision > to make an investment at the height of Covid. But this thing is incredible, wow, what a fantastic cleaning and polishing job it does, and will last us for 10 years at least!!!
Another thing we are extremely proud of is the fact that we could pay our entire staff their salaries for March, April and May, without any cuts. Tapas and I don't take any salaries of course, but the salaries of the entire team - workers and staff all together - does come to a tidy sum per month. It is a matter of great pride for us that we were able to make these payments. For a non-commercial, service unit of Auroville that is trying to be self-sufficient, this was a real achievement.
Of course, throughout the lockdown, our thoughts went to the Tomatis kids. We wrote to the parents to find out how they were doing, and were really happy to hear the vast majority had managed to survive the special conditions of the lockdown without too much of a problem.
For the Women's project, we couldn't do much, and the volunteer who was working specifically for that project, had to stop since the Lab was closed. She volunteered at another Auroville project making masks.
When we started working again after the easing of some lockdown restrictions, while the Lab was fully closed to the public, we went through a wonderful experience together: we did this HUGE cleaning and sanitization of the entire Lab, upstairs and downstairs. Every single piece of furniture, every book, every computer, every stand-alone item was cleaned and sanitised using a probiotic cleaner and sanitizer. Volunteers came and helped us too (bless them!). It was needed, and a wonderful thing to do, and to do it all together was special. (Photos of that will follow).
So we are still in this hanging, in-between stage. We are still officially closed to the public, so the Lab and its classes are not open at all. The Tomatis children can't come back until lockdown is officially removed, and then, there will be many restrictions including 14-days of quarantine for those coming from other states, etc. The workers can work again, so we are doing many things to prepare for when we will be allowed to be fully open to the public.
So in brief, yes, the lockdown severely affected our projects.
But for the building, what we managed to do included :
- fixing the glass and some reapers for the air inlet shafts on the Ground Floor - West side,
- fixing safety grills upstairs
- cleaning and polishing the floors downstairs
- the Covid sanitization.
- The Transsolar data collection (which is still being collected and sent monthly to Germany to Transsolar)
- increasing our LinkedIn connections with people, experts involved in sustainability in the hope that we can get the message out about how unique this building is, with its system of cooling without Air-Conditioning.
- recalculating our building load and consumption including future consumption to see how many solar panels we will need to be energy-positive. We're also going to redo our Electrical Consumption paper.
Finally, we are happy to report that the building still stays cool inside, with a substantial difference felt as soon as one goes out of it or comes into it from the outside. This, without the cooling system being finished! What will it be like, with all the towers and shafts finished one day? It is an exciting thought!