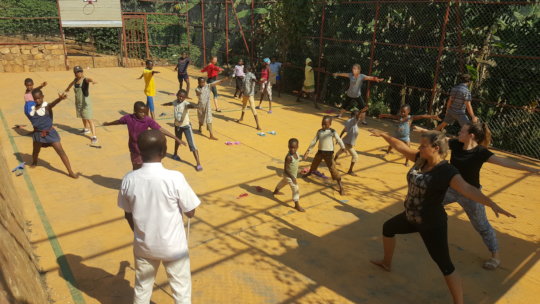 This is to present the fifth progressive report on the project of reintegrating teen mothers who have been under rehabilitation program at Marembo Center for girls and achievements within these three months.
This time I am writing about participation in sports event by our young girls, teen mothers and they babies. We could renovate our old playground with small funds collected.
For better and effective recovery from trauma, drug and sexual abuse which most of our girls have faced, participating in sports activities have been helpful to help our beneficiaries to build habits, confidence and discipline and instilling the spirit of striving for goals, handle mistakes and cherish growth opportunities.
Nicolette story: My Day of Impact (The creation of Centre Marembo)
My story started in 2 decades when I was an employee in the City of Kigali, the main city of my country, Rwanda. It was on 28 March 2003, when I was walking with my workmate from the office to the handcraft shop near the Hotel Mille Collines to buy the gifts of the visitors of the City of Kigali.
Near the market, I found an eleven years old teen mother breastfeeding her baby as well as begging whoever passed there. I spent around 10 minutes thinking about the young girl and the life she had been through. I asked my colleague to take the gift to the office and I stayed there talking with the young mother. I asked her many questions. I was eager to know her life conditions, especially her names, ages, about her parents, where she lives and about her baby.
We spent much time together and she finally allowed me to visit her so-called home with other street girls and boys. I was shocked to find where she lived. It was an old house destroyed during 1994 genocide against Tutsi, and it had neither roof nor doors and windows. Other 11 young girls were sleeping there and 3 boys who were badly sick at the moment. After discussions in that destroyed house, I asked the young mother to come with me, I provided her with some foods and the needs for the baby but was not enough to change her life. I promised her to meet me at the office so that I could help her, but at the time I could not take her at my house since she also needed rehab treatment.
From this visit, many ideas came into my mind: ¨ It is useless to give money to street children, because it does not sustainably address their problems. You give them money for food but they use them to buy drugs or they go for gambling. ¨ From there I learned that me and anyone who sees these children and continue without helping them is also a partner in crime. These are the children that, we the community have abandoned, and we need to take responsibility. ¨ From there I start to work hard for child protection. I became an activist for child rights, and from there we created Centre Marembo Organisation.
After three months, I cooperate with other 2 ladies interested in helping street children and we created two homes. One for boys, another one for girls. Unfortunately, after 4 months; the home for girls shut down. The girls require many efforts and standards which we could not meet at the moment. We kept on with the boy's home until 2012 when we resumed the program of the girls.
Since 2012, more than 260 former street girls helped by Centre Marembo to regain lost dignity and hope for their bright future. Some we helped are police officers, accountant, teachers, etc. In fact, we started with almost nothing but now we are proud of our achievements and positive changes we have been bringing to the community. From our effort, now the street children can get the health treatment from our youth clinic. In this walk of life, I learned that it is through each and everyone's effort and commitment that we could address the problem our vulnerable children are facing.