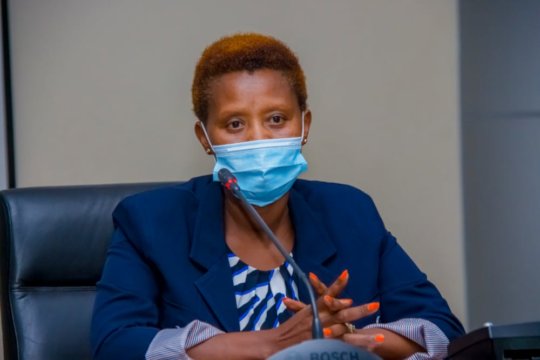 From 24th November to 10th December was marked as a period of crucial events as the 16 Days of Activism 2020 campaign began to take action and start spreading awareness on the issue of GBV and COVID-19. The campaign commenced with a press conference at the Kigali City Hall, sharing the details on launch schedule of the campaign as well its locations, where walk demonstrations began first in the Komonyi District (Southern province), and later on in three other districts: Rwamagana (Eastern province), Ruilino (Northern province) and finishing off the campaign in Kicukiro.
During the event not only did many people joined in the movement but a number of athletes who were proficient in rollerblade skating and motorcycling performed their skilled moves as well passing on messages regarding the topic on the issue on COVID-19 and GBV, which attracted a huge audience to observe the walk demonstration.
At the end of the walk demonstration, the district residents listened to PSAs from the officials and the CEO of Centre Marembo in relations to the topic of GBV, COVID-19 and unwanted pregnancies within the community; later on, the young victims shared their testimonies with the district residents about the violent acts that violated their human rights. At that point the campaign ended, and each district followed the same scheduled activities without fail. Free face masks were also given to the residents to promote safety measures to prevent the spread of the virus.
On January 18th, in response to the rising cases of COVID-19 after weeks of Christmas and New Year holidays, Kigali City began its second lockdown for 15 days long. Once again, challenges began to reappear, giving rise on food insecurity fears amongst vulnerable young women, girls and teen mothers across many districts.
Centre Marembo went into immediate action to distribute food, farm produce and other essential needs to over 300+ teen mothers, including their children, young girls and pregnant teens, from at least 9 different districts. Each teen mother was given:
Protein-based foods: 20 kg beans, 4kg small fish, 6kg milk cartons

Non protein-based foods: 20 kg maize flour, 20 kg rice, 40 kg vegs., 40 kg fruits, 5 kg sugar, 2 kg salt, 15 kg packaged pasta.

Other basic needs: 300+ packages of sanitary pads, 300+ packages of soap bars.
The food distribution activity went from late January until early March.