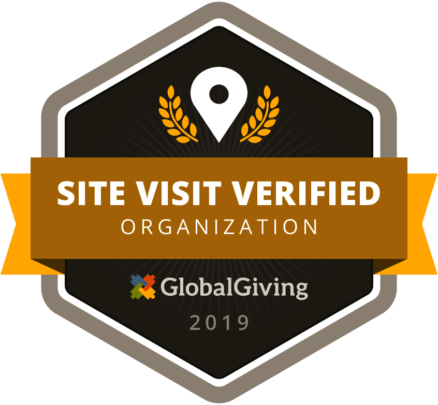 Earlier this May, we had the opportunity to welcome one of GlobalGiving's field travelers, Isabelle Hall, to our projects in various localities in Kisumu including Dunga, Kondele and Nyalenda. We had a great time showing her some of the work we have been able to achieve as a result of the incredible support we have received from all our donors on GlobalGiving, not to forget the amazing support we have had from the GlobalGiving team. Isabelle also helped us put some final touches to our recently completed library; we can't wait to share an update with you in June.
This was a great opportunity for us to connect with GlobalGiving and receive feedback on our projects. As a result, RKF is now a Site Visit Verified Organization; another esteemed badge we are honored to hold.
We also attended the GlobalGiviing Partner Workshop held by Isabelle that allowed us to learn more about GlobalGiving and network with peers from Kisumu that are already on the platform.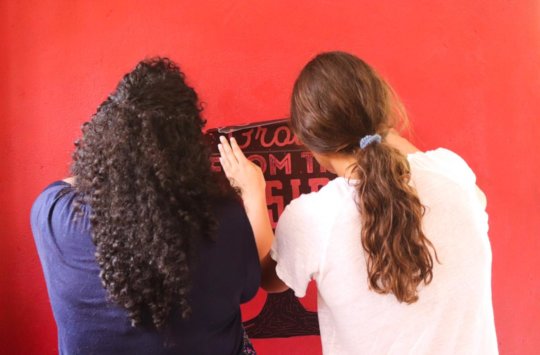 Links: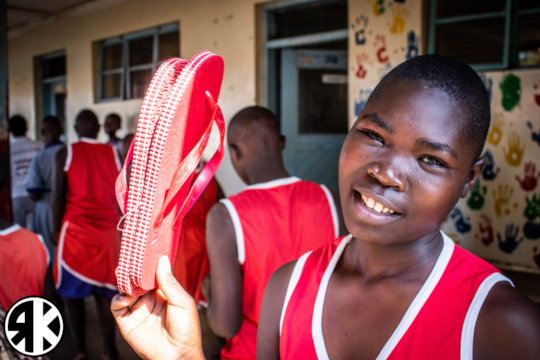 We've been really busy the past couple of months and we have a lot of exciting updates coming up. But today's update largely comes from our partnership with Cohesu to provide students with shoes and slippers.
In March, we visited 5 of the schools we work with and provided over 450 students with shoes and slippers through the TOMS project run by Cohesu. The TOMS project was introduced to combat the rapid rise of bilharzia and jiggers amongst children in Kisumu. Cohesu provide footwear to school children that would otherwise be bare feet and likely catch these diseases. This also doubles up as savings for parents who cannot afford to buy shoes for their school-going children.
We had an incredible week taking the shoes to various schools and students across Kisumu. On one of our school visits, the students who received slippers held their slipper high up in the air and broke out into a childhood classic: If you're happy and you know it... clap your slippers! Clap clap!
Kitabu Changu Haki Yangu
One of our biggest projects till date is almost complete... the library at St. Vitalis Nang'a is currently being stocked with over 1,500 books in readiness for the handover of the project to the school. We've been busy all over the Easter Break in April working on transforming a storage room into a library space that can seat 48 students at a time. This library will be used by 1,300 students from the school and have an impact on thousands of community members living in Dunga. We will be sharing a detailed report and video on this project later in June.
GlobalGiving Site Visit
Earlier in May, we had a wonderful site visit from GlobalGiving's Field Traveler in Kenya, Isabelle Hall. We had a great time showing her our projects and we'll be sharing an update soon.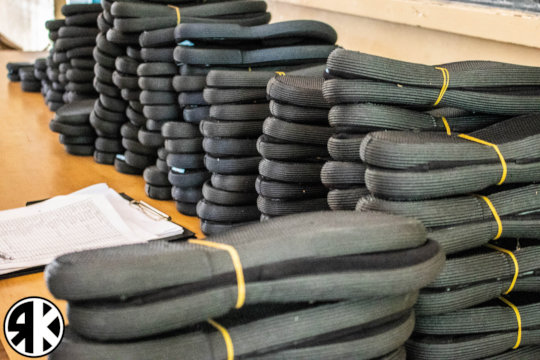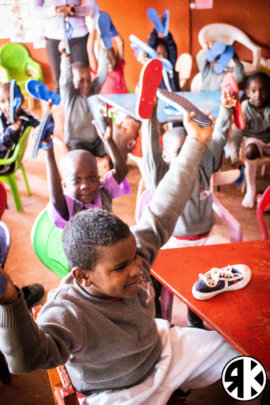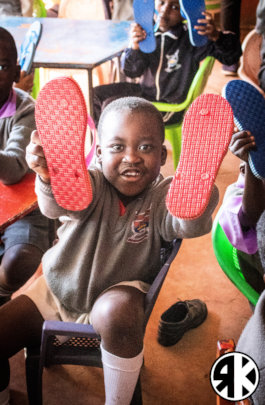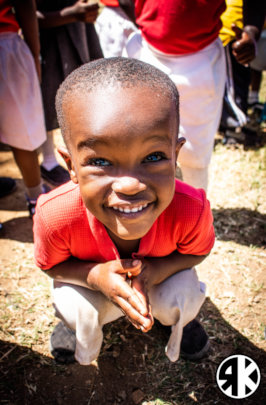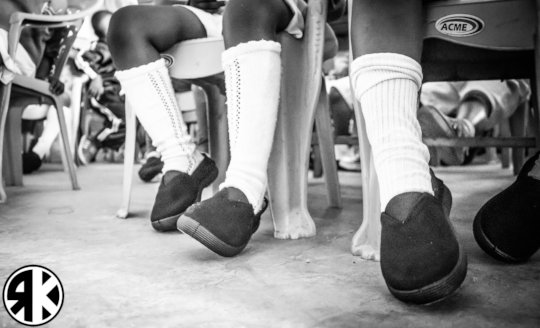 Links: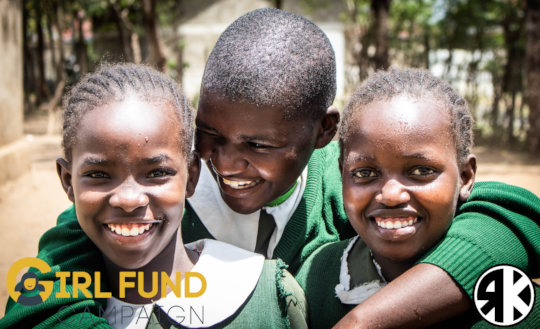 International Women's Day
On 8th March 2019, RKF participated in the International Women's Day Campaign that was a part of the GlobalGiving GirlFund Campaign. And with your incredible support, we raised a total of $1,256 in less than 24 hours! We are absolutely overwhelmed and honored to be associated with such great cheerleaders for the girls of Kisumu. We can't wait to take the RKF Sanitary Pads Program to even more girls and help them keep progressing through their education… as is their right!
Improving...
We're listening to our community.
After our pilot program last year, we received feedback from the girls that a slightly larger kit would be more effective. We learnt that 4 pads were not enough; so we're partnering with PadMad to provide 7 pads to girls in rural schools. What makes this partnership special is that these pads are made using Kenyan cotton by Kenyan women. This creates a beautiful cycle of women empowering women!
When we spoke to the girls at Lutheran Special School in January, they gave us some very simple feedback to improve the program that is both efficient and cost-effective. They gave us a suggestion to provide a more complete "kit" by adding a small bucket and some clothes pegs (at an additional $1) that would make it incredibly easy for them to manage and maintain their re-usable kits. So we did it! All the girls at Lutheran Special School now have their own buckets and set of clothes pegs to manage their kits well.
Growing...
Another 20 girls at Busabakhwa Primary School are now a part of the RKF Sanitary Pads Program. Our friends at Kenyan Kids took 20 kits and had an incredible talk with the girls on Menstrual Health Management. An additional 11 girls at Lutheran Special School also received sanitary pad kits in March. We hope to reach an additional 50 girls in May once schools resume for the second academic term of 2019.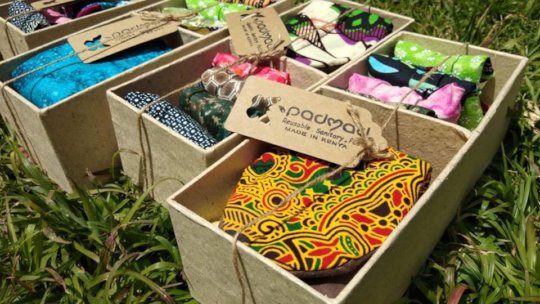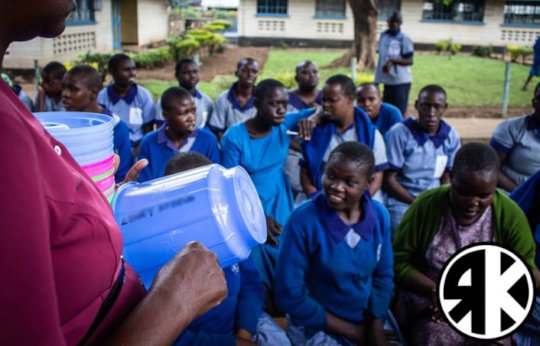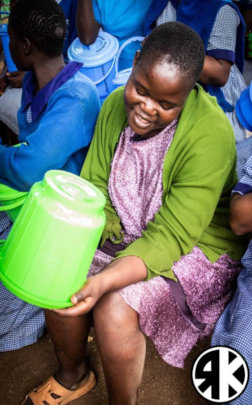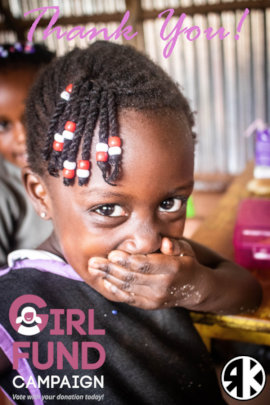 Links:
WARNING: Javascript is currently disabled or is not available in your browser. GlobalGiving makes extensive use of Javascript and will not function properly with Javascript disabled.
Please enable Javascript
and refresh this page.