Hello Donors of Sugars Gift!
We are participating in GlobalGiving's 2017 Fail Forward Contest and this report is being sent to all of you, as our donors, as part of that contest. The organizations participating in this contest are asked to share a story of when they tried something new that didn't go as planned and how they learned from it. Enjoy!
October 26, 2017
This is the Fail Forward 2017 Report for Sugar's Gift, Inc.
We formed Sugar's Gift on October 18, 2013, the day our 10-year old Sugar crossed over the Rainbow Bridge, in order to honor her memory. It took approximately two years to really build the foundation of Sugar's Gift and formulate our mission, become a 501(c)(3), start a marketing plan, build our website, start our budgeting and network with potential vendors, veterinarians, potential pet owners and donors. About the time we were ready to implement our marketing plan, our President, Nikki Stewart, sustained a moderate to severe traumatic brain injury (February 2016). I, Ken Stewart, began helping Nikki formulate the marketing plan and physically perform the tasks needed to implement what she had already started.
Before Nikki was injured, she was able to get Sugar's Gift registered with a number of websites who cater to non-profit organizations, to discover credible marketing strategies and how social media could help us. One of the most successful social marketing strategies we liked involved using Twitter to reach a large number of potential donors – increasing awareness of Sugar's Gift.
We decided to use some of our marketing budget (which was very limited) to employ outside experts to create Tweets that were strategically sent by them to their followers, thus creating more followers for us - exponentially. The goal was ultimately to Tweet consistently, asking for donations that the donors could make on our website. Of all the money we spent on this project (it was about $500), we did not generate one donation through Twitter. Actually, we did have offers for donations, but it was only if we would accept the money as part of multi-marketing platform and gave them our database. Obviously, that was not our goal, nor did we accept those offers.
The second marketing strategy that failed for us also involved Twitter (you would think we would have learned, right?). We tried to pay for more Twitter followers. Not being experts in social media, we had no knowledge of "Bots." I will never forget the day that we tried this strategy. We were riding high and extremely low in the same 24-hour period. Not understanding how "Bots" work, we were thrilled when we suddenly got over 1,000 followers – and over a 3-4 day period, we had over 2,000 followers. We were happy, but when we started seeing who they were, and where they were located, we knew we had made a mistake – these people were also trying to simply increase their followers, too, and they would not become donors, nor would their followers, who were also "Bots." Again, money wasted on shortcuts to success. Luckily, the money we had spent on these efforts was not donor money – it was money from out of our own pockets.
Trying to find shortcuts to increasing potential donor numbers was something that just simply failed – at least with our strategy of increasing Twitter followers. The funny thing about it, well, not funny but interesting, is that we knew when we spent the money for this type of "marketing" that it would not work. Instinctively, marketing to donors is word of mouth and personal communication.
Cross-marketing with social media platforms can help increase our reach, however. For instance, we post on Facebook, which posts to Twitter, as well, and vice versa. That way, both platforms are posting the same information. And, we do send out mass messages and posts on social media when we have an important campaign on GlobalGiving. There is still truth in "the larger the number of people you reach, the better the chance that at least one donor will help." And, we are not spending money on these campaigns; yet, it is still increasing awareness of Sugar's Gift.
It is easy to get carried away with ideas that are thrown your way when you are trying to raise money for a good cause. However, we have re-focused our marketing strategies to ideas that work, somewhat more slowly, but much more effectively. Frankly, I was trying to help through shortcuts while Nikki was in rehab for her injury. However, our ideas for increasing followers on social media the way we did it, failed.
We learned a valuable lesson: The only way to succeed with Sugar's Gift is to actually contact potential donors by phone calls or personalized communications. It is something we know instinctively. Yes, the more people you reach through social media, the likelihood of a donor or 2 will increase; however, the personal touch is the only way to succeed. Awareness of our organization is one thing, but succeeding from donations is the ONLY thing. Since that experience, we have worked with GlobalGiving's training tools and created a smarter, leaner business plan that included a marketing plan that can work. We intend to begin implementation of that plan later this year.
In 2018, we hope that Nikki will be able to help more with the marketing implementation. Our big goal for 2018 is to become part of the Animal Planet's R.O.A.R. project in GlobalGiving, and we intend to succeed! That can create awareness, credibility and ultimately, success for Sugar's Gift.
Thank you to everyone who has donated to Sugar's Gift. We love all of our donors! Please help spread the word about what we do…..we, and the babies who need to cross the Rainbow Bridge from home, really appreciate it!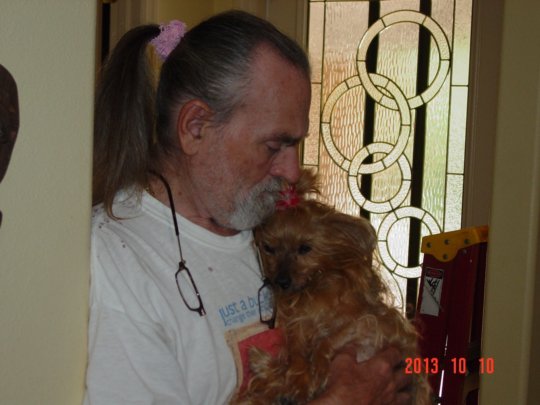 Links: