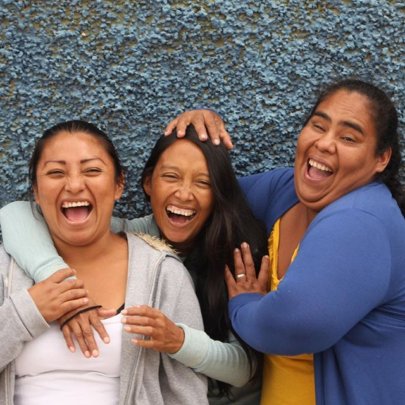 In a typical business, the rules and regulations are clearly defined and strictly enforced. You are bound by the confines of a contract and work place protocols. Despite personal dramas one may be experiencing outside the office, each employee is responsible for pulling his/her weight, because if one person does well, it will benefit the overall company. If one was to challenge or break any of these norms, the job would be in jeopardy and most likely gone – no ifs, ands or buts.
So what happens when you take this profit-driven model and apply it to one of the most marginalized and vulnerable communities in Central America? Thousands of people living on the periphery of the Guatemala City Garbage Dump survive by salvaging trash that can be cleaned and re-sold. These horrific conditions have a significant impact one's physical health and also compromise time adults can dedicate to parenting.
Creamos' founding belief was that a person needs money and education to break the cycle of poverty. Creamos aimed to provide an alternative form of income to women working in the Guatemala City Garbage Dump (GCGD) through various income generating activities and education. All of the women in the program are required to study in the program until they graduate middle school, allowing them the opportunity to explore other professional paths, and be more invested in their children's education.
Creamos began as a volunteer effort from a local university. A group of students came to the GCGD and taught the women how to make jewelry from paper beads using recycled magazines. This new skill evolved quickly and before they knew it,Creamos was registered as a Guatemalan business, selling at one of the largest department stores in Guatemala City.
In the beginning, it seemed almost too good to be true. Women were learning to use their imagination and creativity to design accessories that their clients would purchase. They were learning how to; price goods, complete sales transactions, work together, utilize a credit card machine and, they were making money. Their income rapidly increased by 67% more than they were making when they worked in the garbage dump. They were ecstatic by the realization that this was their ticket out – they would not longer have to work in the dump.
The business grew, and undoubtedly, rules and regulations were established. Policies were made regarding punctuality, attendance, timeliness of orders, respect; standard practices for any business. But how to enforce rules of punctuality when a woman comes in late because her roof fell on top of her husband after a violent rainstorm? What do you do when a woman has to miss a month's worth of mandatory meetings due to the fact she is the primary taker of 5 children after her husband was injured in a landslide and cannot leave the house? What do you do when you see a woman's partner is waiting outside the office gates to ensure she does not go anywhere without his consent?
These are just a few of myriad ethical dilemmas we faced trying to uphold our business-like persona. Indubitably, the self-esteem and self-perception of our participants was rising to some extent due to their professional and educational progress. Nevertheless, this did not eradicate the emotional and social challenges they confronted every time they entered their front door.
The Creamos staff of two was trying to run a business, while conducting short-term case management and a wide array of crisis intervention. We were the women's go-to; the people they trusted in a community of betrayal and suspicion. As a program, we responded to catastrophes and crisis' the best we could. At the time, we had limited training in this area, and we did not have time to invest in collaborating with organizations thatcould have been useful, while trying to run our business. We were spreading ourselves too thin, and greatly inhibited the growth of our income-generating programs.
Poverty is a not a simple problem that can be solved with a simple solution. We quickly realized more is needed to break the cycle of poverty than money and education. All too often, we overlook emotional support and mental health as secondary – something that is not an urgent need. Our participants have and continue to experience severe psychological and physical trauma. The male-dominated society that dictates Guatemala is exacerbated in the raw and unlawful community our population lives in. We were aware money could not buy happiness and Creamos was created with the most thoughtful intentions. However, we failed to invest in an essential component to breaking any human cycle – emotional well-being.
When thinking about our role and what we could do to bring emotional needs into the equation of our program, our thought process was never to "solve problems" – this is a dangerous mentality for any level of development. We wanted an emotional support program that was needed and would be utilized.
A student, who was previously invested in the program, began to research what type of program would be the best fit for this community and population. We conducted community surveys, focus group and qualitative interviews. We worked with Columbia University, and other stakeholders to ensure we created the most inclusive, well-thought out and sustainable program. In the end, we came to the conclusion that intimate partner violence (IPV) was the most prevalent issue affecting our women and would be the focus of our program.
In August 2015, Creamos implemented our emotional support program Creamos Voces – we create voices. Our program addresses IPV through various micro and macro factors that were identified in our research: lack of social support, lack of knowledge of IPV, lack of resources, and lack of financial independence. We address these factors through our holistic program activities including individual crisis intervention and short term case management, a financial literacy workshop and individual advisement that focuses on survivors of economic abuse, psycho- educational workshops that feature other local organizations, domestic violence and self-esteem support groups, trauma sensitive yoga and daily aerobics class. We utilize our non-threatening services, such as aerobics class, to draw more women into both our income generating and emotional support program. We finally have a department that can focus on the gaps that were previously identified, and can collaborate with organizations that specialize in areas we do not - enabling us to provide a better more sustainable program for our women.
In the past year, we have funneled over 120 women into the program. We have seen the benefits on both a programmatic and individual level. Our program participants now have a separate channel to work on their psycho-social challenges, as opposed to their place of work. As a staff, we are more focused on our individual role, and able to invest more time and create more opportunities for business growth. We are able to provide a wider range of effective services, and empower women to approach everyday challenges in a different way that might be more effective.
The typical business model did not work for Creamos. We are not a high end company and the classic business protocols are too rigid for the harsh and relentless realities of our targeted community. We hold our women responsible to rules we have developed with our participants to ensure they have a say in what they will be held accountable for. One of the most difficult aspects of development is finding this balance – teaching responsibility while also understanding that there are unavoidable factors that will affect program participation. As an organization, we are constantly evaluating this dynamic and, it is possible we will frequently come up short. There is no magic formula – but we can continue to recievefeedback and working with our community to ensure we are doing the best we can.