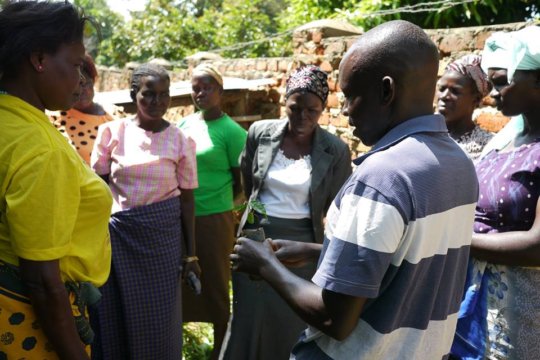 Opoka and his fellow farmers remember that the parish of Atiyaba in northern Uganda was once forested. This mosaic landscape of savannah-like grassland was punctuated by great swathes of tropical forest expanding out from river ways and swamps. Tree cover was the norm and not the exception, and even in grassy landscapes trees were everywhere.
These trees were necessary to human survival, providing food, medicine, materials for building homes and for creating useful items like baskets and clothing. And in this regard, little has changed. Though the global economy's reach has provided plastic replacements for some of life's necessities, trees are still the only source for many of the essentials.
What has changed, and changed dramatically, is the area and quality of forest to be found in Atiyaba. Juliet, an herbalist who harvests medicines to heal her community, describes having to go further and further afield to find the plant remedies that once abounded much closer to home. "You just cannot believe how people are living without trees. It makes you sad to see it. Even now they take down mango trees for charcoal to sell, because the other species are not there any longer."
Deforestation in northern Uganda is dramatic and has happened in just a generation or two. The way the land looks has been totally transformed within the span of Opoka's lifetime. But he and other farmers in his area know there can be another way. They are part of a growing group dedicated to the reforestation of their villages and landscapes.
Reforestation can mean many things, including exotic fruit orchards and commercial timber plantations that in ecological terms cannot really be called forests. What is unique about the farmers in Atiyaba and elsewhere is that they are planting native trees, the species that have always defined their homeland and which are now hard to find.
Perhaps surprisingly, planting native trees was something of an unfamiliar concept to Opoka and his neighbors. That is, until Juliet and the group known as Wise Women - Uganda arrived to Atiyaba in May of this year. Providing training in tree planting basics and, later, seedlings of a variety of important native species, this group of women traditional herbalists arrived to Atiyaba with knowledge, with seeds, and with hope.
Working with local leaders at a grassroots level, the Wise Women have reached 29 villages so far, and provided trees and training to over 350 farmers this year. In addition, several schools and institutions have joined the effort. While many farmers received a modest 10 seedlings, some frontrunners have planted a thousand trees or more.
The tree seedlings themselves were produced locally at the Wise Women's nursery in collaboration with Wild Forests and Fauna, a US-based non profit dedicated to the restoration and protection of wild forests the world around. WildFF first teamed up with Wise Women in 2015, and since has helped this community-based organization to grow into a force for native species restoration in the region.
In fact, the real work begins after the trainings and the plantings. Somewhat rare among reforestation efforts in the area, the Wise Women are dedicated to follow up. Monitoring and evaluation is an ongoing task until the trees reach an age when they can take care of themselves.
It's amazing and it's true: your support has allowed the planting of thousands of trees in climate-vulnerable communities throughout northern Uganda. And your support will help the Wise Women to ensure the success of the trees that have been planted, even while engaging with more farmers and planting more trees. It's a model that embraces the age old practice of exchanging seeds and know-how from community to community, farmer to farmer. As this model is applied to a broader scale, you are helping to reforest northern Uganda, one farmer at a time.