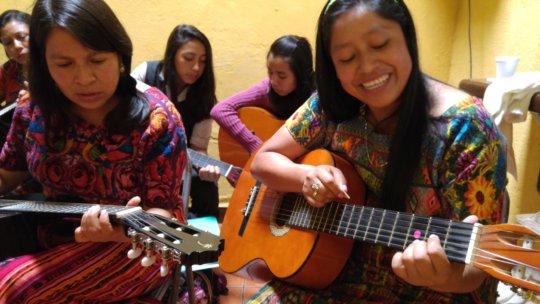 There is a beautiful and picturesque town in Guatemala called Santo Domingo Xenacoj. The town was founded around 1520 and it's population, of little more than 9,000 people speak Spanish, or their native language Cakchikel, which is one of the main Mayan languages spoken in Guatemala.
Our "Sonidos para la vida" foundation recently began one of our projects in this town's public school, which serves approximately 600 children, boys and girls. These children are full of hope and confidence that they can have a better future. They believe they can fulfill their dreams. And their school, named San Sebastián, is well known for trying to offer their students a well rounded education. They work hard to provide opportunities needed to achieve a global preparation for their students.
Because of this school's strong commitment to students, "Sonidos para la vida" has joined in, and we are working together to provide the children the benefits music can add to their education. It is important to mention that the school's faculty are 100% committed to their students. This is why we are certain our program will achieve all the objectives that we have envisioned for this project.
The work that we are able to perform at this great community is a happy story. But there are hundreds of other communities in Guatemala, similar to this one in Santo Domingo, hoping to have a chance to be counted among the ones chosen for our projects.
But without your help we won't be able to offer that opportunity to many. We are totally aware of the number of social needs that exist in the world, and that is why we appreciate, with all our heart, the fact that you have chosen to support us, and that you contribute to our mission of brightening the lives of many children in Guatemala with the gift of music.
From our hearts and those of our children... Thank you!