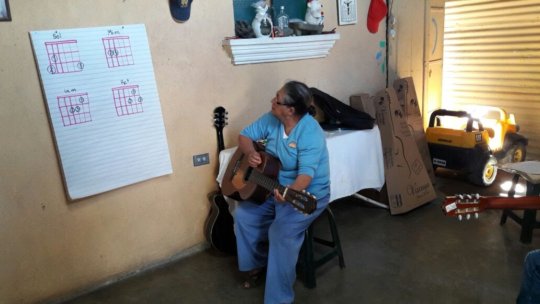 The most beautiful gift that music can give you is that it's for everyone. "Cerro de San Felipe" is a community that lacks of education and health because of its poverty. Here you can really appreciate music and the gifts that brings with it.
Within this community we work with a small group of students that meets weekly. Amongst them is Maria (fictional name) and little Michael (fictional name), the first being 75 years old and the latter only 5. Nevertheless, they share the same interests, the same love, and the same need to do things that give them happiness and that allows them to live with a new hope to achieve a different life.
Like this community there are many in Guatemala and Sounds for Life works hard to keep taking joy and opportunities to all of them. When you do a contribution to our organization you are collaborating to create straight, dignity and wiliness to fight for our country. So Guatemala can reach the conditions that every human being deserves.
Thank you for all your help.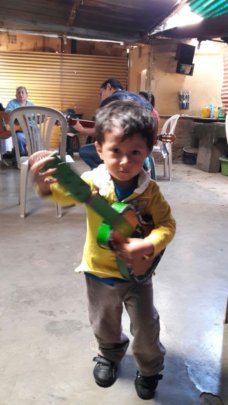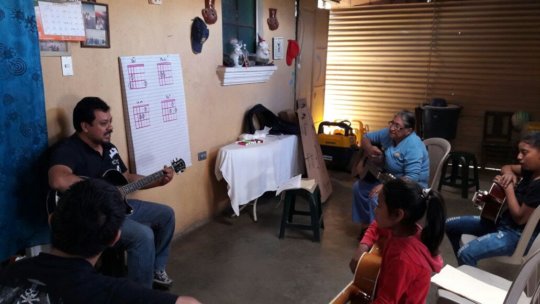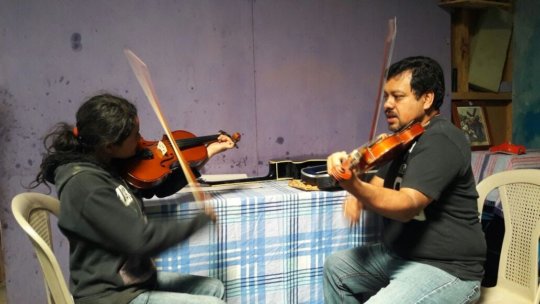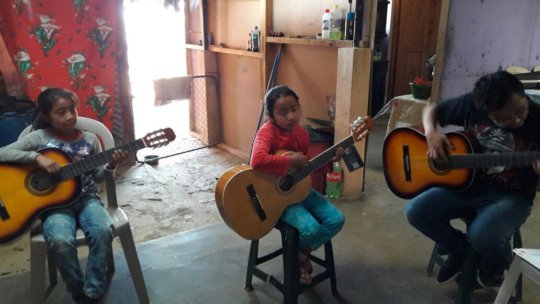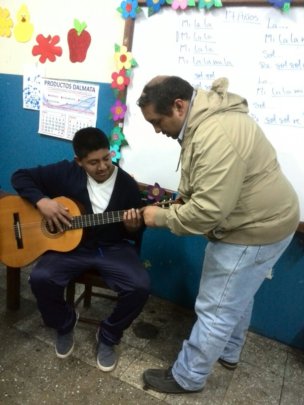 "Profe Yemo" it is called affectionately, teaches night school at a National Institute of basic Education in the Guatemalan town of Santa Maria de Jesus. This mostly indigenous town, is located on the outskirts of a volcano, 6,792 feet above sea level. Besides Spanish, the majority of people in town speak Kakchiquel, their indigenous language.
Profe Yemo, is one of a group of teachers from this school that volunteer to work with Sonidos para la vida, our non profit music program. He volunteers his time because it is very important for him that his students have the opportunity to dream. He wants them to learn that the discipline, dedication to work, and the passion music teaches, can lead to a more fulfilling and complete life.
Sonidos para la vida has recently arrived at this school where Profe Yemo works. We began with 20 guitars that will benefit almost 400 students from the school. We hope to, very soon, be able to provide more instruments and thus more music to these children who are so thirsty to learn, and so open to welcome the happiness of music in their lives.
When you donate to our organization, you are actively contributing to bring to children and young people throughout Guatemala, all the benefits that music affords and the possibility of changing the social reality they now live.
That's why we will never stop saying to you.....thank you!
Changing lives through music.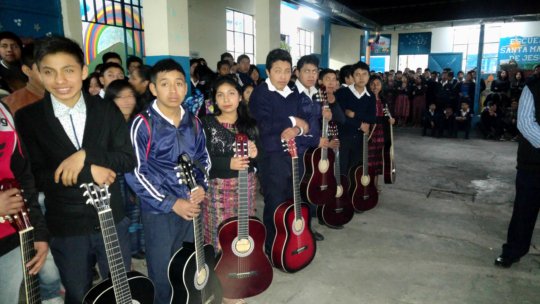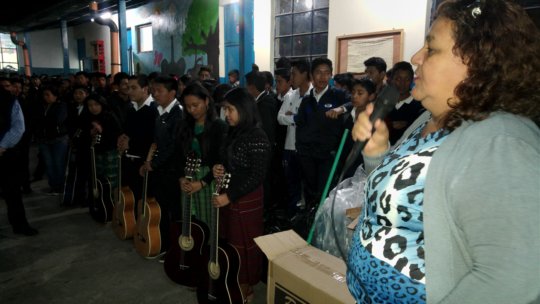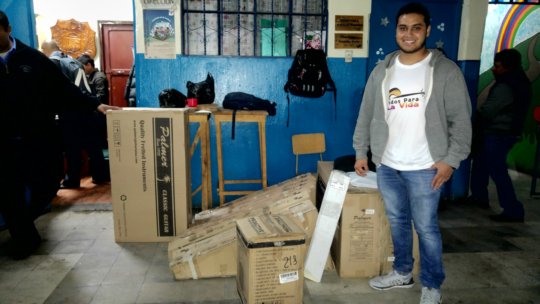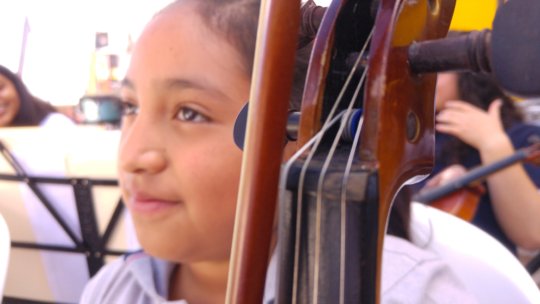 After 36 years of civil war, Guatemala has suffered many social problems that have sunk in hatred, despair, distrust and many other things that only generate poverty and inequality. However, despite all these problems, many children today are changing their reality, because they are growing up with a new idea of life because they have music in their development.

This is the case of Ruth, a 9-year-old living in Chimaltenango, one of the areas hardest hit by the civil war. Ruth, from very small had the opportunity to be part of Sounds For Life and today his life is music and joy. She plays the violin and always excited a new concert, to practice more your instrument and to share with his teammates of his orchestra.

And Ruth, there are thousands of children who, with the program Sounds for Life, are growing with this new element in their lives, "MUSIC", and all the joy, discipline, perseverance, skills and all those factors that influence directly in their formation, to be good people, sure of themselves and with the firm conviction that Guatemala can be different and can have a better future.

Every time you collaborate with Sounds For Life, is collaborating with a whole country to generate social change we need and to end once and for all the violence that prevails every day. Help more children to have this opotunidad in your life because all Guatemalan children in need.
WARNING: Javascript is currently disabled or is not available in your browser. GlobalGiving makes extensive use of Javascript and will not function properly with Javascript disabled.
Please enable Javascript
and refresh this page.