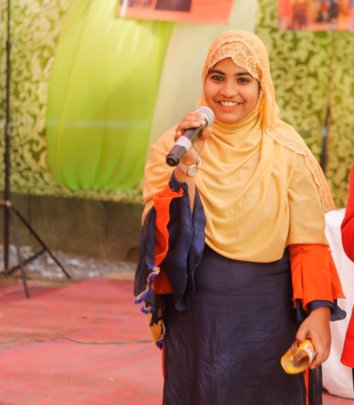 "You are accountable to us! You cannot leave today without answering our questions and telling us why government programmes aren't implemented here", a spirited Shabana demanded of her elected representative in front of around 200 people in a public meeting she and her friends organised in Sunder Nagri in New Delhi.
Fearless about asking for her rights, 16 year old Shabana is a far cry from the shy and timid girl of a couple of years ago. She became a part of theYP Foundation's Butterfly Project working with Dalit and Muslim girls on issues of gender rights, discrimination and early and forced child marriage when she was 13. At that time her mobility was greatly restricted and she was hardly allowed to go out of the house alone. She was not allowed a mobile, while her younger brother had a phone and could go out any time he wanted. Often she had to take his permission to leave the house.
The Butterfly project enabled her to recognise discrimination and violence, particularly of restrictions on mobility in her own life. She started questioning everything leading to fights at home. Her mother took her out of the sessions because she thought it was spoiling her daughter. However the Butterfly Project helped her with her negotiation skills and this led to her playing a critical role in supporting other girls in the programme whose parents were resistant to them being a part of the Butterfly Project. Eventually, she convinced her parents to send her for a residential training on digital media with other girls.
Today Shabana is completing her Higher secondary education despite her father having refused her permission to study earlier. She is vocal in objecting to discrimination around her and advocates with public officials asking for better police presence, street lights, public washrooms, health services, response teams to reduce violence and fear among girls. After attending a digital media training by the YP Foundation, she is also the proud owner of her own mobile phone.
She says, "The Butterfly project helped me understand importance of consent and relationship, difference between sex and gender understood that boys and girls are naturally equal. Initially my friends asked me to not attend sessions as they found the content vulgar and bad, but I know that this kind of information is very important for us and there is no other way to get information on sex, contraception and abortion. My mother sometimes does not allow me to attend sessions but I am negotiating with her some time with love and some time with anger."
The YP Foundation is committed to building the leadership of young people like Shabana and support them to ensure better futures for themselves and their communities. This work is possible possible with the support of generous donors like you. Please continue supporting us and talking about our work to others, to help us reach out to larger communities of young people and create rights aware and sensitive leaders of social change. Thank you!