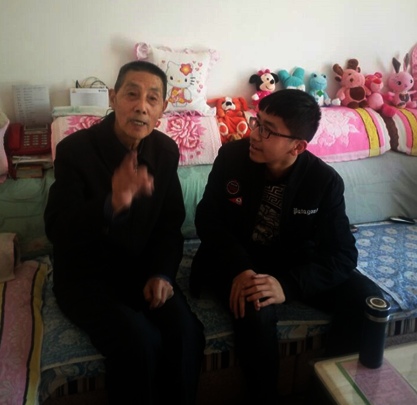 During the winter break of 2018, after learning what oral history is and completing interview training, each student found an interviewee who is experienced with a local culture theme (a folk skill, a folk custom, or livelihood), and began a real oral history interview. The students either determined the topic through an initial interview, or conducted the first formal interview when the topic was obvious and pre-determined.
The children interviewed cultural heritage artists from counties or villages, such as stone carving artists, shadow play artists, Tangka artists, "flower" (Northwestern folk song) artists, and local opera artists, and representatives of unusual livelihood/professions, such as a grandfather who had been in engineering corps for the Qinghai-Tibet Highway, an aunt who had been planting and selling trees for a living, also representatives of ordinary rural livelihoods with local characteristics, such as a relative who is a mason, a grandpa who was a carpenter, an aunt who is a tailor, a father who was a village teacher, a grandma who is good at making steamed buns, and a grandpa who is a skilled kang[1] builder, a relative couple who make paper fires[2] for a living, etc.
Student Xianyi from Li Jiashan High School in Qinghai, inquired about his grandpa's lengendary career. After graduating from primary school, he became a farmer in cooperative at the age of 13. Then he was enlisted at the age of 17, and worked as a messenger for the company commander, a member of the fishing team, an accountant for the logistics department successively. After leaving the army, he worked as a primary school principal, a hydropower station master, a hospital director successively. During the first several years in the army, though Grandpa only finished elementary school, he worked hard and conscientiously. Owing to an incidental opportunity, he carried out a questionnaire and data reporting much better than his high school graduate peers and impressed his superior, he was promoted dramatically to accountant, also was given the precious opportunity to study in a technical secondary school. This reminded Xianyi of the old Chinese saying "Gold will shine sooner or later", "Opportunities always favor those who are prepared." Moreover, after hearing the story of one-night "unforgettable", "heart-stirring" experience of the hydropower dam emergency (See Attachment 1 for an excerpt of the interview minutes), Xianyi now sees his grandpa as a man of strong sense of responsibility and grit.
In an interview with retired teacher and embroidered ball maker Granny Qi, student Xinwen was most impressed by the scene that while watching TV in the evening, Granny Qi always did needlework at hand. Tassels of the embroidered balls are hard for her customers —— women near and far to make. So Granny Qi tried her best to make enough tassels for sale, so that her customers would be happy. Whenever tassels of a certain color is sold out, she will make more at night, in case folks far away come to buy. For example, there was an old granny from Anyuan, who came to the shop by coach, also brought Granny Qi a bag of black flour. Granny Qi wanted to give her some money but she refused no matter what. So Granny Qi gave her more tassels. The simple kindness between people touched Xinwen. When she asked Granny Qi if this local craft will be lost in the next generation, because children born after 2000 do not seem to like it, Qi said, "Eventually they will like it. When they become mothers, they will have their hearts for it. Forebears plant trees, and later generations enjoy the shade. I am sure people will come, to carry forward and innovate this craft based on what we've done. It won't be lost." Xinwen blurted out, "That's a good point!" Although this young girl may truly grasp what Granny Qi meant only after she becomes a wife and a mother, Granny's remarks planted a seed of thinking in her mind. (See Attachment 2 for the interview summary form.)
The interview reflections of these teams arrived at the following common understandings:
1. Initial communication to establish the relationship and the trust is crucial to help open up the interviewees. For this, students often need teachers' help. For interviewees, communication with the teacher who is the organizer and the leading adult of the team is a must.
2. The first interview is very important to establish a rapport with the interviewee. So the teacher needs to focus on the status of both interviewer and interviewee in the interview –Is the atmosphere natural? Are both parties relaxed and connected? Only in such atmosphere, the interviewee can possibly immerse oneself in rememberance, and the interviewer can be guided by internalized interview outline, together with his/her own curiosity, to make detailed inquiries.
3. The quality of the interview has much to do with the choice of the interviewee. Some interviewees are good talkers, have a highly logical narration, provide extensive accounts and good details, share their feelings and thoughts, and hardly need questions to drive. Two hours for their interviews seem not enough. But there are also interviewees at the other extreme. The student tried various questions to probe, but didn't get any story after the 1 hour+ interview, with a feeling that the interviewee didn't open up. We will continue to pay attention to whether the interviewees at this extreme can be opened up by interviewer's attitude and skills. The results of this will help us guide our students in how to choose the interviewees in the future.
4. Background research was not done enough, especially for the unfamiliar, profound art with a self-contained system, such as Thangka. It then became obvious during the interview that the student had problem managing and driving the interview.
4. Teachers mentioned students' interviews were not deep enough. This is related both to lack of interview skills and background research, and is common for first-time interviewers. If the students sort out and analyze the interview data carefully, they will improve in the second interview. So the interview analysis is vital.
The next steps are data processing, background research, interview analysis, and interview outline preparation for the 2nd interview. These are key steps in the process of research-based learning, but are also time-consuming tasks. School teams felt pressure due to reduced meeting time subject to exams and other school activities. Tongwei No. 1 High School team with a big portion of Grade 12 students has requested to postpone their work until 6/10, after the college entrance examination. These steps are so important that we are willing to give students more time if they lag behind pressed by external conditions. So we change the subsequent plan as below:
Original plan:
March: Analysis of the first formal interview
April: The second formal interview and analysis
May: Writing historical narrative and historical thinking journal
June: Show and tell
New plan:
March-April: Analysis of the first formal interview
May-June: The second formal interview and analysis
July-August: Writing historical narrative and historical thinking journal
September: Show and tell
Grade 12 students will condense all steps into June and July
At this critical moment, teachers also provide closer support and guidance to students, including sharing and critique among students.
[1] The kang bed-stove is a traditional long (2 metres or more) platform for general living, working, entertaining and sleeping used in northern part of China, where there is cold climate in winter. It is made of bricks or other forms of fired clay and more recently of concrete in some locations.
[2] Paper fires are various objects, including livestock, houses, etc. made of paper used to burn during a memorial ceremony to send to the other world for the dead.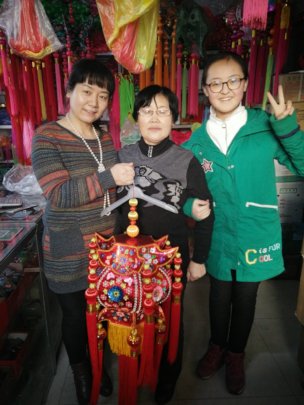 Attachments: