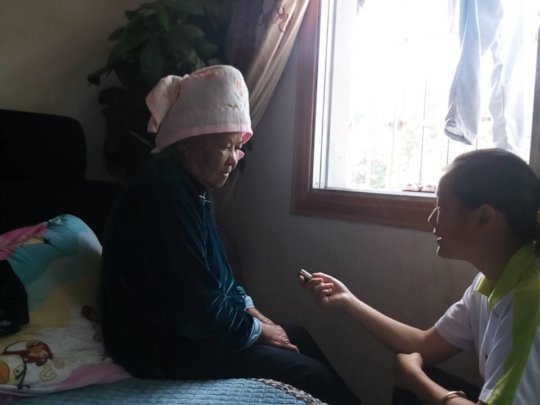 Since 2009, Evergreen began to explore the oral history program as an important path of inquiry learning in humanities. From 2009 to 2018, our partners (schools, grass root libraries, individuals) completed 43 oral history projects. How much value has the Evergreen oral history program brought to the students?
We interviewed 9 students from 7 projects of 5 schools and collected 679 minutes of interview data. These projects cover the different developmental stages of the oral history projects of the years 2014-2018, and were relatively well executed. We tried to use in-depth interviews to capture the changes of actively engaged students who experienced the process of oral history.
From the interview data, the impact of the oralhistory project on these students includes the following aspects:
1. Knowledge / understanding / literacy on humanities and history
a) Folk culture-related knowledge, understanding of cultural connotations and values, relationship between life and culture
The depth of students' understanding of cultural connotation depends on whether students finally focus on the "human" in culture and see their interaction with the culture, where they learned that individual experience, relationships and emotions give culture a connotation, thus finding a humanistic and historical perspective for understanding culture. For example, Cai, who interviewed a Huaer lover and veteran cadre Zhang, now believes that the interviewee's understanding of the folk art is closely related to his world view and value system, and thus is in turn closely related to his life experience and the historical background of the times. As a carrier of his spirit and thought, Huaer also condenses his life experience and background of the times. Therefore, the interview is both a reading of life and a reading of connotation of Huaer. The two are actually one.
b) Understanding and feelings of the interviewee's life, understanding of the relationship between life-history-culture
The depth of students' understanding and feelings about the life of the interviewees depends on whether they focus on the historical background behind individual life experiences, think about their connections. In the projects that the teacher guides and supports the background research, the students have a deeper understanding of the interviewee's life, thus beyond an empathy towards the individual experience, students developed an empathy towards a community or a social sector impacted by the macro history. For example, interviewing the grandfather's life experience as a carpenter, Qi empathized with Grandpa as well as felt the deficiency of national macro-narrative, and have been looking for local contextual information as important supplement in order to have a complete picture.
c) Intergenerational relationships and life lessons
Because students learned the life experiences of their elders in the grand history and realized their hardship and efforts, they developed more respect and tender feeling towards their elders, and could better understand what they think. Intergenerational relationships were improved, and students learned life lessons. This is a very significant effect brought about by oral history.
For example, Tian interviewed Grandpa (on her father's side) his life stories as a carpenter. Grandpa loved to discipline juniors and had bad temper. For this reason, Tian and Grandpa kept running into conflicts. During the interview, when Grandpa talked about the misery of his childhood, he cried several times. Tian realized that Grandpa's life was not easy, and came to understand Grandpa's upset and nagging when he saw his grandchildren didn't cherish what they now have, thus willing to make a change.
2. Skills
For each skill invoked during the oral history process, each student has improved it through practice and/or thinking. The improvement of some skills is a turning point, which has a great impact on the students' subsequent development. For example, Wang, a junior high school student, made great progress and developed a strong interest in communicating with people through Huaer oral history. Naturally, she joined the radio station in her high school, and later chose social work major when going into the university. In 2019 she will hold a Thangka oral history summer camp to lead youth into service learning. In addition, all students mentioned that the oral history project helped them improve their basic information technology skills such as Chinese input, word documents, and form processing, as they don't have much chance working with computers in the past.
Long-term impact on personal status or impact on interest orientation
Some students have a strong interest in history and literature and have begun amateur literary creation. Through the oral history process, they gained a deeper understanding of the core target understandings, further deepening their interest and inputs in history and literature.
Some students had past experience listening to their elders' life stories, and joined the oral history to uncover and record certain elder's experience. Through the process of oral history, though they did not spend enough time on digging out the historical background, they saw the interviewee's subjectivity and learn from the history of the elders' struggles.
Some students entered the oral history because they were interested in learning to deal with people. In doing oral history, they were attracted by the charm of interviews, and also the charm of oral history as it discovers and preserves culture and history. The experience of oral history oriented them towards their choices of future professions.
Some students entered the oral history because of the teacher's recommendation, rather than their own strong interest. Under the guidance of oral history, these young and immature students began to see the humanistic values in ordinary people's life stories, as well as develop personal feelings about culture and history. Therefore, the oral history project became a humanistic enlightenment for them. Also because the oral history project was often their first research project, it was also a research enlightenment for them.
++++++++++++++++++++++++++++++++++++++++++++++++++++++++++++++++++++++++++++++++++++++
In summary, whether it is knowledge/understanding/humanistic and historical literacy, skills, or long-term influence on personal status or interest orientation, these nine students affirmed the positive impact of oral history projects in their narratives, confirmed that they were willing to recommend oral history projects to their schoolmates, and they wanted to try more oral history given opportunities. All of these proved the important value of oral history program in eliciting the multi-faceted growth in the students.
During our interviews, the students also put forward sincere suggestions for improvement in the oral history project, including strengthening the training by including more revelation of the functions of oral history, the practice of interviews and background research, strengthening the sharing and communication between the students, and video oral history for more comprehensive recording. These demands call for Evergreen to continue investing in the oral history program, constantly improve it, further iterate oral history school-based curriculum, improve students' learning experience, thus achieving oral history program's full potential as a vehicle of project-based learning in humanities.
The full report (in Chinese) can be requested by emailing the project manager (mailto: yu.zhang at evergreeneducation.org). With this final report, we are going to close the project "Train Rural Teachers to Teach Oral History". Together with our teachers and students, we have come a long way. Hereby we would like to say a big THANK-YOU to all of you for your support and accompany along the way. Hope you will continue tuning in to our developments on the GlobalGiving platform and our website.