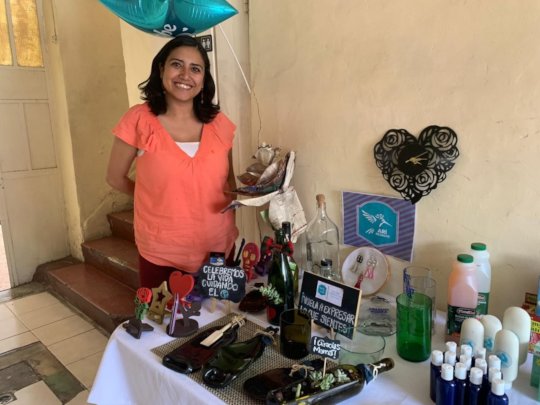 Economic empowerment program for women affected by earthquakes in Mexico City.
Thanks to the support of GlobalGiving we were able to implement the "Creciendo con México" (Growing with Mexico) program, where we trained 165 women affected by the 2017 earthquakes in Mexico City.
In early February, we began to create alliances with foundations, organizations, women leaders and with the government, to promote this program and to reach as many women as possible. A total of 7 groups were opened in four municipalities in Mexico City, that were hit by the earthquakes of 2017. The alliances were key to reach out to all the women interested in the program.
The women we trained through the program "Creciendo con México", represent a learning experience for CREA, each one of them helps us to understand in greater detail the different situations they faced as female entrepreneurs or business owners in a disaster situation.
The program offered three main services:
1. Comprehensive Diagnosis (an instrument developed collectively with the World Bank): all the women had access to the comprehensive diagnosis at the beginning of the training, which allowed them to identify quantitative and qualitative aspects of themselves as entrepreneurs and of their business. The quantitative index lets the women understand the performance of her business; it considers sales, number of customers, employees, profits, and her level of business skills. On the other hand, the qualitative aspect the diagnosis collects information on the perception that each woman has of herself, from her personal leadership, capacity of self-management, and resilience.
This diagnosis allows us to identify the main characteristic and needs of each entrepreneurship and/or businesses to give effective solutions, and to better target the effort of connection with other institutions of the entrepreneur ecosystem.
The main characteristic of the women trained in Creciendo con Mexico are:
- 26% of the women are 41 to 55 years old, and 21% are 18 to 30 years old.
- 33% of the women are married and 35% are single.
- 89% of the women own informal businesses, and the main business activities are: 29% food industry, 18% retail trade and 18% other services such as repair and maintenance services, associations and organizations, personal services (beauty salons, dry cleaners, laundries).
- Educational level: 30% elementary and middle school, 38% high school level and 31% grad school.
2. Training in the methodology of Personal Initiative and Development of Business Skills: women were trained in a period of two and a half months, attending session 3 hours, twice a week; covering a total of 50 hours of training in the two methodologies.
In personal leadership, women are recognized as the main agent of growth in their business, they manage to set goals and identify the strengths they have to turn them into business opportunities with innovative capacity, thinking ahead and overcoming obstacles in active ways.
Regarding developing business skills, they learn to keep track of their money incomes and outflows, setting an appropriate price for their products, identifying their market segment through marketing strategies and implementing productive processes and organizational structures.
3. Business tracking: with the results of the diagnosis, at the end of the training the women in the program, we linked them with public and private institutions, so that they can receive advice on financial issues, credit and use of social networks and corporate image.
The training groups became a safe space which allowed them to explore their own possibilities and strengths, generating a network of alliances between them.
As a result, the women organized two bazaars where they had the opportunity to exhibit their products and/or services.
Our commitment is to ensure that we provide the necessary tools so that more women adopt an entrepreneurial behavior, oriented towards the future and capable of overcoming the starting barriers, grow and consolidate a business in the best way possible.
The main challenges that women face after an earthquake are the fear of leaving their home, and resistance to starting their business again. They do not have a support network providing them with advice and alliances to generate marketing spaces. Though Creciendo con Mexico, we are able to open a save space for them to train and overcome all losses of the earthquakes of 2017 with renewed energies.
This project also gave us the opportunity to participate in the "2nd Meeting of the Disaster Recovery Program" meeting organized by GlobalGiving in Oaxaca on April 24th. Here we had the opportunity to generate and strengthen alliances with different parties engaged in creating new opportunities and better conditions for women. We are currently members of the GlobalGiving Mexico Disaster Recovery Network.
We remain committed to the disaster situation that affected our country, we want to serve more women. Our first proposal is to implement the methodology "Creating Inclusive Communities" to promote collaborative work and solve community problems with a gender perspective and experience of socio-environmental disasters. This will allow women to reactivate their businesses or develop other innovative businesses, we will also seek to keep the network of trained women going and encourage the spirit of mutual help to keep going forward.
Mexican women have the strength to start over, but many do not find the advice to do so.
We want to give these women business tools that allow them to be their own source of income and that they can have a stronger future for themselves and their families.
With your help we can reach many more.