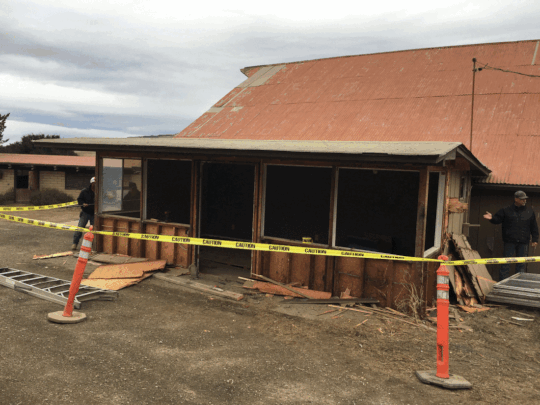 For years, one of the first things that visitors to RTF have seen as they slowly drive onto the sanctuary grounds has been our small but quaint Visitor Center. Here, in a small space, we packed in information and merchandise which educates visitors and helps to support RTF's sanctuary and programs.
Sadly, last winter the Visitor Center flooded, and despite our efforts to save her, the old structure has been pushed beyond its ability to resist the elements.
So we have regretfully dismantled our old friend, with hopes to incorporate our center into existing structures, when finances allow.


Speaking of water…
In 2018, RTF will continue working on water conservation programs to protect our precious supply of life-giving water for our sanctuary residents.
In 2016, phase one of our water conservation project was to line our large existing reservoir so that the precious water that was collected there would not disappear so quickly. In 2017, this now lined reservoir filled to hold over 18 million gallons of water. Over the year of course there was evaporation but well into the fire season, over 20,000 gallons of water was always available to be used in case of emergency. We can't even tell you how relieved we were to have this resource on the sanctuary during the recent fires in our county.
Volunteers have helped strengthen the fencing around the reservoir with long thick branches from the area to protect the reservoir floor.
We'll be adding additional storage tanks, hoses and pumps for emergency use for the horses and to be more prepared in case of fire. We'll update you when other projects like this begin during the year.


For most of the year, the wild horses and burros living at Return to Freedom's satellite sanctuary in San Luis Obispo, CA, graze naturally. During winter months, we supplement with hay. Hannah Robertson, a volunteer, has been gracious enough to share her experience with you helping us do exactly that:
"This January I was fortunate enough to be invited to Return to Freedom's (RTF) satellite sanctuary in San Luis Obispo, CA, to help feed wild horses! It was such an amazing experience from beginning to end, and I am forever grateful that I was able to spend time in such an amazing place.
As an animal-lover, I was thrilled to bring my dog Macy to accompany the wonderful folks from RTF, who treated me to an adventure-packed day. The people I met all had such big hearts and were very passionate about their love of horses.
A group of us started the morning with a truck full of hay and a Polaris off-road vehicle. Not only were the location views breathtaking, but I was able to see 80 horses living in freedom as wild horses should. It was amazing!
As we drove down dirt roads, we threw flakes of hay out from the back of the truck, and the horses would run behind. At one point, we must have been driving too slowly in the horses' opinion, because one brave horse impatiently grabbed some hay directly from the truck and started munching.
Along the way, I learned that, like us, horses have their own culture. I was shown the different bands within the group, told of their love stories, their fights and how they sometimes leave their original bands to join up with other horses.
Macy was unsure of what to think, and was very "barky" at the beginning of the trip, but the horses must have told her there was nothing to really bark about. She was so happy to spend the day in the Polaris with everyone, receiving cuddles as we drove alongside the beautiful horses.
The most amazing part of the trip for me happened as the visit neared its end, when RTF's Development Director, Andrea, asked me if I wanted to spend time alone with a group of wild horses! I was hesitant at first, since I had so little previous experience with horses, but I was encouraged to stay and "have a moment," as Andrea put it.
She quickly taught me how to approach a horse. When I finally took a deep breath and, for the first time, walked slowly by myself toward a group of wild horses, they scurried away from me! I assumed I had approached them incorrectly. But as I stood there watching them and wondering what my next step should be, one single horse came slowly towards me, and even allowed me to pet him. Excited, I thought, "This must be my moment!" As my heart beat fast, I began to bond with my first wild horse acquaintance.
Eventually, the horse I had just befriended left me, rejoining the rest of his horse group. Before I could feel too let down, he quickly returned, and this time he brought with him another horse! They both spent time with me and again, allowed me to touch and stroke them. It was as if he had gone back to the other horse and told her, "it's ok, she is alright, come meet her." I was in awe that these horses wanted to say hello, and so generously become friends with a new human visitor.
The whole trip was wonderful from start to finish. Thank you to Andrea Wogsland, Neda DeMayo, Steve and Leslie Carlson, and all of the people who work with and contribute to this wonderful organization, for the amazing work that you do. You folks are truly making the world a better place.
This experience will forever be in my heart."
If you would like to be a volunteer too, learn more at returntofreedom.org/visit/volunteer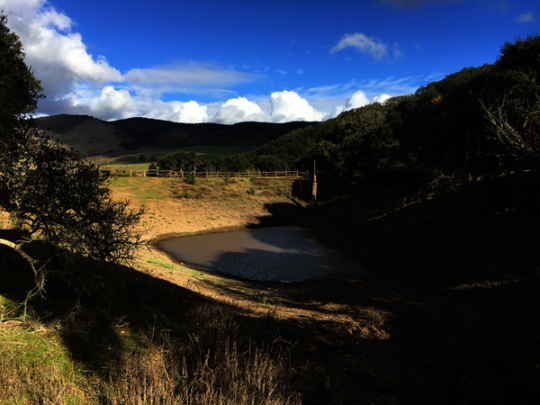 Links: