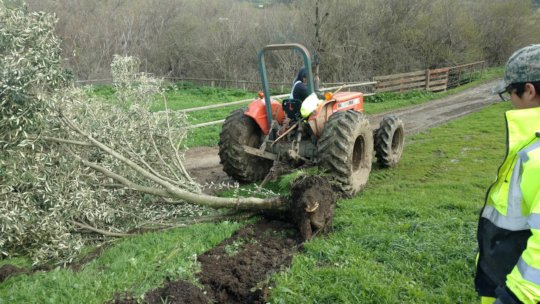 Work is constant at a sanctuary, and it's made more challenging when the weather is rough.
This year, the amount of wind and rain wind and rain have caued alot of damage both to roads and structures. Both of our mobile storage units have roof leaks. The main barn has a roof leak and three of our shelters have lost part of their roofs! We had to reloacte some of our older horses off the property to keep them out of mud and flooded corrals while ranch staff worked hard everday to keep clean straw under shelters so horses had some dry ground. The ranch staff did the feed runs in their yellow slicker gear, riding on the trailer on the back of the tractor, in order to even make it around the sanctuary in the muddy conditions.
This past year, with the help of our supporters, we erected a hay shelter so that we could free up one of our old barns for events and educational programs. Although it's now so muddy around the new hay shelter and we've had to return the old barn tfor a few weeks, we were able to store extra hay there. Hay is precious on a sanctuary, so it takes precedence over almost everything else.
We are so grateful for the kind people who have been able to help our horses whose corrals were flooded by the rain and mud at our Lompoc sanctuary. We moved eleven horses to a much drier private ranch, with sandy soil that drains well. We were able to start washing off the adobe-clay mud and get them all on drier ground. With the sun out, on and off, the horses are all dry and happy! We have been shifting horses around at the sanctuary to get them in the driest spots possible.
In December, Return to Freedom joined other wild horse advocacy and rescue groups in the successful rehoming of 150 Spanish mustangs from Wyoming — including 30 that arrived at RTF's American Wild Horse Sanctuary on Dec. 8.
The mustangs came from the Cayuse Ranch, founded in 1916 by Wyoming homesteader Bob Brislawn, "Mr. Mustang". When the ranch was sold in 2017, the Brislawns put the call out to help find the herd a new place to roam, and several groups answered.
We were asked to help because of RTF's interest in preserving threatened strains of the American mustang. This herd is part of the last stronghold for the legacy of the original Spanish horses that arrived to the continent in the 1500s, who represent the foundation of the mustang in America."
The newly arrived mustangs in RTF's care are mainly mares, some of which are pregnant, along with nursing and weanling fillies and colts, and two stallions. The group of Spanish mustangs – tough little horses, most measuring no more than about 14 hands — includes horses with roots tracing back to the wild horses of the Cerbat Mountains of Arizona and Choctaw ponies.
Since arriving at RTFs sanctuary from Wyoming in their shaggy winter coats, the mustangs have been dewormed and are receiving top-quality hay grass and alfalfa, as well as salts and minerals. The group will be entered into the sanctuary's database, and the mares will receive fertility control. RTF has secured permanent pasture for the mustangs and their legacy.
Also in December, little Nora was born to Stella, a mare who did not respond to birth control. While we strive to keep our population stable, when a baby comes it is exciting, so Nora is and will be well-loved. Speaking of birth control, In Feb 21,Celeste, RTF's Biologist, came to bring the PZP vaccines for the next round of administration. On March 19-21 teh Science and Conservation Center from Billings Montana sent instructor Kyla Grahams who joined RTF's biologist in a fertility control certification training course! Among the 8 students three were RTF equine and ranch staff and one was a long time RTF supporter.
Our Mustang Sal, a gelding, needed an $1,800 surgery. He had an argument with some wire which injured his gluteal muscle, which will take some time to heal. The good news is that he will recover and be out of pain.
Jasper, our burro star, got some dental work. No one enjoys their visit to the dentist, but it helped him to eat properly afterward, although he didn't get a lollipop as a reward for his bravery!
We also built a new gated fence to protect the 20,000-gallon water storage cistern at Lompoc headquarters, and planted new grass there, which will be future food for the horses. At our satellite location in San Luis Obispo, we placed supplements and new salt blocks around the property for the RTF horses living there.
Advocacy
As we have described before, RTF not only operates The American Wild Horse Sanctuary, but, importantly, also advocates for the free-roaming horses and burros still on the range.
On the advocacy front, there's been some good news to start the year for wild horses.
The Bureau of Land Management will continue to be barred from using taxpayer money to kill healthy wild horses and burros or sell them to slaughter for the rest of Fiscal Year 2019, thanks to language senator appropriators included added to the funding package signed into law in February.
Then, on March 13, the BLM rescinded its May 2018 sale policy change that allowed a single buyer to purchase up to 24 wild horses or burros per day with no waiting period – a change that opened the door wide for kill buyers. Under pressure from RTF and other advocates, the public and members of Congress, BLM opted to return to its previous policy of limiting buyers to purchasing no more than four wild horses or burros every six months.
On the broader issue of horse slaughter, the SAFE Act, which would permanently ban horse slaughter and the transportation of horses for slaughter, was reintroduced in February as H.R. 961. It's quickly amassed 88 bipartisan co-sponsors, as of this writing. RTF's goal is to reach 290 co-sponsors in the House to send a loud, clear message to congressional leaders that the bill should be brought up for a vote. In the last congress, the SAFE Act attracted 218 co-sponsors in the House and 30 in the Senate but was allowed to die in committee.
RTF remains involved in a pair of federal court cases:
* In October, RTF joined fellow advocates to file suit against the U.S. Forest Service to stop the unrestricted sale of older wild horses captured at the Devils Garden Wild Horse Territory in Northern California. USFS captured and removed 932 wild horses there during a helicopter roundup conducted from Oct. 10-Nov. 5. Shortly before the roundup began – and years after public comment on the roundup plan closed – USFS announced that it would sell wild horses ages 10-older "without restriction": without prohibitions against slaughter. The case unrestricted sale has been put on hold during the court case.
* Also in October, a federal district court judge decided to allow RTF and a coalition of advocates to intervene as defendants in a suit filed by Beaver County, Utah, which would threaten wild horses and tie the hands of those that manage them. The county wants to force BLM to immediately remove "excess" wild horses from the Sulphur Herd Management Area. We are seeking to protect the historically and genetically important Sulphur wild horses from removal from their federally designated habitat and, importantly, to preserve BLM's ability to manage the wild horse population on the range by using tools like safe, proven, and humane fertility control vaccines.
At the same time, RTF continues to work to advance humane management of wild horses and burros, including meeting with a broad variety of stakeholders. We feel it is essential that voices for wild horses remain in the room, no matter how difficult the conversations.
The work is endless, but so is the reward. Seeing the RTF horses and burros safe and well-fed and cared for makes it all worth it, and it is our supporters who really make it possible.
Thank you for continuing to make a good life possible for the 500+ wild horses and 42 wild burros that call RTF home.
All of Us at RTF