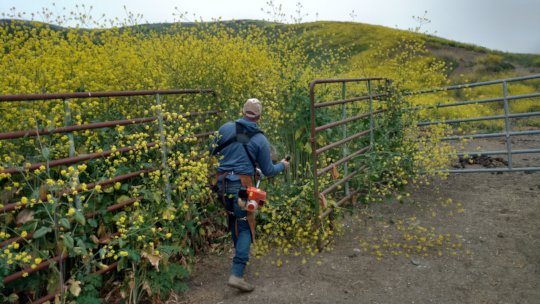 It's hard to believe that 3 months have passed since we last checked in with you, but when you're taking care of over 500 wild horses and burros, providing programs to educate the public about wild horses and advocating for them daily on the national stage, time moves quickly.
As far as work on the Sanctuary and our satellite locations, weather and its lingering effects figure heavily into the daily non-horse tasks. We had a total of 28 inches of rainfall, and when it rains, the adobe clay at our headquarters in Lompoc makes everything more challenging. The sanctuary sustained damage to structures, many fallen trees, and a lot of damage to our access roads and erosion to the creek beds that run through the sanctuary property.
Feeding horses, administering routine health regimens and special attention to horses with extra needs never ends. Repairs of damage from wind and rain, and everyday maintenance, like checking and repairing fencing, keep our ranch staff busy. With the rain also comes accelerated growth of undesirable weeds, which must be kept in control for access to every area of the sanctuary. Fencing also had to be added to the land in Alturas, CA, where RTF's rescued Gila Herd resides.
Sometimes there are strenuous missions which are out of the ordinary. Jason, RTF's Ranch Manager, flew to Virginia to pick up a horse trailer that was kindly donated to RTF, buy a much-needed used ranch pickup, then drove to Pennsylvania pick-up a Choctaw stallion for the Choctaw herd, also donated to RTF. With the horse securely and safely loaded, he then drove back to our Lompoc, CA headquarters. A 3655-mile drive- all in several days work for dedicated Jason.
Due to changing weather, medical needs and other logistics, we sometimes move horses and burros around on the Sanctuary in Lompoc, and between our several satellite and pasture holding locations.
In April, horses were released from smaller pastures and winter corrals at Lompoc headquarters, including16 stallions, 5 from Chief's herd, 7 from Bear's herd, and 9 Gila geldings went out in pastures to graze on the grass growing from the rains. On the 21st, the Choctaw stallion, Runner, arrived in Lompoc from the Virginia trip. At the end of the month, our 8 horses who had been in Santa Ynez, escaping the months of Lompoc mud, came back home to a warm welcome. By end of April we were able to start safaris at the 2000-acre satellite in San Luis Obispo, once the roads dried up!
In May, Silver King, who was brought to our Lompoc facility for 3 months to recover from an injury, went back to join the herd at our San Luis Obispo location, a new colt was born to Esperanza, and a filly was born to Ebony, two of the Spanish mares who arrived from Wyoming this winter with 30 other Spanish mustangs. The newly-arrived mares were all treated with PZP, a non-hormonal, reversible birth control to keep the sanctuary population stable while maintaining natural herd behaviors. It does not interfere with existing pregnancies, so as of this update, two foals have been born to the new group from Wyoming with another on the way. From April to June we administered birth control to 37 mares, including all 26 Spanish mares who just arrived in December.
Finally, in June, our new jenny, Freya, arrived in Lompoc and was gradually introduced to the RTF burros and went into their forest lair with them. During this month, RTF ranch staff at our Lompoc location also trimmed the hooves of 31 horses by hand and 75 in the chute, dewormed all 157 of the horses here and did tick treatments as well. Staff is still concerned about and treating one of the Spanish mares who arrived this winter with an infection (mastitis), as her foaling date seems to be coming soon.
Our 24 burros at the Lompoc location were moved around the ranch, grazing down the grass in ravines, alley ways and along access roads--the best kind of fire control there is. Before bringing them back to their oak forest, they were all dewormed and hooves trimmed. We are also moving horses strategically around the ranch for more balanced grazing opportunities.
Educational programs are a large part of RTF's mission. Even events like photo safaris and workshops are used not only to teach skills, but also inform participants about the plight of America's wild horses and burros, and to make them better advocates, well-equipped to spread the word accurately about the issue.
Between Volunteer Day, Tours, Photo Safaris and Special Event clinics, RTF has had nearly 300 program attendees since May. We have had the good fortune to meet so many wonderful people, and they never forget their experience at RTF, spending time up close and personal to the herds living here.
Return to Freedom also works every day to change and improve the way horses are managed on our public lands. Some of the policies we support affect all horses. Slaughter is one of those practices which threatens all equines, both wild and domestic.
Return to Freedom is working hard in the fight against horse slaughter: the ultimate betrayal of the horses, burros and other equines so important to our country's history and culture.
In the House of Representatives, the Safeguard American Food Exports (SAFE) Act has amassed 155 bipartisan cosponsors since being reintroduced in February as H.R. 961. The bill would permanently ban slaughter and the transportation of horses out of the country for that purpose.
Until the SAFE Act becomes law, RTF works each year to ensure that language is included in the annual Agriculture appropriations bill prohibiting the U.S. Department of Agriculture from using tax dollars to hire horsemeat inspectors. This serves as a temporary ban and has helped keep horse slaughter plants in the United States closed since 2007.
As part of Fiscal Year 2020 Interior Appropriations bill, which funds the Bureau of Land Management, lawmakers have included key protective provisions for which RTF lobbied hard. These would bar BLM from selling wild horses without restriction -- a path into the slaughter pipeline -- as well as the agency itself killing healthy wild horses and burros.
RTF remains involved in federal court-ordered settlement talks with the Forest Service over that attempt to sell captured wild horses without restrictions. For now, a stipulated prohibition remains in place, keeping the agency from selling horses without slaughter protections.
We are also supporting a California bill, A.B.128, aimed at strengthening the state's existing anti-slaughter law. The bill has passed in the Assembly and moved on to the State Senate.
We are also part of a joint proposal to Congress by RTF, the Humane Society of the United States, ASPCA and other rangeland stakeholders intended to force the Bureau of Land Management to implement for the first time a meaningful fertility control program to end roundups as the primary means of managing our nation's wild horses.
The U.S. House of Representatives on Tuesday voted a bill to fund several agencies for Fiscal Year 2020, including the Department of the Interior. The bill includes $6 million to partly fund the proposal to use safe, proven and humane fertility control alongside removals from two to three Herd Management Areas. As mentioned above, it includes language that would bar BLM from killing horses or selling them to slaughter. It also demands for the first time that BLM follow its own humane handling guidelines in the agency's own Comprehensive Animal Welfare Program for each horse removed from the range; relocate captured horses from corrals to cheaper, more natural pastures; and requires BLM to report back to Congress quarterly on the progress of the wild horse program.
Being simultaneously a sanctuary and an educational and advocacy organization is a tall order, but with the help of so many loyal supporters over our 20-plus years of operation, Return to Freedom continues to provide a good life for our own residents, and to fight for justice for their counterparts on the range.
Thank you for always being there, so that RTF can always be here.
All of Us at RTF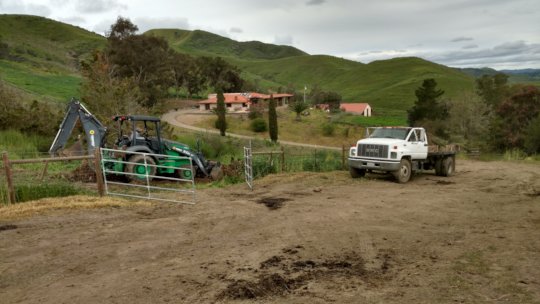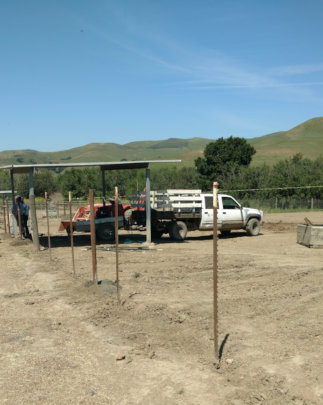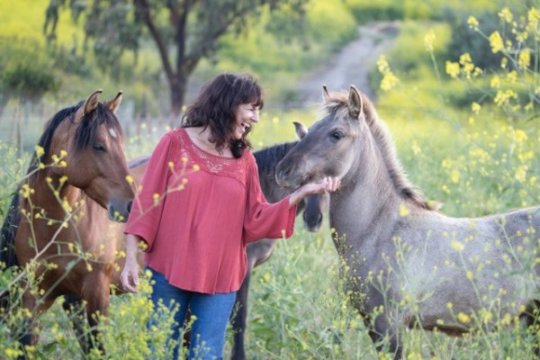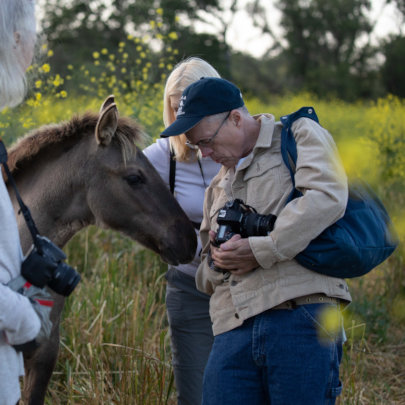 Links: