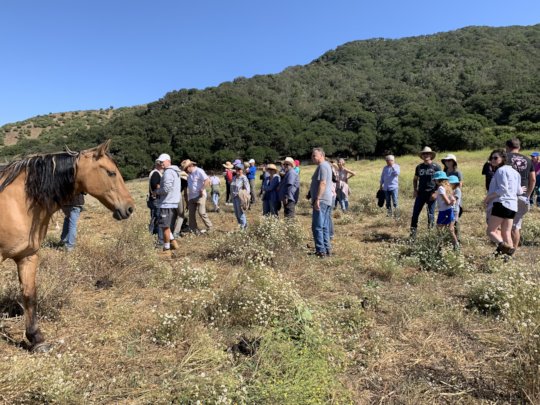 Sanctuary
While it's fun and satisfying to work directly with the horses and burros at RTF, much of the hard work our Ranch Manager, Jason, and his ranch staff does is to maintain and improve the facilities in which the residents live.
During the months of July and August, hard-working staff rebuilt 780 ft of fence at RTF's south pasture. They raised the fence by 10 inches, adding posts and single smooth wire to the existing fencing.
For Bear and Chief's chief holding pen, 380 ft of fencing were improved for added security, and the 190 ft walkway fence from holding to the pasture was also rebuilt and raised.
Over 30 new fence posts, made from used telephone poles donated by Vandenberg Air Force base, were installed, and a new dividing fence for the stallions' winter pens were built with 220 ft raised and rebuilt, again for added security and strength.
Jason also spent 2 weeks on a fencing project at a new satellite location up north. Fencing is clearly a priority, to keep RTF's horses and burros safe and gently managed.
At our San Luis Obispo satellite, staff repaired a spring which provides fresh water for the horses there.
And machines being machines, we replaced a motor in our Kubota 1140, a vital tool in running the ranch.
In September, ranch staff excavated and hauled 90 tons of shale to numerous shelters and roads on the ranch. They stockpiled 5 loads of shale for winter maintenance, filled in wash-outs in Spirit's pasture and our front hill pasture. They finished spreading shale under 8 shelters, finished the road from office with wood chips for 850 feet, and hauled shale to 700ft of roads serving the areas where Amante and our Lompoc Gilas reside.
This work is extremely demanding, and we're lucky to have such a skilled ranch manager and dedicated ranch staff.
Program and Education
As always during clement weather, Return to Freedom welcomed guests to Tours, Volunteer and Family events and Photo Safaris, pictured in our photo gallery here. As well as experiencing the specific event, Program participants learn about the challenges facing America's wild horses and burros, and leave with a new or strengthened commitment to standing with and advocating for America's wild equines.
Advocacy
On Sept. 26, the Senate Appropriations voted to dedicate an additional $35 million toward the first-ever large-scale effort to implement "proven, safe and humane" tools to curb wild horse and burro population growth — an investment that can be the first step toward ending the inhumane, costly and unsustainable practice of capturing and warehousing these American icons.
Supported by Return to Freedom and a diverse coalition of stakeholders from both sides of the issue, this multi-pronged approach would halt the march toward the mass killing or unrestricted sale (to slaughter) of tens of thousands of wild horses, steps proposed by the administration and members of Congress in recent years. It will also shift the Bureau of Land Management's approach away from almost 50 years of divisive and often deadly roundups and towards a humane, minimally intrusive management of wild horses and burros on our public lands.
The Senate committee voted to mandate that:
–the strategy "must not include any sales or actions that result in the destruction of healthy animals,"
–removals must be conducted in strict compliance with BLM's Comprehensive Animal Welfare Program, a set of humane handling standards,
–horses be relocated from high-cost corrals to more natural and lower-cost off-range pastures,
–and that BLM work with stakeholders to increase adoptions.
Importantly, the guiding report language that tools used to slow wild horse population growth must be "proven, safe and humane" – a standard that the sterilization of mares, which RTF strongly opposes, does not meet.
The House Appropriations in May voted to approve $6 million for a pilot of the stakeholder proposal with similar language as part of its Fiscal Year 2020 Interior Appropriations bill. The two chambers will need to work out their funding differences in Conference Committee.
Both the House and Senate Interior bills also continue to bar the Bureau of Land Management from killing healthy unadopted wild horses and burros or selling them without restriction, placing them in jeopardy of being sold to kill buyers. In addition, RTF successfully lobbied both appropriations committees to ensure language was included that would bar U.S. Forest Service from killing healthy horses or selling them without restriction.
RTF also continued to press forward with lobbying, grassroots advocacy and legal efforts to stop horse slaughter:
--Both the House and Senate versions of the Fiscal Year 2020 Agriculture appropriations including an amendment continuing a temporary ban on horse slaughter.
--The House version of the SAFE Act (H.R. 961) to permanently ban horse slaughter and the transportation of horses has amassed 187 bipartisan cosponsors. The more recently introduced Senate version (S. 2006) has three.
--The California Legislature passed A.B. 128, a bill aimed at strengthening the state's existing laws against horse slaughter. The bill, on the governor's desk as of this writing, was prompted by a U.S. Forest Service effort to sell older wild horses captured in 2018 at the Devil's Garden Wild Horse Territory in Northern California without protections against slaughter.
--RTF joined other advocates in filing suit against the USFS to stop the unrestricted sale. Court-ordered settlement talks are ongoing. In the meantime, USFS has placed all of the older horses in homes, including 12 now safely at RTF's American Wild Horse Sanctuary.
Return to Freedom faces a particularly challenging mission, as we must honor our solemn promise to the horses and burros in our care, while simultaneously raising our voice on the national stage on behalf of wild equines, working with other organizations, government agencies and a wide range of other stakeholders in the use of our public lands.
___
Support
This work can't be done without the ongoing support from horse advocates such as our friends here on Global Giving have provided so generously. To continue this mission for the horses here and still on the range, we depend on others who care chipping in what they can. Alone, we can do little, but together, we add up to a mighty army.
To the Wild Ones, and those who love and respect them,
All of Us at Return to Freedom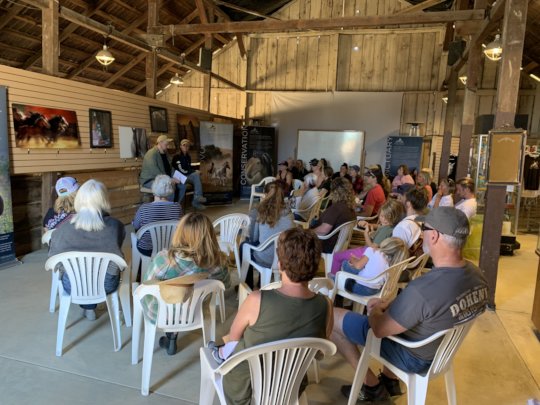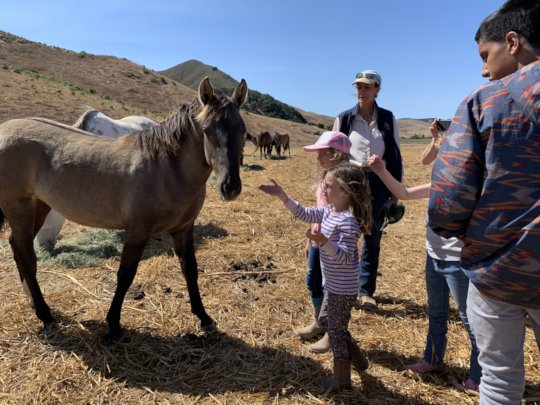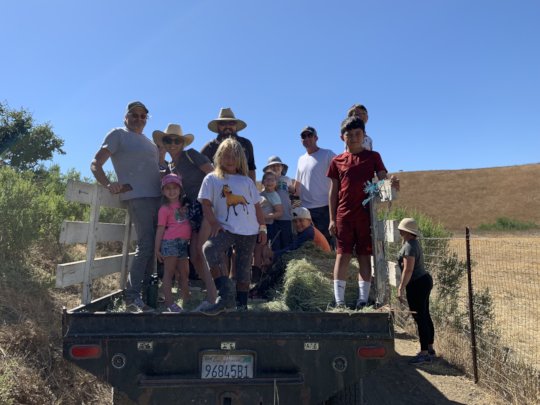 Links: