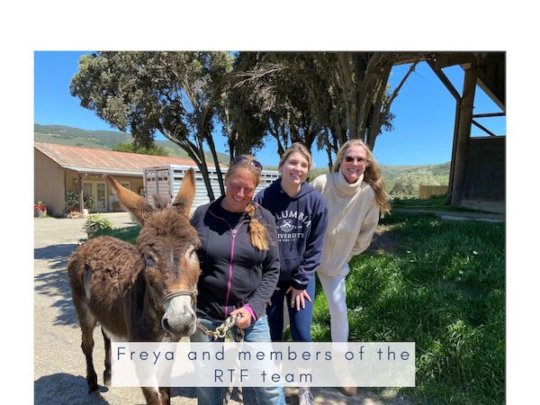 Dear RTF Sanctuary Supporters,
It's trite but true—it's hard to believe we're halfway through 2021, but we are!
Sanctuary
Thanks to your support, things are running smoothly. We did have one big scare, which has resolved happily.
One of our beloved burros, Freya, disappeared deep into the brush alone for two weeks, as we frantically searched for her. Rejected by her mother as a young foal, and therefore lacking in socialization, Freya has been alternately amusing and difficult—but when she didn't show up first in line one morning for the feed truck, we knew something was very wrong.
Then, after our long intense-but-fruitless search, one day she just reappeared. But she was not braying and running to the feed truck. She was disoriented, dehydrated, shocked and had body trauma. She could not move her tail and fur was missing. What had happened to her?
We immediately began intensive veterinary care at the clinic. Freya's survival was still uncertain, but fortunately her relative youth was on her side, and after two weeks of dedicated state-of-the-art care, she came home!
Happily, we have Freya back and under the watchful eye of our equine staff and vet, but we are still struggling to cover her vet expenses. This is important even beyond Freya's case—our vet bills must be honored to maintain access to the equine medical clinic should Freya or any other of our horse and burro residents need their life-saving expertise. This is not optional at a sanctuary with hundreds of horses and burros. We do have faith that we'll find the funds.
Meanwhile, at our satellite up north, Ranch Manager Jason's work never ends. Among his recent projects were re-diking roughly 80 acres to improve flood irrigation while constantly rotating horses to new dry land pasture.
Advocacy
Return to Freedom was victorious in our efforts to stop barbaric surgeries and illegal research on wild mares rounded up from the Confusion Herd in Utah. When the U.S. Bureau of Land Management (BLM) announced its plans in 2020, RTF was the first group to sue the BLM, which was trying to take this illegal action for the third time.
In April, RTF was contacted by lawyers for the BLM who stated that the BLM would not be proceeding with the surgeries. The controversial and dangerous surgery, known as ovariectomy via colpotomy, involves the blind grasping of female horses' ovaries, twisting and pulling them out of their bodies. RTF was not willing to stand by and let this happen, and filed suit in December.
RTF has been involved with actions on multiple fronts to stop the surgical sterilization of wild horses, which violates the federal Wild Free-Roaming Horses and Burros Act and subjects these majestic animals to inhumane and unwarranted procedures. RTF has long been a proponent of the use of non-hormonal, reversible contraception for wild horses, to slow population growth and stabilize herds. RTF hopes that this decision suggests the administration will be taking RTF's extensive lobbying in this area to heart.
In May, a New York Times story exposed the misuse of BLM's Adoption Incentive Program, through which adopters are to receive $1,000 apiece. The Times story found that at least one family pocketed the money and then sold horses to slaughter. In response, RTF called for an Interior Department investigation. RTF also created a targeted letter to Congress allowing supporters to call for changes in the program, such as the use of vouchers for adopters to use pay trainers and veterinarians instead of cash.
Also in May, members of the House of Representatives reintroduced the SAFE Act, which would ban horse slaughter and the export of American horses for purposes of slaughter. RTF continues to lobby lawmakers to finally push this important bipartisan bill toward becoming law.
Finally, in May, President Biden announced a budget proposal that included a $35 million increase, to $152.6 million, for the BLM's Wild Horse and Burro Program. In response, RTF issued a statement calling on the agency to use the funding to implement safe, proven and humane fertility control to slow on-range reproduction so that BLM can phase out its decades-old practice of shattering wild horses and burro families in heartless and dangerous roundups.
"The Bureau of Land Management needs to stop kicking the can down the road. It can no longer use the excuse that it lacks the resources needed to implement available, proven safe and humane fertility control immediately, so that the agency's decades-long practice of capture, removal and warehousing of America's wild horses can be brought to an end," said Neda DeMayo, president of RTF, in a press release. "Congress must hold the agency accountable for doing so."
Running a large sanctuary while fighting for the future of free-roaming horses and burros is quite a challenge, but amazingly, we've been here doing just that for nearly 25 years. And we're only here because of people like you who respect and love America's wild equines. We're so grateful for and to you.
All of Us at Return to Freedom