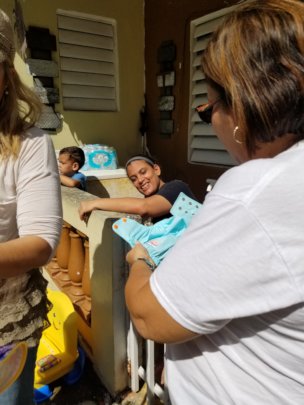 As I write this, I'm in Puerto Rico working alongside our partners distributing diapers. It's been 5 months since Hurricane Maria, and so much devastation remains. Many are still without power, and rely on generators or go without. Electrical crews from all across the United States are here, working 7 days a week. Poco a poco (little by little), recovery is happening.
We've been working with remote mountain communities that have been beyond the grasp of FEMA. Access is very challenging, up steep mountain roads. These roads are so narrow, and so steep that many vehicles can't climb. Our pickup truck was able to make it, and other vehicles could not. These communities may never receive power again, and the families are very poor. Each family we met was so greatful for assistance and to know they are not alone and not forgotten. The biggest need was for adult diapers. Many elderly people live up in the mountains, and are cared for by family and neighbors.
Juan is one of many who received diapers because of you. He is a Veteran. Today, he is still without power, and struggles to afford ice and gas. He was so grateful for the cloth diapers, which provide a long term solution to his personal care needs. He is very grateful for your help, and wants to share his thanks.
"Thank you, blessed be." ~ Juan, U.S. Veteran and Diaper Recipient
Thank you for helping Juan, and others just like him.
~ Stephanie
Links: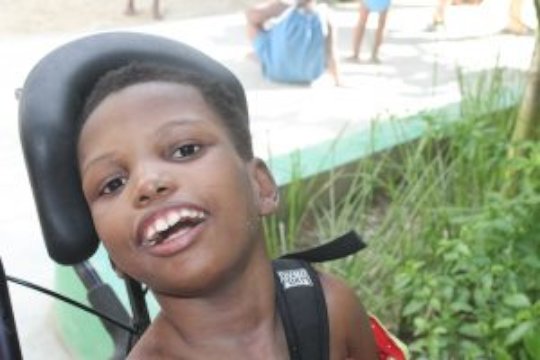 There are hundreds of languages in the world, but a smile speaks them all.
Nicole recently traveled to our Diaper Drop Real Hope for Haiti, and she was able to bring desperately needed supplies including 31 kits of cloth diapers. 8 of these kits are for older children with special needs who rely on the support of diapers.
Christina is one of these 8 children, and her smile is contagious! She gets quite excited when people sing or talk to her. She is a delightful young lady with cerebral palsy, who was abandoned at the gate Real Hope for Haiti. Real Hope for Haiti often sees children who have mental or physical ailments abandoned at their front gate. It is often that their families do not have the resources to care for a child with special needs. They relinquish them in hopes that they will receive better care than they perceive they can provide.
When a child is abandoned, Real Hope for Haiti does the best they can to locate the child's family, to support and empower families to care for their children with special needs. When this isn't possible, like with Christina, Real Hope works to find sponsorships and local families to take them in and care for them. Christina isn't able to walk or sit up, and relies upon diapers. Because of your amazing support, Christina and seven other special needs children received kits of cloth diapers.
On behalf of Christina's foster family, Real Hope for Haiti, and Jake's Diapers, thank you. It truly takes a global village to raise a child.
~ Stephanie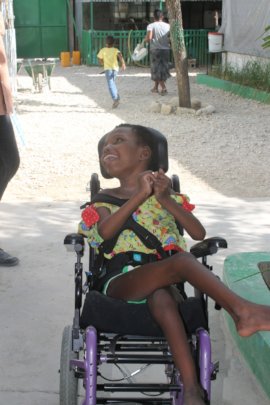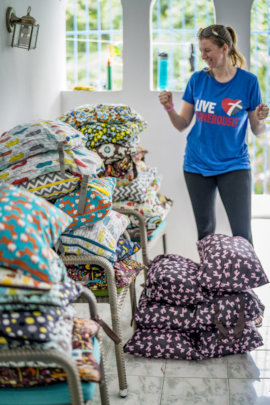 Links: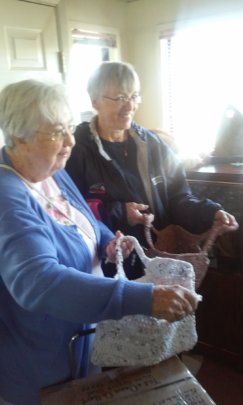 I can hardly believe it's been five months since the earthquake. When disaster strikes, most people think of food, shelter, clothing, and water. Diapers are an overlooked, yet basic need that you chose to provide to children in Mexico. Thank you!
Our work in Earthquake Relief has been quite the education in patience and flexibility. The diaper kits we provide are easily handwashable, and have two main parts: the waterproof cover (or shell), and the insert (the absorbent part). Because of manufacturing challenges, we were running low on inserts. But we partnered us with a church group based in Texas. This church group has a talented group of women who love to sew and have been making inserts, but are unable to make the shells, which we had! Together, we were able to provide diaper kits to another ministry which were then transported across the border into Mexico to families in need.
WARNING: Javascript is currently disabled or is not available in your browser. GlobalGiving makes extensive use of Javascript and will not function properly with Javascript disabled.
Please enable Javascript
and refresh this page.