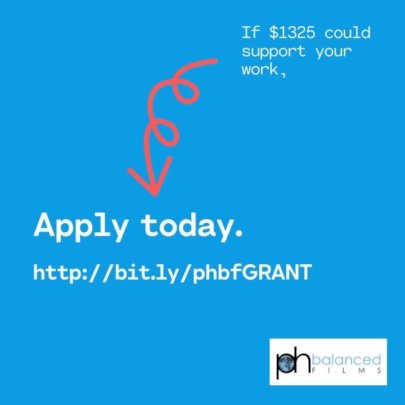 Dear supporter of women changemakers,
Like many organizations around the world, the plans we had for p.h. balanced films in 2020 were disrupted by the COVID-19 pandemic. At the onset of the pandemic in the United States in late March, we paused to regroup and determine the next best steps. In the interim, and in the aftermath of countless murders of Black people and other violence against people of color, global protests that moved the conversation about race that has been underway since the founding of our country to the forefront of our collective minds. The country is now grappling with two crises - COVID-19 and systemic racism - and questions of inequity, intolerance, discrimination, marginalization, and bigotry.
We want to be part of the solution. As one of our donors, you are the first to know how we plan to do that.
As has been the case since our founding, we are a 100% volunteer-run organization. We do not and have never paid salaries; all of our funding goes to our programming, including our Reel Women Real Change (RWRC) efforts. To date, our RWRC workshops have all required travel, international and domestic. Now, particularly as the number of virtual workshops increases, we do not think it is responsible to travel or host any in-person gatherings.
Without travel, we have financial assets that are going unused at a time when there are organizations and individuals with different operation models who are struggling. These organizations could promptly turn those financial assets into a positive impact - and an impact that is consistent with the goals our donors originally gave to support p.h. balanced films.
With that in mind, we are heartened to share that we have decided to shift to a microgrant model in 2020 through at least several months into 2021.
In the months ahead, we want to support organizations and individuals who are doing the type of work p.h. balanced films supports - namely, women changemakers who are using storytelling, including film, to advocate for change in their communities. There are myriad important causes in every corner of every community around the world.
We encourage the organizations and individuals involved in those causes to apply for a $1,325 microgrant: http://bit.ly/phbfGRANT
$1,325 is inspired by the UN Resolution for Women, Peace, and Security - all of which this world needs more of right now. The 20th Anniversary of the Resolution is October 31, 2020.
On that day, we will award the first of several $1325 grants. We will continue to award at least one grant per month over the months ahead. Recognizing the administrative burden that grants can be, we intentionally kept this application concise. We will share information about our grantees with you in the months ahead so that you can learn more about their work and what you, in supporting us, are now, by extension, supporting.
In this unprecedented time, none of us know what our collective future holds.
What we do know is that we want to continue to support other women changemakers and, for now, our funds are the best way to do so.
At the end of 2020, we will reassess where we are in the world and as an organization.
For today, we welcome your help in spreading the word about our microgrants. We will announce this publicly soon and look forward to sharing more about the important efforts we are able to support in the months ahead!
Please stay healthy, safe, and hopeful,
Piper and the team of p.h. balanced films
Links: