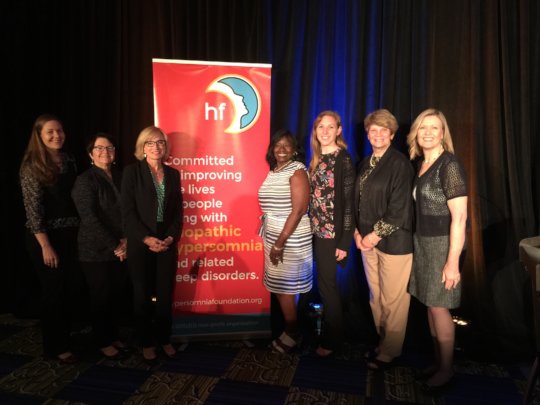 The Hypersomnia Foundation (HF) has been very busy furthering its mission of advocacy, education and research related to idiopathic hypersomnia (IH).
June 2-3, 2018 - The Way Forward: #BeyondSleepy Conference in Baltimore was a resounding success!
With a goal to provide updated, timely and quality information relevant to people with IH (PWIH), supporters, healthcare professionals (HCP), and industry, our presentations covered the following topics:
An overview of the current status of research and treatments by Dr. David Rye and Dr. Lynn Marie Trotti
An explanation of how CoRDS collects data to be accessed by researchers, while carefully protecting privacy, by a senior research associate from CoRDS (we were also pleased to announce that over 1,000 persons have registered for the HF Registry at CoRDS)
Analysis of data from the HF CoRDS registry by Dr. Trotti (also presented thereafter at the APSS SLEEP2018 meeting being held in Baltimore)
An interactive session discussing how patient data influence the design of clinical trials and how patients can best engage with the clinical trial process
A panel discussion about patient engagement in the development process of new research and treatments, with questions drawn from attendees
Information about preparation for, and seeking, long-term disability
Ground-breaking research that included: 1) Women's issues (birth control, pregnancy, breast feeding, and menopause) when diagnosed with IH; 2) Current understanding of how GABA(A) receptors differ in patients with IH; 3) Biomarkers that distinguish IH from narcolepsy; 4) Anesthesia concerns for people with IH when anticipating surgery
Also, three group breakout sessions were offered for people with IH, supporters, and college-age students. Each respective session allowed time for discussion about unique issues, challenges and input within the respective group.
We are working to edit a number of the presentations and will announce when available to view through the HF website via our e-newsletter, SomnusNooze.
June 4-6, 2018 - The 32nd annual meeting of the Associated Professional Sleep Societies (APSS), SLEEP2018 conference in Baltimore, MD. The Hypersomnia Foundation, Inc. hosted an exhibit booth (Booth #256) to introduce its mission, goals, objectives and programs to healthcare professional attendees.
Thanks to an anonymous donor the HF participated in the SLEEP2018 Sleep Walking, an activity promoted by the APSS to encourage traffic to exhibit booths. For a chance to win great prizes, a Sleep Walking card, placed in every SLEEP2018 registration packet, needed to be stamped at stations sponsoring the event. Participation resulted in tremendous traffic for the HF! As a result, HF Board members greeted several hundred sleep healthcare professionals.
Every visitor was offered the HF brochure and introduced to the HF Registry at CoRDS as well as to our Research Award Program. Over 80 national and international sleep professionals treating patients with IH, or other central disorders of hypersomnolence, agreed to distribute HF brochures to their patients and were encouraged to join the healthcare provider directory on our website.
"It's a wonderful service you [the HF] are doing for a community who feel so isolated," stated a physician visiting our booth.
June 5, 2018 - Summit hosted by the AAHS (American Alliance for Healthy Sleep). HF Board members were invited and participated in this summit held during the Conference week of SLEEP2018. Board member Cat Rye introduced the HF mission and programs, and all joined in roundtable discussions about increasing collaboration within the patient-centered sleep community, addressing areas of importance for all attendees, including mutual problems, solutions and goals, as well as future areas of collaboration.
Finally, we want to give a shout out to Holly Partridge, who ran the 2018 London Marathon and dedicated her run to the HF through GlobalGiving. We are deeply grateful to Holly's effort and passion to support IH research: https://www.justgiving.com/fundraising/holly-partridge18.
Your generous donations allow the Hypersomnia Foundation to continue its mission, raising awareness and supporting ongoing medical and scientific research related to idiopathic hypersomnia. Thank you.