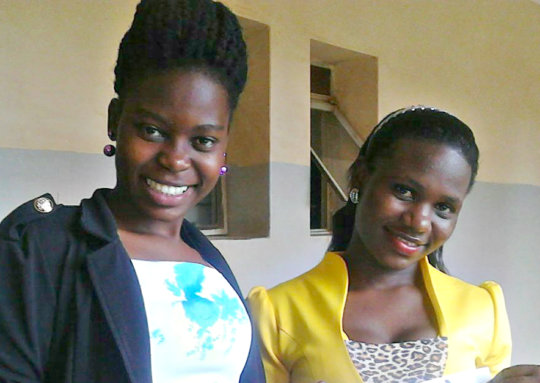 It's wonderful to see how Winfred and Benadet, student teachers from the Graduate Women International (GWI) project Teachers for Rural Futures, have grown in confidence. They have almost completed their first year studying a Bachelor of Education at Makerere University, Kampala, Uganda. Coming from Buyende, a small village in eastern Uganda, the girls have adjusted to university life and settled into their studies, with the support of a local mentor. The girls are now working hard to complete their end-of-year exams and will then go back to their families in Buyende for the vacation.
The rural community where the girls are from, like many in Uganda, has a shortage of women secondary school teachers. This discourages many adolescent girls from attending school. Girls who do not complete their secondary education are more likely to marry early, suffer health issues to themselves or their children or even fatality through teenage pregnancy. Without education, girls' ability to earn money and break the cycle of poverty is limited.
Through a competitive process, GWI is sponsoring rural girls like Winfred and Benadet to train as secondary teachers. On graduation they will go back to their rural communities to teach, uniquely positioned as role models of women who are professionally qualified and salaried, and at the same time able to provide encouragement and advice to other girls at critical stages of their lives.
GWI affiliate and project partner Uganda Association of University Women (UAUW) have met with parents, teenagers and key individuals to emphasise the benefits of secondary schooling and beyond for their girls. A UAUW member commented, 'When the community heard we were coming to talk to them, they were intrigued. As this is a remote community many had planned to marry their girls off, but as a result of our visit they have decided to keep them in school. '
Thank you to all our donors who have supported this pioneering initiative! Individual donations provide funding for tuition and examinations, university accommodation, books, transport to and from home, living expenses and community engagement, to ensure that the young women will be sustained as teachers in their communities, and to raise support for girls' education.
We have identified several more candidates for the next years' academic intake. More support for women student teachers means 1000s more girls in rural communities can go to school. Please help us and continue to spread the word on this project!
Links: