Dear Teachers for Rural Futures supporters,
In rural Uganda, far too many girls do not have access to education or are forced to drop out of school, partly due to a lack of female teachers. Thanks to the generous donations of GWI members and supporters over the past four years, our project has already successfully helped five young women from rural Uganda to complete their university studies in the field of education, to become teachers but also ambassadors of girls education. This diploma initially enables these young girls to realize their potential and their dream of becoming teachers. In addition, these five new female teachers will directly participate in improving the access to quality education for young girls in the communities in which these teachers will work. Finally, they are an example for all the girls in their community and ambassadors of the transformative and empowering potential of education for all girls and women.
The Teachers for Rural Futures program has already demonstrated its impact potential and its ability to change the lives of women and girls in rural Uganda. Given that the five girls sponsored and supported by GWI since 2015 within the framework of this project graduated in January 2020, our objective for the next three years is to continue this project by sponsoring four other girls while following our five students teachers as they embark on the first year of their careers, which will allow us to observe the direct impact of this program once the teachers have returned to their rural communities.
Graduate Women International looks forward to making positive contributions to rural communities in Uganda and beyond with your continued support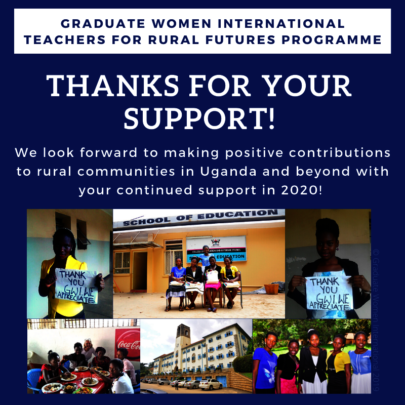 Dear Teachers for rural futures supporters,
The generous donations to the Graduate Women International Teachers for Rural Futures project through 2019 have been greatly appreciated and have allowed our five student teachers to continue their studies, live in safe accommodations and access adequate food. All five girls in the Teachers for Rural Futures programme recently studied hard for their end of term exams. After spending the holidays with their families in the rural district of Buyende in Eastern Uganda, our student teachers will return to Makerere University in Kampala where they will continue to study and mentor younger girls in the programme. Recalling their first days at Makerere University, all of the girls sponsored by GWI send their heartfelt gratitude to the GWI contributors for their life-changing support.
Graduate Women International looks forward to making positive contributions to rural communities in Uganda and beyond with your continued support in 2020.
Picture from Left to Right, Up and Down: Benadet; the five teachers for rural futures students in front of the Makerere University School of Education; Winfred; Stacy Dry Lara, GWI Executive Director with the five Teachers for Rural Futures Students; Makerere University; the five Teachers for Rural Futures Students.
All photo rights obtained previously.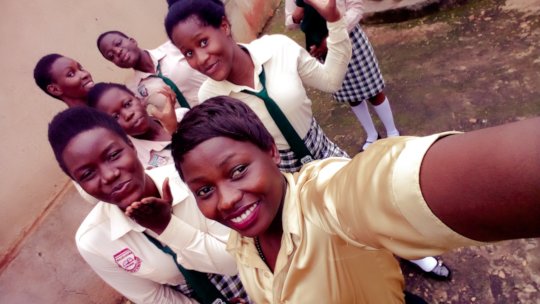 Dear Teachers for Rural Futures Supporters,
Graduate Women International (GWI) is extremely grateful for all the generous donations given to our Teachers for Rural Futures Global Giving Campaign. Through your donations, we are changing lives.
The GWI five young women students, have finished their successful summer internship in Buyende, Uganda. They are now back in classes at Makerere University in Kampala. This internship has shown the progress the young ladies are making towards becoming quality teachers, community role models and leaders for other young girls in this rual area of Uganda.
GWI and Teachers for Rural Futures donors are so proud of the girls' achievements. We take this opportunity to congratulate them for successfully completing their internships and taking these valuable next steps towards becoming quality teachers and contributing the the GWI mission to train more quality female teachers. The skills learned from this summer's programme are invaluable.

So thank you all again for your generous donations. They really do help!
Pictured: One of the Teachers for Rural Futures student teachers with the students she supervised this summer. (photo rights obtained previously)
Sincerely,
WARNING: Javascript is currently disabled or is not available in your browser. GlobalGiving makes extensive use of Javascript and will not function properly with Javascript disabled.
Please enable Javascript
and refresh this page.