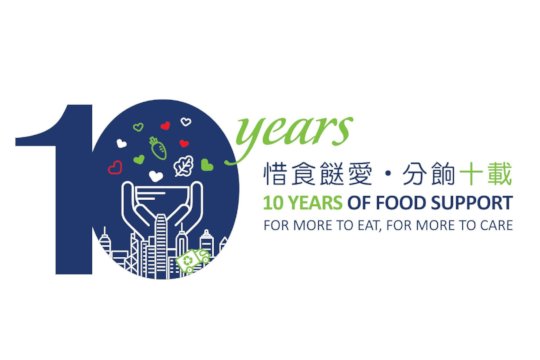 Thanks to various sectors' tremendous support, Food Angel celebrates its 10th Anniversary this year.
For this past fruitful decade, we are fortunate to have overcome many difficulties and come across exciting development opportunities. The generous support from various sectors has enabled our team to carry out our mission "Waste Not • Hunger Not • With Love" and to serve the underprivileged communities through nutritious meals.
During the pandemic, for safety considerations, most of the food collection points including wet markets, hotels, and school meal suppliers need to be suspended. As a result, the amount of food collected had dropped significantly. Food Angel currently uses our own funds to purchase ingredients to cover the shortage of food supply. As the pandemic situation recently improved, we have resumed our food rescue work this month, and hopefully, gradually increase our food collection volume.
Looking ahead to the next decade, we will stay true to our founding mission, and continue to serve the needy in Hong Kong with love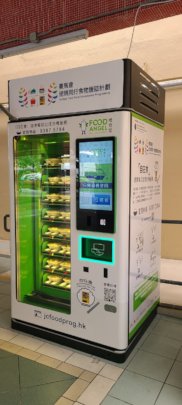 As the COVID-19 pandemic has brought unprecedented challenges and led to growing unemployment and underemployment, Food Angel is receiving a rising demand for food assistance from the public. To support the local community, Food Angel launched the Automated Food Dispenser (AFD) service to serve free cook-chill meals in different districts, with the support by the Hong Kong Jockey Club Charities Trust. This innovative initiative allows for a flexible collection of cook-chill meals supporting those with irregular working hours, and it aims to relieve some financial burden the needy families face. Eligible applicants approved by social workers have distributed a digital membership card. With the QR code, members are able to collect cook-chill meals from the automated food dispensers, which functions like a vending machine. The meals can be easily reheated with a rice cooker, microwave, or wok at home.
At age 55, Mr. Luk enjoys solitude, and he resides alone in a sub-divided flat in Kwuntong. He takes pride in self-reliance and has never applied for any kind of subsidy. Unfortunately, it has become difficult for him to pay rent as he lost his job in the pandemic. The AFD programme gives him the flexibility to collect meals later in the night, which exempts him from socializing with other service users in the usual meal distribution points. With the limited space for cooking in the subdivided flat, he can now still enjoy a warm meal with just a rice-cooker in this cooler season!
The AFD programme has helped various people affected in the pandemic so far. Please continue to support Food Angel's meal service so that more needy families can still enjoy warm meals during this difficult time.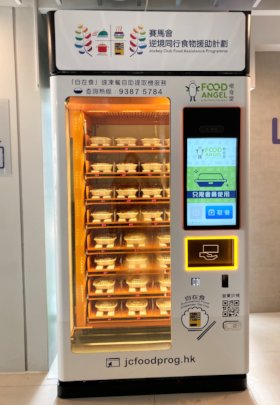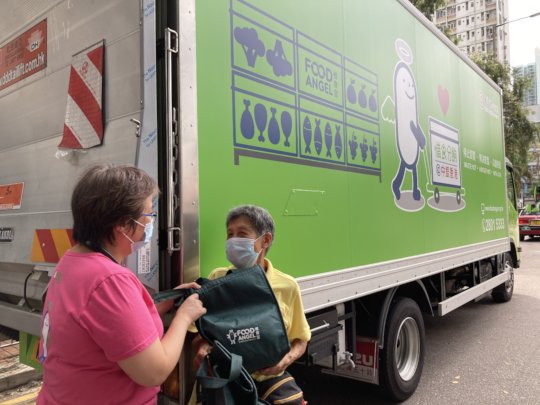 The needy communities are impacted severely as they face waves of pandemic. A number of community canteens have suspended their services to minimize meal gatherings and lower risks of infection. To help alleviate the plight of the grassroots, Bank of China funded the setting up of 'Food Angel x BOC Food Rescue and Assistance project'. With the cooling capability to retain the quality of food, food items can be delivered efficiently to 8 remote districts twice a day to support up to 360 individuals including elderly who lives alone, individuals with lower mobility, and families with lower income.
Granny May, a 76-year-old who resides alone on the fourth floor in a tenement building, is a service user who benefits from this new service. She has to ascend a flight of stairs with more than 100 steps to reach home. Her only daughter has moved out and rarely visits. Granny May sustains her livelihood by collecting carton boxes usually. However, the number of available boxes dropped drastically as businesses were poor at the restaurants and pharmacies under the pandemic, and her income is directly impacted. Since the project provided support to Granny May, she receives cooked meals and dried food weekly, which eases her cost of living. At the same time, she feels care and warmth from our staff, which brings her comfort in days of hardship.
Please support our cause so we can continue to show care and love for the needy in our community, especially in this challenging time.
WARNING: Javascript is currently disabled or is not available in your browser. GlobalGiving makes extensive use of Javascript and will not function properly with Javascript disabled.
Please enable Javascript
and refresh this page.