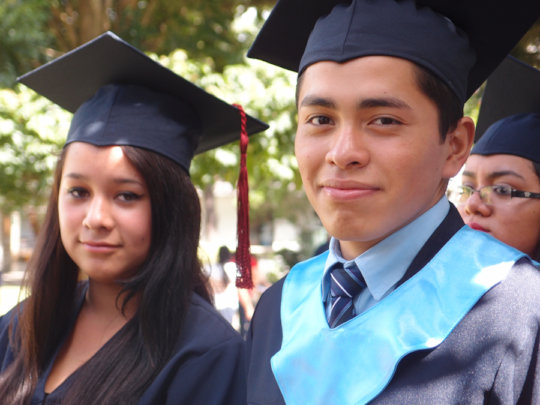 This November, Common Hope | Familias de Esperanza celebrated the graduation of 159 students. Visitors and sponsors from across the United States traveled to Antigua, Guatemala to celebrate the accomplishments of these dedicated students. A ceremony was held on Saturday, November 11 with nearly 700 people in attendance including family members, staff, students, and visitors. Students from Antigua, San Miguel Milpas Altas, San Rafael, and New Hope were present along with two University graduates.
The theme of this year's graduation event, Una Meta Más or One More Accomplishment, recognized and celebrated everyone involved in making graduation possible; the students for their persistence and dedication, the families for their continuous support, the staff for their commitment, and our sponsors and supporters for all the ways you make Common Hope's work possible.
Andrés, who faced a lot of adversity throughout his years of school, spoke during the Graduation ceremony. He addressed his fellow classmates saying,
"With great satisfaction we can now say that our dreams have become a reality."
At 21 years old, Andrés worked while also attending school. This year he graduated with a Bachelor in Administration Management. He is the first of his family to graduate from high school.
Andrés isn't the only student who had to overcome many challenges to achieve a high school diploma. Eva, a graduate from the Antigua area, faced a particularly difficult family situation. Her outlook and attitude always remained positive however, and this year she graduated as a Bilingual Secretary. During her graduation speech, Eva encouraged her classmates to see graduation as just the beginning of a bright future and to keep dreaming despite the challenges that may lie ahead.
"Because what would life be without obstacles, without challenges? I think it would be boring. The Spring wouldn't be as beautiful if it wasn't for the Winter. If we don't go through adversity, we can't welcome prosperity."
After the Graduation ceremony, the celebration continued with a Carnival that included more than 15 activities like Bingo, a marimba band, traditional Guatemalan games, a photo booth, wishing well, and everyone's favorite — karaoke! See the photo of Juan, his family and his sponsor, Steve, attempting to build a tower in under a minute (a good challenge as Steve is an architect!)
Graduates were also given the opportunity to give roses of appreciation to the people in their lives who helped them achieve their dreams and goals. In another photo, see Rose and Dave receive a rose from their sponsored student, Jose. Un momento hermoso — A beautiful moment.
We would like to say thank you and GRACIAS to everyone in the GlobalGiving family who donated to our project this year and made this graduation day possible! YOU are what makes this work happen and YOU are the light of hope for many students who have big dreams.
What doors did graduation open for you? What sense of accomplishment did you feel once you had your diploma in hand? Were you inspired to continue your education? Or did you enter the workforce with energy and enthusiasm?