What a week! Volunteers Emma, Ellie and Peter worked with Common Hope Volunteer Experience Coordinator, Emily Scriver, and Visitor Experience Coordinator, Claire Dresselhaus, to develop a full week of hands-on activities to generate excitement for SCIENCE among Common Hope students.
The group created a series of lessons, experiments, games and crafts around science themes to engage students in a dynamic way that not only inspires an interest in science, but at the same develops their skills in listening, fine motor development, teamwork, stimulation and exercise.
SCIENCE WEEK theme days included SPACE DAY, WEATHER DAY, NATURE DAY and MAD SCIENTIST DAY. Each day included a lesson focused on a scientific method, a hands-on learning activity or experiment and craft or game. The students created their own erupting geysers, mapped the distance between planets, made tornados and blizzards in jars and more.
The week engaged active minds and hands, encouraged curiosity and creativity and planted the seeds of interest for science for our students. Thanks to all who helped make this such a fun and motivating opportunity for Common Hope youth!
Dear supporters,
Your donation to Common Hope is helping bring to joy of reading to our students! Thank you for making this possible.
Celebrating Day of the Book at New Hope School
At New Hope school we celebrated International Book Day with our affiliated families who came to read with their children for half an hour. The mothers acted out fairy tales and stories for the younger students and some employees masqueraded as the children's favorite book characters!
With our highschool students we talked about important Guatemalan writers and their works, and played word searching games with the dictionaries. This day was a huge success for everyone; 115 parents and grandparents participated.
Book Celebrations at Antigua
In Antigua we had a whole week of Book Celebrations! Starting with a trip around the world with books from 80 different countries, which was a lot of fun for our students to learn about other cultures, animals and habits. Every day our library staff read a book with the kids followed by a fun activity afterwards like playing bingo with words that were learned in the lecture!
Our students also participated in some artistic activities like creating a pop-up book and a drawing of their favorite book. To make things extra fun, the students who have borrowed the most books and participated in reading classes this year received a little prize to celebrate their love of reading! It was a wonderful week celebrating the joy of books!
We want to know, what is your favorite book? Did you celebrate International Book Day?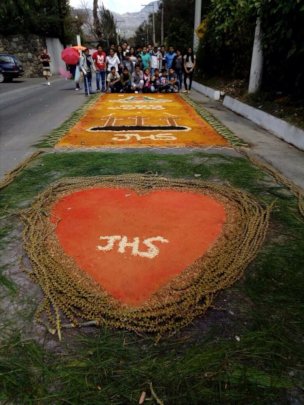 Last week was Semana Santa, or Holy Week in Guatemala. Antigua Guatemala is known around the world for its beautiful and colorful Holy Week celebrations. There are many different traditions celebrated during Semana Santa. Every day of the week, processions can be seen marching through the streets and the streets are lined with stunning sawdust carpets. A typical alfombra is made from sawdust, wood chips, corozo nut, pine needles, and various seeds. Sometimes they even include fruits and vegetables!
Common Hope's Youth Club, alongside some of our amazing volunteers, came together to build one of these beautiful carpets that are typical of Semana Santa celebrations. Called an alfombra, creating such a carpet requires team work, companionship, and patience. Not to mention it really tests the students gross and fine motor skills, creativity, and attention to detail.
The process started one week before when the group met to plan out their design, organize the materials they would need, and assign tasks to each group member. Some worked on coloring the sawdust and some created the stencils they would use to create their designs. This planning process ensured that when it came time to build, the students would have everything they needed.
On the Wednesday of Holy Week, the carpet came together beautifully just the way the students had envisioned it. Their planning and teamwork made the project a success. Our staff was proud to see the students working together in a fun and creative way outside of the classroom while still exercising some important skills!
In what ways do you see students using their skills and creativity? Do you agree that it's important to give students educational opportunities outside of the classroom?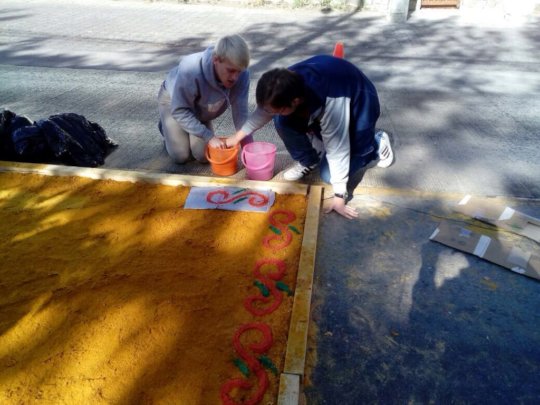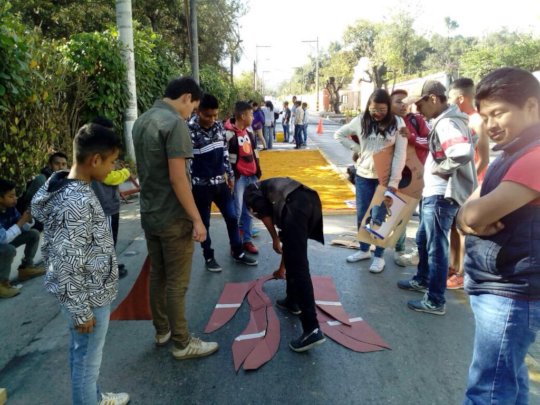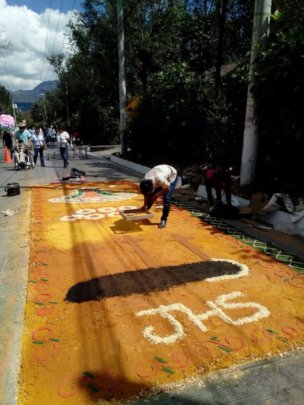 WARNING: Javascript is currently disabled or is not available in your browser. GlobalGiving makes extensive use of Javascript and will not function properly with Javascript disabled.
Please enable Javascript
and refresh this page.