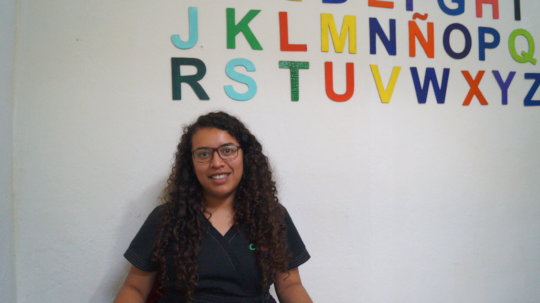 In Guatemala, less than 20% of the population graduates from high school. For girls the rate is even lower. Social pressures dictate that young women are supposed to stay at home with their mothers and help tend to the household. Many aren't able to finish middle school, much less high school.
Maricruz comes from a family with scarce resources who could not afford to send her to school. Her family approached Common Hope for help and that one small choice, the choice to pursue education, has led to great things for Maricruz.
Maricruz was a disciplined student who demonstrated the drive to improve every single day. In elementary school, she was sponsored by the Spanish Club, La Tertulia, at the Math and Science Academy of Woodbury. The club raised money in order to sponsor Maricruz and the students wrote letters back and forth.
The support of the Spanish Club meant a lot to Maricruz and motivated her to keep working towards her goals.
DREAMS REALIZED
Maricruz continued to excel in her studies and in 2010 she graduated from high school with a degree in primary school education (in Guatemala, high school students study in their chosen career field and many graduate with a degree in their respective field of study). She wanted so badly to be able to go to college and continue her education, but couldn't afford the cost of university.
Being determined as she was, Maricruz didn't give up on her dream. She decided to work as a kindergarten teacher and save her paychecks. After one year she had enough savings to begin college courses.
Four years later, she graduated from University as a Speech Therapist. This is a major accomplishment – in Guatemala, less than 1% of the population earns a a university degree.
Shortly after her college graduation, she began to work in a clinic in Antigua. Still, her dreams continued.
AN ENTREPRENEURIAL SPIRIT
This year, Maricruz achieved yet another one of her goals when she opened her very own Speech Therapy Clinic. Her clinic, ComunicatMaricruz, is located right in the center of Antigua and serves children who are deaf, mute, and those who have autism. Maricruz works with six kids between the ages of 5-8 years old and she sees them 1-2 times per week.
Not forgetting the struggles her family faced, Maricruz offers discounts to families who have scarce resources. Next year, she hopes to be able to help even more children.
Thank you, Maricruz, for being a great example for young women to never give up on their dreams! We can't wait to see what you do next.
HELP A STUDENT FOLLOW THEIR DREAMS
Maricruz's story proves that earning a high school diploma has big, meaningful benefits for women. Your donation helps a student like Maricruz follow her dreams.