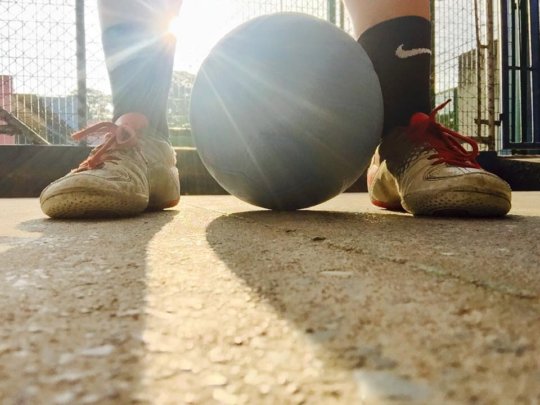 Although this Coaches Across Continents and One World Play Project campaign is in the very early stages, we are already getting ultra-durable One World Futbols to the youth and communities who need them the most.
One such community using the balls is Diadema in Sao Paulo state, Brazil through the work of our partner ACER Brasil. Thanks to the generous donations of many of the project contributors ACER have now received some One World Futbols!
ACER work with some of the thousands of disadvantaged youth in Diadema—one of the poorest areas of Sao Paulo. ACER provide youth development activities such as educational classes, language lessons, music, art classes and sporting opportunities to children who otherwise would not receive any sort of structured support. For many this is the only education they receive growing up in Diadema.
ACER has a concrete sports pitch on which they run their sports programming. Until recently they used standard inflated soccer balls to teach youth about social issues, but these balls soon ripped and broke apart on the harsh surface. As part of this campaign, ACER has been given many ultra-durable One World Futbols to play sport and educate youth. These balls have transformed ACER's programming. These balls have lasted far longer than any expensive regular ball ACER had previously. This money saving is great for them as they can use the money on other educational materials. It also saves tiresome trips to buy more balls and provides a great story for the youth.
In addition to using the ultra-durable balls with their sports programming, ACER also partnered with Coaches Across Continents on a project which educates the 10,000 youth in Sao Paulo state prisons about conflict prevention, drugs and alcohol abuse and gender equality using sport. These One World Futbols are an integral part of this project which uses sport as an educational tool for high risk disadvantaged youth within the state.
All of this impact is only possible thanks to your generous donations to the campaign. We greatly appreciate your support and desire to get One World Futbols to the communities and children who need play most. Anything you can do to create awareness about this campaign—telling your friends and family, sharing the campaign on your social media channels, etc.—would help more youth in some of the most underprivileged regions. Once again, we thank you on behalf of these communities.
Links: