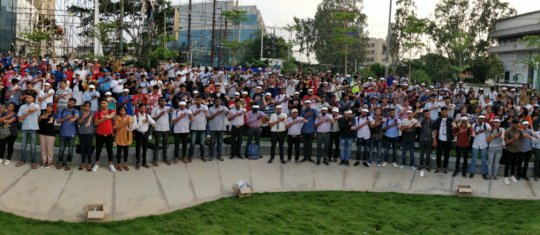 The BlindWalk program conceived and conducted by the Project Vision has become the largest eye donation campaign in the world in five years.
Former Chief Justice of India, Shri Venkatachellaih, flagged off the Bangalore BlindWalk from St Joseph's School in which about 800 persons blindfolded themselves to express their solidarity with the visually challenged persons on World Sight Day.

This was part of the World BlindWalk organised by Project Vision in 150 locations across six countries in which about 100,000 participated, making it the largest eye donation dive in the world. The Walk ended at the Samsung Opera with the pledge by the participants to support the visually challenged persons and to donate their eyes after death. Mr Sandeep Bothra, Country Business Head of Alcon, led the group in taking the pledge.
Large number of students from St Josephs, Karnataka School of Pharmacy, Y'smen International, Alcon and the public came forward to be part of this special experience of blindness in the program. The 800 strong BlindWalk was coordinated by Project Vision with non governmental organisations and institutions like Rotary Abilities, St Joseph's College, CBM, YsMen International, AIFO, ECHO, Samsung, Essilor and so on. Rotary Abilities, which is the only Rotary Club in the world with members who are elusively differently abled, took the co-organising role in the program. Their vision is to pursue projects helping differently-abled people to join the mainstream and create credible, dynamic leadership from the community to bridge the perception gap. This helps to create greater equality, inclusivity and shows people the ability to serve rather than being served.
The fifth edition of World BlindWalk was conducted to focus attention on the issues of the visually challenged persons and to promote eye donation. India has 15 million blind persons – accounting for world's one-third population, as per WHO. About three million of these visually challenged persons could see again through eye donation. But eye donation in the country was only around 69,000 last years despite about ten million deaths as per National Program for the Control of Blindness (NPCB).
BlindWalk is a novel idea developed by Project Vision to express solidarity with the visually challenged people with the caption 'Feel Being Blind'. Through this experience people are motivated to donate their eyes. Conducted in US, China, Nepal, Srilanka, Dubai and India, it the largest eye donation campaign in the world and is part of the eye donation movement started by Project Vision.
The specialty of BlindWalk is that it blindfolds sighted people and takes them on a Walk in public place. Started with the first BlindWalk on the M G Road in Bangalore in 2014, about 500 BlindWalks have been conducted so far. In 2017 it was conducted in 253 locations. The most touching aspect of the BlindWalk is that visually challenged people lead it. While they walk in the front with their white canes, the blindfolded participants hold on to them to find their way.
The second objective is to create Vision Ambassadors, who will do the coordination with the diseased family and the Eye Bank. Third objective is to break the myths surrounding eye donations. Anyone can donate his or her eyes. There is no age limit for eye donations. People with any diseases can donate their eyes. The face will not be disfigured. It can be done at home through a operation.
Blessing in Disguise
Zeenat who is from a very poor family has a lot to tell about her miserable life. She is the 6th child among her 10 siblings. She was born and brought up at Wayanad, in the Southern State of India. Her father accepted Islam, who was born in a Hindu family; he married a Kannadiga lady from mandya district (Karnataka), losing out all his family support. He struggled to raise his huge family. Zeenath was married when she was 16 years old to a Delhi based businessman who was into making suitcases.
Initially all went well but later she found that the person was an alcoholic and had pawned all her gold, which was given during her marriage to him. He used this money for buying his daily alcohol. Later her family intervened to settle her dues, by taking some local financial hand loans.
Zeenath found that her husband wanted to relocate to Delhi and moved out of Kerala. Her life was even more miserable during her stay at Delhi. She lived with him for six years during which time they already had 3 children. Her elder child was studying for her 9th standard, and the 2nd child was attending her 7th grade and her younger son is pursuing his 5th class. Unfortunately none of her children's stay with her, the orphanage at mutti in Wayanad district has looked them after. She got divorced.
After her divorce she was unable to raise her children and had to be dependent on her parents. She lived without any male support for almost 11 years, earning her living by doing her daily wages job offered by panchayat and by attending to some domestic help. She managed to save some money to buy a plot near her parents place with the money she saved for her children's. Her dream of everyone living together under a single roof was getting realized during the August 9th flood at kerala, India. Which changed her destiny.
The flood happened to be a blessing in disguise. Many self-help group and NGOS visited her place since her house was across a riverbank. Many people saw her pathetic condition in which she was living. Many of them offered her family relief kits and wash kits, a cot and a bed etc ...
Project vision along with the administrative department identified to give her a temporary shelter one among the 328 temporary shelters build by project vision at wayanad district, Kerala. So a temporary shelter was built along with a toilet. When asked for her testimony about how she felt about getting this temporary shelter she burst out in tears of joy by saying that she felt like living in a heaven now. All these years she lived under just a tarpaulin without even being safe at night, she spend the nights along with her parents since it was unsafe for her to be alone in the shed.
Many things changed for her when the government had offered a widow support to build a house giving an finacial assistance of 2.5 lacs some years ago. But the contractor having put a foundation for 750 to 800 per square foot misled her planning. Which costed her all her life's earnings.
During this flood a Muslim league brother's helped her to raise the construction to the lintel level. Now she is looking out to see if anyone can show mercy on her for having her dream of living with her children under the same roof she is craving for years now. Project vision is trying to see if this dream can come true…..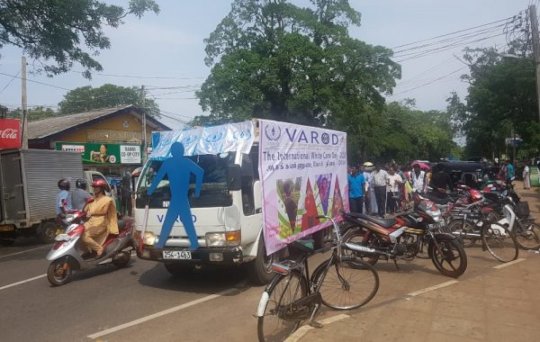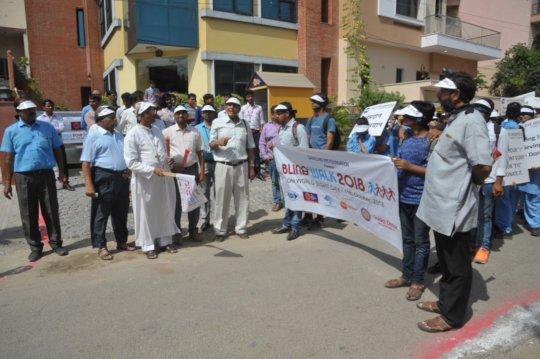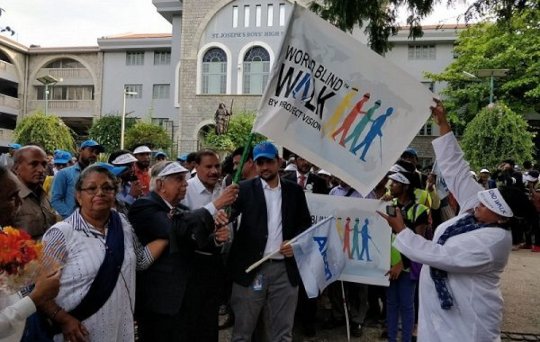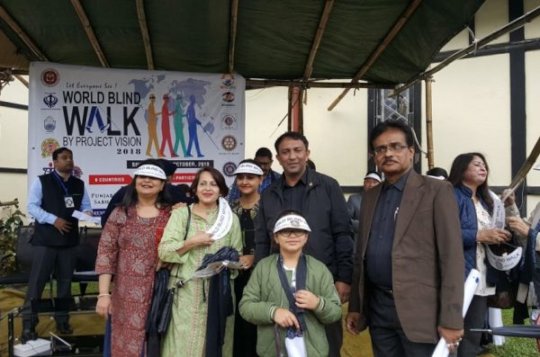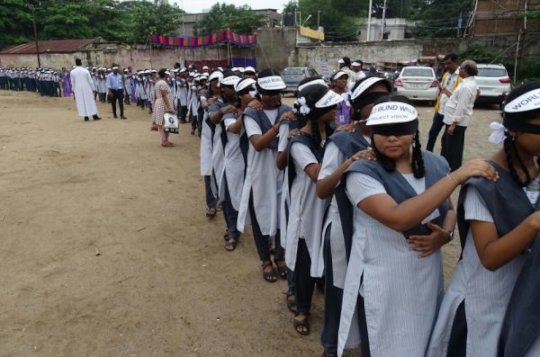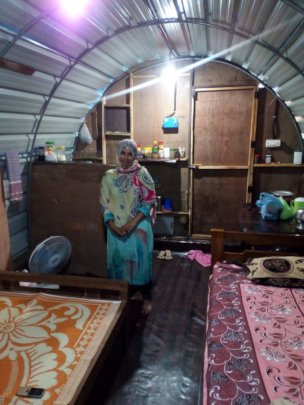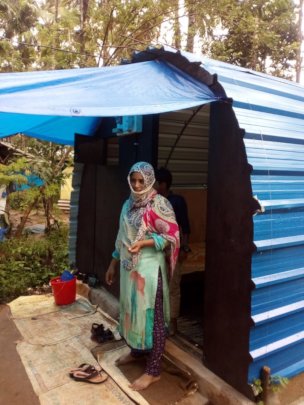 Links: