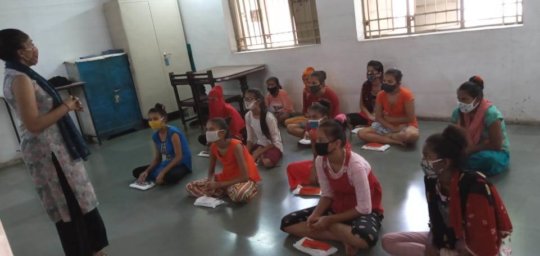 The world is reeling under difficult times due to the wide spread of COVID-19. With the rapid influx of news from all over the world, through television, social media, newspapers, family and friends and other sources, the most common emotion faced by all is FEAR. It makes us anxious, panicky and can even possibly make us think, say or do things that we might not consider appropriate under normal circumstances.
Staying at home can be quite nice for some time, but can also be boring and restricting. This is the time to explore some ways to keep positive and cheerful by keeping busy, distracting yourself from negative emotions by listening to music, reading, watching an entertaining programme on television, rediscovering our hobbies and most importantly to eat well and drink plenty of fluids.
Handling emotional problems is also called for in the need of this hour. While social/physical distancing is a must in order to combat the issue of the Corona virus, it is essential to stay connected with others. Communication can help you to connect with family and friends. Call up people whom you haven't spoken to and surprise them. Discuss happy events, common interests, exchange cooking tips, share music.
Just as you can recognise your own mental health problems, be sensitive to such problems in your near and dear ones, which may include:
1. Changes in sleep patterns
2. Difficulty in sleeping and concentrating
3. Worsening of health problems
4. Increased use of alcohol, tobacco or drugs
Be supportive to them. If the problems persist, please contact the Helpline or contact your doctor or a mental health professional. Persons who had previous mental illness may face newer challenges during self-isolation or Covid infection:
1. They would also have the same fears and stress as others which may worsen their previous mental health condition
2. Social isolation may make them more withdrawn, moody and irritable
3. They may not seek/get easy access to medicines and counselling
Help and support is vital for persons with mental illness from their families and other care givers. Health Helplines can provide support, in addition to regular taking of prescribed medication, a regular daily routine, keeping engaged and positive.
Given this situation and with AWAG being active on the issue of mental healthcare of women and adolescents since over a decade, awareness meetings were conducted with adolescents from AWAG's work area in Bapunagar, Ahmedabad (Gujarat) to equip them to cope with the prevailing situation.
THE MEETINGS CONCLUDED WITH THE MANTRA....
"FOCUS ON FACTS, REJECT RUMOURS AND THEORIES!"