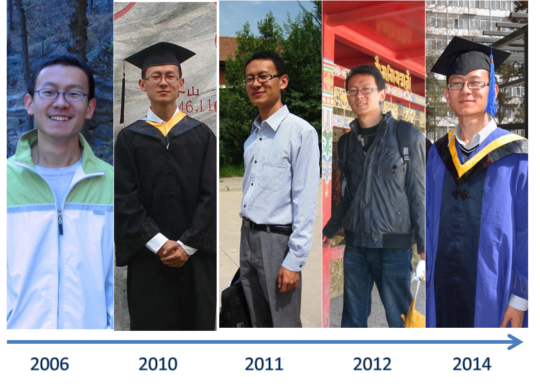 Ove 40 million school-aged children are at risk of dropping out of school before their high school graduation in rural China, Chunchao almost became one of them! Back when Chunchao was 11 years old, life became extremely difficult for him. His family lived in a remote village in China, and his parents both had disabilities. He had just entered middle school and his grades were excellent; but his family can no longer afford his schooling, and he was told that he had no choice but to drop out. He cried and cried in the run-down home.
Then one day his teacher told him, a SOAR Foundation based in America may be able to help him. Several volunteers from SOAR visited his family home during their annual visit to China, they looked at all the academic awards on the wall, and talked to him and his parents for a long time. After that, he was informed that he could apply for a $400 SOAR Scholarship which would cover all tuitions, fees, and supplies for an entire school year. He did not have to drop out of school after all! From then on, SOAR became an important part of his life. For the next six years, he was supported by SOAR Scholarships all through middle and high schools. He also got one-on-one mentoring from a SOAR volunteer who exchanged letters with him for many years, offering encouragement and advice along the way. After 6 years of receiving SOAR scholarships, Chunchao gained a college admission in Beijing in 2006, a tall honor achieved by only 3% of rural graduates. Today, he has graduated with two degrees and is working for Bank of China!
Chunchao is just one of the thousands of students in rural China that was helped by these scholarships every year. Since 1995, the SOAR Foundation has provided 26,600 merit-based scholarships to more than 8,000 impoverished yet gifted students across rural China to finish high school and achieve success thereafter. Many of these students have now become productive members of the society, and some are attending graduate schools, in China and in the US.
In order to reach out to more first-time donors after 20 years of great efforts, this year SOAR Foundation started a partnership with GlobalGiving. During the September Open Challenge, SOAR's project, "Fund 1000 Scholarships in Rural China for a Year" raised $16,640, a Second Place finish that won an additional $2,000 award from GlobalGiving! Thank you so much for more than 80 donors who made donations to SOAR's project on GlobalGiving.
While this is great news for those school children and youth in rural China, more scholarships are urgently needed and everyone can help! SOAR's Year-End Campaign on GlobalGiving, which is just around the corner during the holiday season. Our project aims to raise at least $3,000 additionally from 30 donors during the month of December. While you are celebrating the holidays and making your tax-deductible donations to charities, please remember students like Chunchao for whom your kindness could mean the difference between staying in and dropping out of school. Please kindly donate to SOAR's Project, "Fund 1000 Scholarships in Rural China," or become a recurring donor. Thank you so much and Happy Holidays!