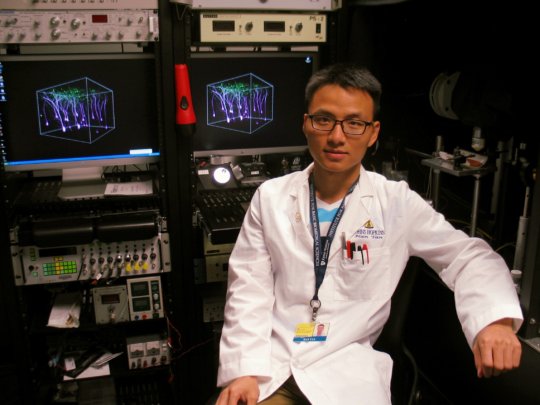 From our archive, the following is an excerpt from the Key Note Speech delivered to the 18th Annual SOAR Foundation Annual Fundraising Luncheon by Han, a former recipient of SOAR Scholarships.

Ladies and Gentlemen of the SOAR Educational Foundation, Good afternoon!
I am Han, currently a PhD student at Johns Hopkins University, and previously a recipient of SOAR scholarships for many years. I am very pleased and extremely honored to be invited to speak to the SOAR Foundation 18th Annual Fundraising Luncheon. First of all, please allow me, on behalf of more than 8000 SOAR scholars in rural China, to offer our sincere thanks! A huge Thank You for your generosity!
I have always considered myself a very lucky man: not only lucky in my academic endeavors and life experiences but also fortunate to have met many great people. Today I want to share with you some of the greatest luck brought to me by SOAR.
I was born in an ordinary rural household. My family completely relied on my parents' hard labors, so we were never rich. But in my childhood at least it was possible to eat, wear clothes, and go to school, so I have happy memories of my early life. But all that changed in 1998 after an epic flood struck much of Southern China, with my hometown in Jiangxi Province near Gan River the hardest hit. Almost all the houses and farmland were flooded overnight, instantly putting my family into deep troubles. In our desperation, I was lucky enough to have found SOAR. For the first time, SOAR was offering scholarships in our village, but with only one available scholarship for that year. So when my teacher told me that our school had recommended me to apply for that scholarship, I got so excited that I actually jumped up and down in my teachers' office, and then ran straight home and told my parents the good news. This was SOAR bringing my first good luck – I did not need to drop out of school despite the flood disaster.
SOAR appointed a very experienced teacher and school administer Mr. Xu as the Scholarship Nominator for our region, who became the second good luck bought to me by SOAR. Mr. Xu is a serious task master who held me to the highest standard: every year when preparing my SOAR scholarship application, he did not allow any errors, not even a typo or an incorrect punctuation. So it was very tense every year during the application season. We must edit the draft many times before I could fill out the official forms; often I needed to write as many as ten drafts of my autobiography to be satisfied. Because of this process, at the time I had mixed feelings about these practices: happy for the scholarship but also afraid of staying up late to prepare the material. In retrospect, I am very grateful for this experience, because it helped me to slowly develop a healthy and rigorous study habit, so that I rarely made careless mistakes when writing or doing math problems – it is "a blessing in disguise" indeed.
Mr. Xu also kept my long term interests in mind and mentored me academically throughout middle and high school. In 7th grade, he suggested to my parents to transfer me from a local rural middle school to an advanced middle school in the county, because he felt that the rural school was not challenging enough. In the big county town I started my independent life. The transition was very difficult at first, I suffered from low self-esteem, barely able to speak a word during the opening day and filled my notebook with random thoughts. But I was very motivated. I knew I could not compare to my classmates in many ways, but I could strive for academic excellence through learning and hard work. I was also motivated for another reason: I had to pay a significant transfer fee each semester which would be wavered if I ranked within the top five of the whole class. Knowing this, I took advantage of the challenging curriculum and worked very hard. Fortunately, my efforts paid off. At the end of the first term, I took the top rank of my class and my teachers and peers were very surprised, and frankly so was I. From then on, I regained my confidence and was successfully admitted into the best high school of our region. So I am very grateful to Mr. Xu for opening up another world for me.
I was admitted to Beijing University after the college entrance examination, and my family was thrilled. I learned from Mr. Xu there is a SOAR alumni association in Beijing, and attended an orientation session there two months into my freshman year. At that orientation I met several SOAR board members visiting from the US, many SOAR alumni, and engaged in many lively conversations. When President Zhang asked about my future plans beyond college, I was stunned, because honestly I was still basking in the afterglow of being admitted to Beijing University that I had not given much thoughts to that question. At the time I was enrolled in an eight-year program in "Basic Medical Sciences," which awards a Bachelor, a Master and a PhD at the end of the eight years. President Zhang's question prompted me to reexamine my interests and priorities. I consulted with many seniors and professors and asked many questions about the career paths after graduation, and how to equip myself during college and so on. After two years of exploration, I identified my true interests, and slowly started to put together my career blueprint. I have strong interests in basic research, so I knew I wanted to take the academic route. But to reach my goal, I needed to apply for a US program which led the world in basic medical research. However, in order to do this, I had to drop out of the program at Beijing University which virtually guaranteed a PhD degree at the end. To be honest, this was a very risky decision, because I was uncertain if I would be admitted to a good PhD program in the US. If my applications failed, I could not return to Beijing University either. As a man without a plan B, I kept myself very busy during my undergraduate years, learning, research, student activities, doing the best job I could for every aspect of my application process to the graduate schools in the US. Finally, I got an offer from my dream school Johns Hopkins University! I think this is yet another opportunity of good luck that SOAR gave me. If it were not for the meeting with President Zhang during my SOAR orientation in freshman year, maybe I would still be in Beijing continuing the eight-year program.
Coming to the United States brought me closer to SOAR, and gave me the opportunity to share my story with the large SOAR community today. So once again I felt very lucky indeed!
This year is SOAR's 18th anniversary. In the past 18 years, SOAR has bought steady streams of good luck to many students in rural China, and I am a living proof of it. Without SOAR scholarships all those years ago, I could not imagine I would be pursuing my PhD in Medicine in the US. SOAR's is a very worthy cause which provides opportunities for the underprivileged and deserving students and exerts profound impacts on our lives beyond any measurements.
SOAR brought me great luck and I'm very grateful, and it is time for me to give back to SOAR. I would like to join the SOAR family, take over the baton, follow the SOAR tradition, carry forward the mission of SOAR, and bring the great fortune from SOAR to many more deserving peers in rural China!
Once again, thank you! Thank you, SOAR, for making me a lucky man!