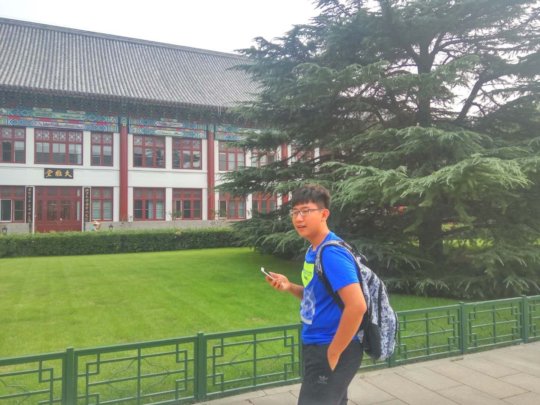 From high school to college, I have been so lucky to be awarded a SOAR scholarship every year. From a rural kid born into a poor family in Hebei province to a freshman in the prestigious Beijing University, the SOAR scholarships were not only my lifeline financially, but also my moral supports emotionally.
There are four of us in my family: my parents, my grandpa, and me. When I was in high school, my father was the sole provider for our family, even after his stomach operation. My Mom had been weakened by diabetes, with sunken eyes and weight loss; and my grandpa is old with a weak heart and a history of heart attack. My parents had to work extra hard to take care of me and my grandpa, and to buy the medication for grandpa. I realized how fragile life is, and I was determined to study medicine to help people. High school was tough, but SOAR's scholarships enabled me to focus on my goal without financial concerns.
Nowadays, I am a pre-med student in Beijing University, hungry for knowledge and the full college experience. There are so much to do, and I want to take advantage of the all the opportunities and resources the college has to offer: I spend long hours studying in the library, and run between the library and dormitory to save time. At the beginning of the semester, I was elected athletics representative of our class and organized a basketball team. After two months of training, we ranked number two in the college tournament. I volunteered to work at the New Year Party of the Medical School, in charge of stage lighting. Contrary to some popular belief, I think learning and working hard towards one's goal is a greatest joy, and today's hard work is an investment in a brighter future. But college students should not just live in an ivory tower; community service, civil engagement, and practical internships should all be parts of a complete college experience.
While SOAR's college grant helps to pay my tuition and fees, I took part-time jobs to help with living expenses, and to reduce the burden to my family. Thanks to SOAR's grant, my family could afford to send me to college, and I could enjoy my college experience and all the excellent resources and opportunities that Beijing has to offer. I dearly cherish this opportunity to attend college, made possible by SOAR's college grant. I feel incredibly inspired to be the best version of myself, empowered to chase my dream to help others, and to carry on SOAR's tradition of love, hope and charity.
Thank you, SOAR Foundation!