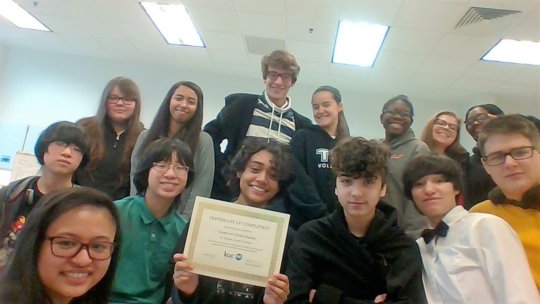 We are in the midst of preparing for the 2017-18 Global Classmates program! In this 6th year of the program we received a record number of 126 applications from high school teachers all across Japan and the U.S.! We are thrilled for the increased recognition of our program and the many wonderful teachers who have applied. It will be difficult to choose just 60 high schools to participate this year!
While the teachers who apply for the program come from all different backgrounds and teach at schools of all sizes, regions, and academic circumstances, they all share a common passion to provide their students with a unique opportunity to connect with their peers abroad and gain practical language skills. Through the exit survey we conduct at the end of the program, we see that the teachers' expectations are being met and we are making a real impact on the program's three pillars: cultural exchange, collaborative language learning, and fostering international friendship.
Roughly 90% of students from this past year's program agreed that participating in Global Classmates increased their knowledge about each other's culture; desire to visit the other's country; motivation to communicate in the foreign language; and desire to further seek international experiences such as study abroad. Even the students who were not very interested in other countries initially began to enjoy finding out about other cultures. Through engaging with people their own age, they began to feel more connected to their partner country and culture. The students also increased their understanding and awareness of their own culture by sharing things about their daily lives and culture, and answering questions using photos.
Below are some quotes from the participants:
I was so excited when I realized that there were people in another country that liked the same things I did. Understanding that even though we come from different countries we can share the same feelings for certain things made me feel a lot closer to them.
I've never been able to talk to an American before, but I was able to connect with them, learn about their culture, and in sharing my culture remember the great things about Japan. Also, I didn't used to like English, but I wanted to communicate with my partner classmates in the U.S. so I began studying English more and more. Now I even want to try and take the English proficiency test. Also, I want to travel abroad now because of what I experienced through Global Classmates.
We are encouraged by the impact the program is proven to have on students and look forward to providing this experience to thousands more students in the years to come. Thank you to all of our supporters and participants who have helped us come this far and provide a truly transformative program for students!