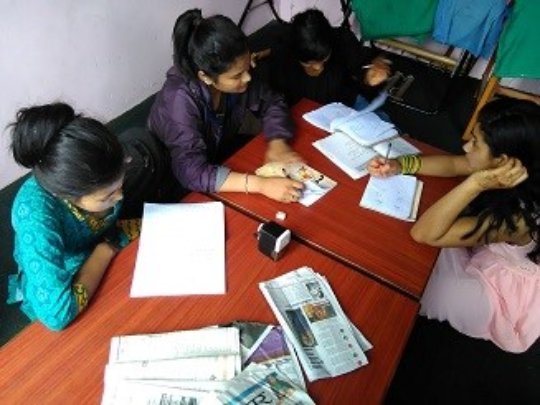 To date, this project has made a contribution to the lives of 26 girls. They have received rehabilitation support such as education, vocational training, job placement, psychosocial counseling, and dance therapy. Amongst them, 11 girls are receiving formal education and 15 girls benefit from non-formal education support, such as basic literacy and numeracy. Half the girls are also receiving vocational training, including in hairdressing and hospitality.
All girls are also benefitting from life skills training. This training gives girls the opportunity to learn more about and delve deeper into issues around personal identity; effective communication; ways to deal creatively with negative emotions; decision-making; sexual and reproductive health and rights; communicable diseases; family planning; hygiene and health care; nutrition; and role of men in their lives. These skills are necessary to help develop the girls' awareness and decision-making capacity. In turn this enhances their ability to reintegrate into the community going into the future as this is often a challenge that is faced by the girls, particularly being able to reintegrate back into their families. This is because of the low socio-economic status of many families and the risk of re-victimisation through re-trafficking after they are reunified with families. Acknowledging this, educational and vocational training for girls is crucial so that they can build independent lives going into the future. Nonetheless, it is very difficult to find job placements for the girls because of the substantial social stigma attached to being victims of sexual exploitation. To combat this, our local partner operates a handicrafts social enterprise where many of the girls can become employed and build their skills. In addition to this, we also raise the awareness of families and community members in the area on the risk of trafficking and sexual exploitation and attitudes around gender-based violence.
As of September 2016, the project reached 687 girls directly through empowerment workshops and film screenings of He Named Me Malala sharing the inspiring story of education activist Malala Yousafzai.
A 4-day programme with multiple sessions was used at 4 rehabiltiation centres for at-risk girls and girl victims and a one-day programme was organised for girls and boys in 5 schools in vulnerable communities and 2 drop-in-centres in red light areas of Kolkata. The sessions included providing information on the Right to Education Act and Kanyashree programme in West Bengal, focus group discussions, games, audio visual exercises, screening the inspiring film He Named Me Malala, role play sessions and a feedback session for each day. The participatory exercises centred around themes such as: defining successful/ empowered women, discussing the benefits of being educated, and restrictions of girls in our society and how to overcome it.
Most girls (90%) reported back that they were inspired by the workshops and the story of Malala Yousafzai. This programme mainly focused on promoting education for empowerment, but also focused on holistic empowerment and increasing self-confidence for girls. Many children at the drop-in-centres in red light areas, many of whom had dropped out or never attended school, expressed their desire to enrol in formal education – these children are both boys and girls. Not only that, girls in the rehabiltiation home were provided with non-formal education and access to formal education.
After completing the empowerment workshops several girls from the drop-in-centres in the red light areas self-formed a Peer Advocacy Group and are working towards ensuring rights of the local children, including expalining the problem of child marriage and promoting the importance of education. This is incredibly inspiring! Nadia district government in West Bengal expressed their strong interest to include this empowerment project within the existing government programme, 'Sabala', which is also a significant achievement for sustaining this work.
Quotes by participants
"After watching the film, I decided to continue my study again. My step father came to the shelter home and threatened me to quit study… I have a challenge… I will show him what can I do"- participant from a Shelter Home
"I want to help those helpless children, who are in difficult situation… as Malala does"- a participant from a school, Nadia.
With your help, we've contributed to numerous investigations and rescues as well as provided much needed aftercare and legal support to victims of forced prostitution so far this year – these actions have significantly improved the lives of several girls.
Sixteen investigation trips were undertaken in Maharashtra and Madhya Pradesh from January until June. The rescue team received information and tip-offs from operatives and shop owners in the red-light streets, which led them to conduct the investigations. Following the investigations, the team was able to conduct seven successful raids in which twenty-six girls were rescued.
Following the rescues, the aftercare team of social workers ensured that all girls were placed in safe shelter homes, either run by government or non-government organisations. Additionally, the social workers travelled across the country to follow up on girls that have been previously rescued, visiting them in their home villages in various states. An additional twelve girls benefited from counselling, group therapy, life skill classes, and hobby classes throughout the week as part of the aftercare programme.
It was found that there are several districts in Madhya Pradesh that are alarmingly still practising child prostitution and therefore the rescue team will be focusing on these areas for the remaining year.
We are grateful for your help in this project, which allows us to address this crime and assist the girls with the support that they need to rebuild their lives!
WARNING: Javascript is currently disabled or is not available in your browser. GlobalGiving makes extensive use of Javascript and will not function properly with Javascript disabled.
Please enable Javascript
and refresh this page.