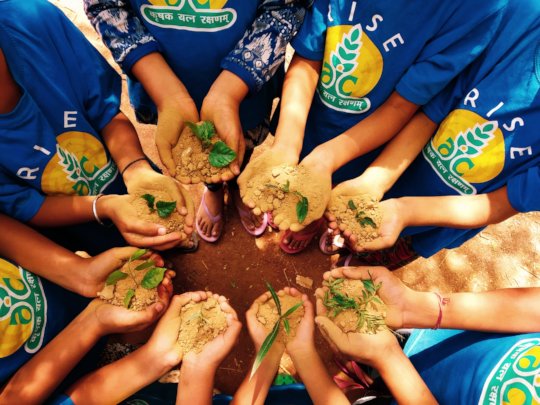 Yet another month has gone by and RISE's commitment to providing quality education to rural children remains. In past years, RISE introduced various activities, events & festivals to help children speak, read and express. After its introduction, the children are now slowly but steadily creating a revolution in classes as well as communities. Equity in education is a concept that RISE strongly believes in, and the organization has been striving hard to achieve this to ensure that no child is left behind. AROH Foundation's program RISE continues to deliver quality learning to children in the slum communities. The program is currently implemented in Sangam Vihar, Delhi, and is impacting numerous children.
Major festivals were celebrated with religious fervor to promote tolerance and love for all races and creeds. As part of our efforts to inculcate in students the appreciation of and respect for India's rich heritage and diversity, and also to reinforce in them national pride and respect for all, entire RISE celebrates a number of functions including, Eid, Environment Day, Father's Day, World Music Day, International Yoga Day, Plant Day, Raksha Bandhan, Independence Day, Janmashtami, National Sports Day, etc. Every event & festival at RISE is an opportunity for students to showcase their talents and capabilities and learn new skills.
Mrs. Birbal Meena, the principal at the MCD Primary School was surprised to see the improvement in children who have been enrolled at RISE Centres. Even the parents are indeed happy and feel important with their regular engagement at the centres.
RISE continues to benefit children from the slums with new interventions in extra-curricular activities like juggling and football has contributed greatly to enhance the confidence of children. Declaration events continue to prove that the community is keenly watching the progress made by children who attend RISE centres and has been paving a way for us to involve parents in their children's learning. Learning from the lessons of this year, RISE continues its efforts in improving the life of economically and mentally backward children and families living in slums.
With your immense support, we have been able to secure the Right to Education of more than 500 children living in extreme conditions of depravity.
We are indeed thankful to your support which has brought a ray of hope in the lives of poor and underprivileged children, who can now dream of a future. The misery writ on their faces is being wiped away to get smiles on their faces. Their little lives are filled with fun and learning, a sense of security and safety which your help has brought.
We look forward to further support from you to pave their path firmly on the road to success and glory.