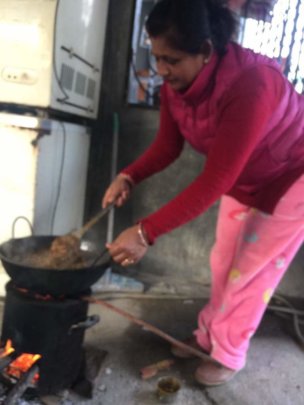 Project Report of Minimize indoor smoke pollution
By Bharat Bahadur khadka - Project leader
PCS-1 distribution
The smoke from these fires pumps a harmful fug of fine particles and carbon monoxide into homes. Lousy ventilation then prevents that smoke from escaping, sending fine particle levels soaring 100 times higher than the limits.

Indoor air quality and indoor air pollutants are now recognized as a potential source of health risks to exposed populations throughout the world. Women and children are the main victims. Source of indoor air pollution (IAP) mostly lies in the quality of fuel used. Women being the main cook in the household are likely to be exposed relatively more.
These cooking practices are inefficient, and use fuels and technologies that produce high level of household air pollution witha range of health damaging pollutants,including small soot particles that penetrate into the lungs. In poorly ventilated dwellings, indoor smoke can be 100 times higher than acceptable levels for the particles.Exposure is particularly high amongwomen and young children, who spend the most time near the domestic health.
Many organizations had been conducted research to identify its implication in life of women and children specially in the rural areas. In this connection MRC Nepal has been focusing program to address the issues. The effort made by MRC Nepal is appreciated by the local government and community people. A question is raised that how it can be continued and area coverage.
Achievement:
PCS distribution
A total of 150 PCS have been supported in last 3 months period.700 people have been benefitted indirectly. In rural area people are more benefitted as they are rely on fuel wood.
Program monitoring
MRC staff had visited the field aiming to measure the effectiveness of PCS. It was quite effective according to buyers. Interaction also made with local government authorities. Interaction was so fruitful. In some of the areas rural municipalities had taken initiation to support
Main Activity Progress

1 Activities: Distribution of portable cook stove-1

Date and Venue: June, 2019 to Aug, 2019 in Makwanpur, Chitwon, Tanahun and Bara Districts.

Objective of the activity: Minimize the indoor smoke pollution

Remarks:

Activities: Increase Awareness

Date and Venue: June, 2019 to Aug, 2019 in Makwanpur, Chitwon, Tanahun and Bara Districts.

Objective of the activity: Increase awareness among the community people towards adopting the environment friendly technology for cooking

Remarks: