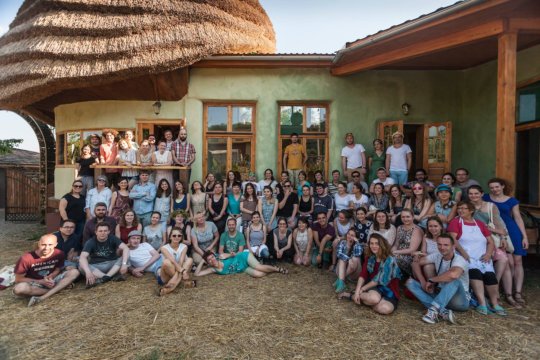 Dear friends,
Your generous support helped us make significant progress in building the Environmental Training Center in Moldova, although there is still a long road to go. Building a conference room that could fit up to 60 people, along with a well-equipped kitchen, dining area and a few bedrooms is a big 2-year project. It will require almost $80,000 investment, but we've had a good start and are committed to seeing it through!
In addition to crowdfunding, we've started generating income by hosting events and trainings, as well as reaching out to local companies for support.
This spring we finalized the construction of the small training rooms and already organized and hosted several events:
March-April: "Harap Alb" – a series of seminars focused on small project development for kids from the local school. As a result, children from grades 5-7 organized a river clean up, planted over 1000 willow seedlings and are currently fixing up a local stadium to practice sport.
April, 17: Organic gardening workshop that brought together about 50 participants of all ages and explored the topics of organic vs. hybrid seeds, companion planting and soil protection.
May 24-29: "activEco Impulse seminar" – a one week training empowering 16 youth from Moldova and Ukraine to implement eco-projects in their own communities.
June 25: Meeting of program coordinators from the Theodor-Heuss-Kolleg (THK) international network to explore the sustainability theme. It united 70+ participants from Germany, Russia, Serbia, Latvia, Romania, Bulgaria, Ukraine, Georgia, Azerbaijan, Armenia, Uzbekistan, Turkey, Egypt, Tunis and of course Moldova. We wanted to give the participants an opportunity to see how the space feels, so we installed a temporary tent where the future Eco-Training Center will be.
By the end of the summer we plan to pour the foundation of the Eco-Training Center and start framing its walls in autumn. Please visit our FB page to find more details about our progress.
Thank you for all your support that makes regional environmental education possible!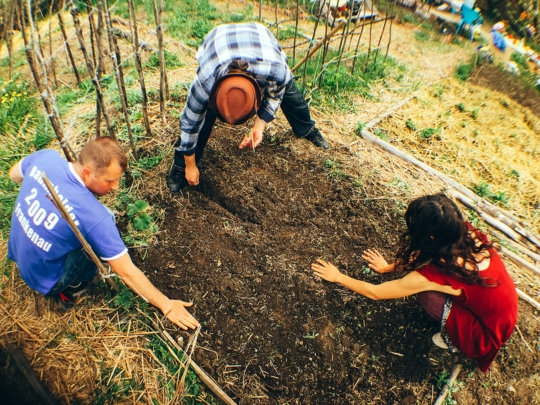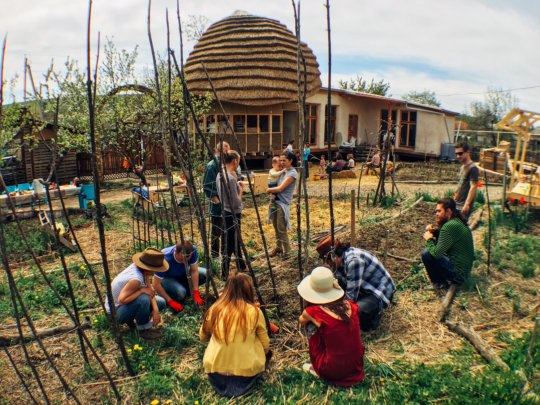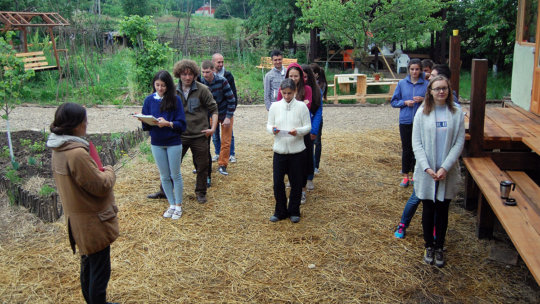 Links:
Dear friends,
Thanks to your generous contributions over the past 2 months we were able to take our first steps towards building the Environmental Training Center in Moldova. Despite freezing temperatures, our natural building adventure started with collecting reed from the nearby lake. Quality reed is harvested only in winter, when the lake freezes over and the reed sheds its leaves.
With your support we managed to hire 10 villagers and an eco-transport – good old horse cart – to harvest all the reed we'd need this season. It was nice to see teenagers, grandparents, housewives and seasonal agriculture workers all on one team, earning a fair wage without having to leave the country. One of the workers told us: "My cousin invited me to go to Moscow this winter. I'd have a chance to earn more than in the village, but the risks would be much higher too. Thank you for offering me a chance to work here on building the Eco-Training Center and take care of my 3 kids and my aging dad."
The harvested reed will be used to super-insulate the Training Center. We tested the material in 2015 on a residential house and the results were astonishing. A thermal audit that measures the temperature of interior and exterior walls (an indication of insulation efficiency) showed that when outside wall temperatures were -13 Celsius (9 Fahrenheit) the interior wall was a cozy +26 Celsius (79 Fahrenheit). It turns out that reed is an extremely effective building material that is also local, economical, carbon-negative and energy-efficient!
At the end of February we're organizing a focus group meeting with architects, designers, trainers and other Eco-village stakeholders to finalize the architectural design of the Environmental Training Center. Please visit our FB page to find more details about our progress.
Thank you for your continuous support!
WARNING: Javascript is currently disabled or is not available in your browser. GlobalGiving makes extensive use of Javascript and will not function properly with Javascript disabled.
Please enable Javascript
and refresh this page.