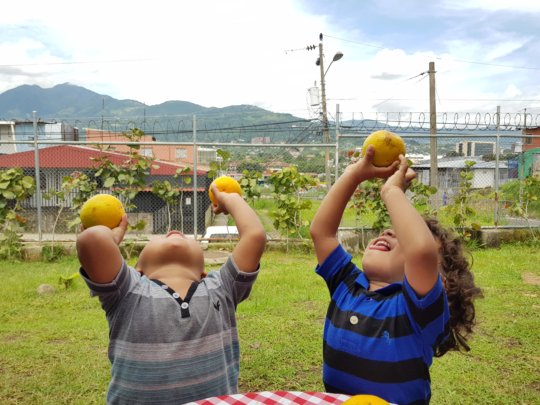 Emilia: "Teacher, are all peppers red?"
Miss Yessenia: "I don't know, Emilia, let's explore and see what we discover!"
All the children: "Yeah!!"
This is a usual conversation the children have with their teachers on a daily basis at Fundación DEHVI. Our child centers implement a pedagogy inspired on Reggio Emilia, Italy, where they learn through projects and experiences. The children love going to our child centers because their questions and ideas are taken into account every day in order to make their learning more fun and significant.
This year's institutional project is "The Food Pedagogy". The whole concept emerged from the children's needs and interests. Most of the children that attend our child centers only eat while they are with us; and, if they do eat at home, we know it won't be anything healthy and appropriate for their developmental needs. However, thanks to your donations, we are able to provide the children with 4 healthy meals from Monday to Friday that benefit their initial development. Therefore, the teachers detected that food is very important in their lives, especially because they always talk about food and always eat everything that is on their plates.
So they began with "The Food Pedagogy" in January this year. First they explored different materials to work on, such as different kinds of paper, different paints, different writing and coloring utensils, different kinds of clay, etc. Then they began with the observation and exploration phase, where they used all of their senses to discover all kinds of fruits and vegetables. The little ones enjoyed eating and exploring the textures, while the oldest ones enjoyed discovering and analyzing all the colors.
The next phase was to make different representations of the food they were discovering with the different materials they worked with and analyzed at the beginning of the year. They have done 2D and 3D artistic representations as you can see on the pictures bellow. Additionally, as the children work on their projects, during meal time they are eating what they have already explored, this has helped them to be open to try new and healthy food; and of course they are getting bigger and healthier!
The "Food Pedagogy Project" is beginning a new phase were the children will work on table and chair designs inspired by different artists and also inspired on nature! At the end of the year they will have a presentation where they will show all the projects they have worked on during the whole year to their parents.
"Miss Yessenia, after I explored this pepper with my magnifying glass I discovered that peppers have all kinds of colors! There are orange, yellow and even green with red; I can use this one to decorate my house during Christmas!", said Emilia. Without a doubt the children are discovering the world around them as it is in all details and enjoying the differences and similarities within. They are also learning to investigate and use their critical thinking skills during their learning.
Once again, I thank you for all your support because thanks to you, we can offer these children so many different fun learning experiences that are helping them develop so many different life skills they need today and definitely will need in their futures. I encourage you to support us with recurring donations in order to keep transforming hundreds of children's lives through a quality early childhood education and alimentation. #GivingTuesday is right around the corner (Tuesday, November 28th) so don't forget to make a donation this day and tell your friends and families about us as well!
Kind regards,