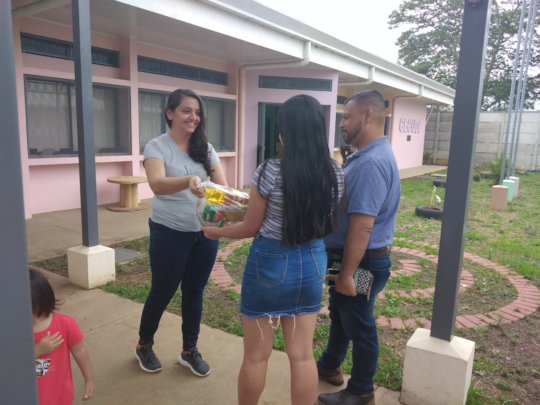 2020 has been a worldwide challenging year! That allowed us to learn and be creative in the way we approach to children and families.
Whit one goal in mind, child development cannot stop! we started the most exiting adventure to work hand by hand with families to guarantee that children to have development spaces in their house as well as the child centers that never close because we are declared essential service in order to allow families to work.
Nutrition first: 80% of families lost or significative reduce their income sinse the pandemic started. Therefore, we send food and hygiene products to this families, collaborating to continue having the nutrition they need for child physical development.
Education must continue: 30% of children continue assisting to the centers and having their education and food programs, including the learning of new distance and hygiene measures.
With the 70% of children that stay at home to prevent the infection, we are increasing communication with families, sending child development activities, participating in the project from home and soon, we will initiate a formal project of education from home.
Support families: we also extended our work with families, to help them to have an adequate environment for children at home. Actions like: mental health activities, protection campaigns, improve work skills for work, job positions alliances among others have been key in 2020 and made the difference for families to go trough the pandemic and all situations related to it.
And finally, Christmas!!!! This year celebrations must be in their families, so we send presents and sweets to every child and food to families that need it!
We can say 2020 strengthened our bond with families and reduce the impact of the COVID-19 in their lives.