A 7.8 earthquake took place in Ecuador on April 16, 2016, at 18:58 ECT, with epicenter in Pedernales province of Manabi. Immediately after knowing the most areas affected, we travelled to make a site inspection where we could raise a humanitarian aid project.
We found a little village named Punta Blanca, on the road Jama - Pedernales, which is located approximately 1 hour from Canoa on the main highway to Pedernales. Punta Blanca is a small laid back fishing village some few kilometres on the coast.
We started #CONTIGOECUADOR project, the idea was to give humanitarian aid, previously carrying out a population census and identifying urgent needs. At the beginning we focused on providing food, water filters, medicine and clothing.
As time went by, we feel the need to give them self-support programs such as carpentry, handicrafts, cooking, etc, and we started giving workshops.
At the beginning, the people attended, then they stopped participating and finally we did not have assistance to the workshops. Because of the urgency of the matter and desire to help them, we did not carry out a deeper investigation, and we found out that there was already another organization that had been working with the village before the earthquake. The people felt more identified and committed to this organization, because they built a school and a church for them. We thought that we placed them in an uncomfortable position, having to decide who to attend.
With a heavy heart we had to make a decision to move, honoring the time that the other organization had invested in this community and looking for another place where we can be able to raise a new project. At the beginning we felt that we had lost, we would have to start from scratch, but we learned that serving people sometimes "We have to learn to lose in order to win".
Our organization used this experiment to grow and do a self-analysis. When we look for the new place, we do not hurry, we take it easy, we talked previously with the leader of the community and we obtained all the necessary information. We also got permission to build a CDC in Leonidas Plaza sector at Bahia de Caraquez, we were given a field for a period of 1 year.
In October 15 we were one year of being with them accompanying them in this stage of empowerment and economic reactivation. We love what we do, we are #CONTIGOECUADOR.
'This project report is a submission to GlobalGiving's 2017 Fail Forward Contest, where organizations are asked to share a story of when they tried something new that didn't go as planned and how they learned from it. Enjoy!'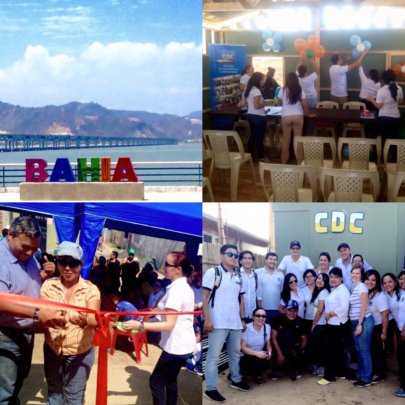 Links: