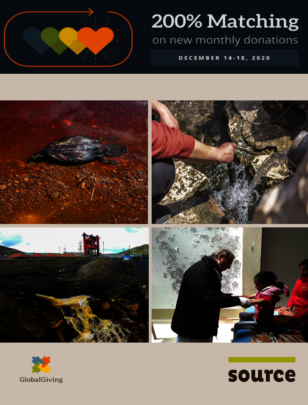 Giving Tuesday has been over for a week and now let's take stock of the donations received.

We are proud to announce that we have raised around 1200 euros from 18 donors, INCLUDING YOU!
We are delighted with this goal because, despite the complicated situation in which we find, your generosity was very appreciated!
We are proud to know that you all believe in our work that we are carrying out for ten years.
With the funds collected, we will perform a part of the Intellectual Quotient Test on adolescents of the Paraghsa community to establish the causal link between heavy metals human exposure and the onset of neuropsychological and behavioral problems that can be detected through the so-called "IQ Test".
Lead, together with manganese, mercury, and aluminum, are neurotoxic substances that reduce learning and concentration potential. These metals have been found in very high concentrations in the environment surrounding the mine, but no studies on this population have researched and established the effects.
This type of investigation is very common in mining areas when there is a need to attribute responsability to polluters.
This study, along with others we have planned for 2021, are critical to enriching the evidence of environmental contamination and human rights violations.
Also, THANKS TO YOU, THIS WILL BE POSSIBLE!
We ask you for the last effort for 2020.
From December 14-18, the GlobalGiving crowdfunding platform (that hosts our project) will match your generosity by 200% when you sign up for a NEW MONTHLY DONATION!!!
Monthly donations need to be for at least 4 months to be matched up to 200%.
If you donate 20 €, the project will receive 40 €!
The more you give, the more we get!
Tell your family and friends: together, we can really have a huge impact on 2021!
There's never been a better time to support the Cerro de Pasco COMMUNITY!
Visit our project and donate from December 14 to 18 to get matched: https://bit.ly/2Ky8YFD
Links: