The BERDO Blind School has started functioning after long pause resulted from affect of COVID -19. Students are now attending classes following health and safety rules. As part of restriction, no students are going outside residential school. They cannot attend any program outside due to COVID -19 infections. This year, 'World White Cane Safety Day, has been observed though on- line. Every year, this program is observed with different fun-fare and extravaganza activities and in large scale like with big rally and discussion meeting. Usually, in each year, Social Welfare Minister attends the function as 'Chief Guest'.
BERDO observed this Day (White Cane Safety Day) on 17th October, 2020 by its own initiatives. The theme of this year's White Cane Safety Day was "Progress of White Cane, progress of Visually Impaired Person". On this occasion, ex -additional secretary of Government of the People Republic of Bangladesh Ms. Farida Nasrin was present as Chief Guest. The program continued whole day with initially training on use of White Cane and it was followed by a discussion meeting. The training focuses on how to walk with White Cane and it was conducted by hired experts. White Canes were distributed among visual impaired students after the completion of discussion meeting.
BERDO organized a program on observance of "World Mental Heath Day". It was organized at meeting room of BERDOs main building. The theme of this years' Mental Health Day, was 'Mental Health for All'. To mark the day, a discussion meeting was held and students gained better understanding on different aspects of mental health.
Due to COVID-19 pandemic impact, students of BERDO Blind School are now on leave. But the activities of Blind School are going on. All teachers are taking classes through using on line – Messenger, VIBER, and phone. Students of Blind school are being prepared for on-line examination and guardians meetings are being organized along with preparing students for examination. Relief and Food support have been provided to poor and under privileged students who live close to BERDO Blind School at Mirpur area of Dhaka city. Students of BERDO blind school have been provided AIRNETCH to keep them safe from COVID-19 infection. Students of Blind School have been provided necessary direction to protect them from COVID -19 infection like Using Mask, Hand sanitizers, ad wash hands using soap for 20 second and not to go out without emergencies. So far Students of Blind School are in good health and safe.
One student of blind school has passed Secondary School Certificate Examination with GPA 2.44 in 2020. Result of four higher Secondary School Certificate examinations was due to publish on 1th April, 2020, but due to COVID outbreak publication of result has been postponed. The result is yet to be published. In 2020, five Blind school students will participate in PSC examination and one in JSC examination. Now all are saying at their respective village homes and taking preparation for examination. All are in good health and safe.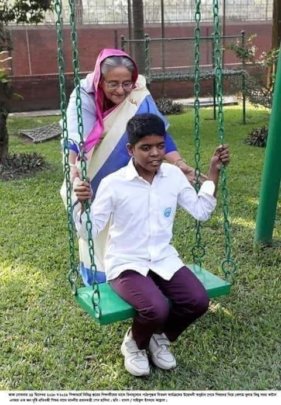 The result of year ending Annual examination of 2020 was published. Students of BERDO School have studied properly in the past year. They seemed happy for their excellent result. They are provided motivation and encouragement to do well in coming New Year.
On 14-01-2020, annual picnic for 2020 was organized for blind school students of BERDO at Jamuna resorts near famous Jamuna Bridge at Kalihati sub-district of Tangail district. The Jamuna Resorts has been a traveler's choice for long time particularly after inauguration of much talked Jamuna Bridge. Each and every day a large number of travelers visit this unique resort to speed their leisure. They is why BERDO blind School Students came up with a choice to visit this interesting spot which is located at scenic Jamuna river, the longest river of Bangladesh. This is a famous picnic spot that is situated at Tangail district which is close to Dhaka district. At the picnic, students of Blind school participated in different sports activities and a colorful cultural programme. Best performers were given prizes.
Students of BERDO blind School were found immensely joyous and cheerful while visiting this site.
21th February is a historical day for Bangladeshi people. This day is very special for people of Bangladesh. Bangla was and is the main language of entire Bangladeshi people, but the Pakistani ruler forced Bangladeshi people to accept Urdu, a language not known and spoken by Bangladeshi people, in 21th February 1952, students of Dhaka University and other Institutions raised their strong voice and protested against this decision and demonstrated massively in the streets. The Pakistan government ordered Police to fire openly to demonstrating students. As a result, 5 students died in the clash. Since then, 21 th February is celebrated with due solemnity and fervor to mark the day.
BERDO celebrated this day with due honor to martyrs who laid down their lives to protect mother's language. A rally and a discussion meeting were held to make the day. All students of BERDO blind school participated in the events spontaneously. They enjoyed the day cheerfully.
COVIT-19 was first detected in Bangladesh on 8th March, 2020. Later on, this virus spread across all regions gradually. Students go back to their respective homes after holiday declaration in school. Now there is panic about the unpredictable affect and consequence of COVIT-19 virus among mostly overpopulated Dhaka city dwellers.
WARNING: Javascript is currently disabled or is not available in your browser. GlobalGiving makes extensive use of Javascript and will not function properly with Javascript disabled.
Please enable Javascript
and refresh this page.