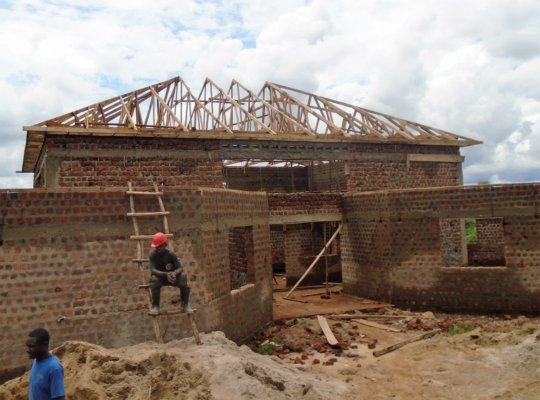 Nafasi's New Chance is taking shape!
Under construction: Nafasi's new home has nearly got a roof!
1 Roof taking shape
https://www.globalgiving.org/pfil/20522/changed_1_Roof_taking_shape_Small.jpg?changed=201615404310968
Thank you for taking the time to look at this report, read on to hear how you are helping change the lives of abandoned and destitute babies in Uganda.
Last October we shared the exciting news about our major initiative to build a new home for the abandoned babies of Kampala. Thanks to the generosity of our donors, the Dutch Evangelical Broadcasting Company Construction work was started two weeks before Christmas.
The land was cleared, the dimensions of the foundations for the house were marked out with stakes, and excavation work began.
The crew worked really hard under the hot African sun, often 30c or more.
Everything is done by hand. Shovels and pickaxes at the ready, no bulldozers and JCB's here!
2 Staking out the land https://www.globalgiving.org/pfil/20522/changed_2_Staking_out_the_land_Small.jpg?changed=2016154043220144
3 Digging the foundations https://www.globalgiving.org/pfil/20522/changed_DSC07342_Small.JPG?changed=2016154044237767
The walls have all been built and the roof trusses are now in place. If all continues to go well the roof should be finished by the end of June.
4 Building the walls. https://www.globalgiving.org/pfil/20522/changed_DSC07498_Small.JPG?changed=2016154044416126
5 Roof inside view. https://www.globalgiving.org/pfil/20522/changed_DSC07962_Small.JPG?changed=2016154044639393
The perimeter wall is also being built simultaneously so that the whole site is secure.
6 Perimeter wall. https://www.globalgiving.org/pfil/20522/changed_DSC07923_Small.JPG?changed=2016154044819687
The board of directors visited in March and were very pleased with the progress that had been made since their last visit in November when the land was being surveyed. They also arranged for the staff of Nafasi to visit the new building site and see, with their own eyes, their new future workplace! They were very impressed and amazed just how spacious it will be. "So many rooms!" someone said. Dora the cook was delighted with what will be her new kitchen! They are now counting the days until the move as are we!
7 Staff visiting new building. https://www.globalgiving.org/pfil/20522/changed_DSC07924_Small.JPG?changed=2016154045103684
We hope that the building can be completed by September so that all the babies and children can begin to move into their new purpose built accommodation where they can receive the love and care they so desperately need.
The new facilities will be so much better and will provide a modern, spacious and safe environment for each child to thrive under loving care. There will be increased opportunity for the staff to work on a one to one basis and plenty of bright and airy play areas purposely equipped for fun and development. There is a special isolation room for a sick child and a separate room where a mother can sleep with her child, this will double up as a multifunctional room for group activities when not in use. We will have safe pure drinking water from a bore hole and are looking into the possibility of having solar power/energy in the future if sufficient funding can be found. A new cooker has already been donated from gifts from a retirement party. You can help us to make all this possible by supporting Nafasi with a donation; as you know, building and equipping a home costs a lot of money and there will always be a shortfall. We are very carefully controlling the budget but inevitably there are price rises and unforeseen costs.
8 Building Plan. https://www.globalgiving.org/pfil/20522/changed_20160524Bouw_planDSC04871_Small.jpg?changed=2016154045236503
Stop Press:
We have been awarded a Global Giving Community Development Grant!
Our organisation was chosen out of many to receive a grant for our work in East Africa. This grant is ring-fenced for the provision of emergency care, social work investigations and the community support program for teenage mothers. As you can imagine we are over the moon! We would like to publically take this opportunity to thank not only the Funder but also the whole GlobalGiving team who have made this possible… THANK YOU on behalf of the Nafasi children and team.
9 Jumping for Joy! https://www.globalgiving.org/pfil/20522/changed_20160525_thank_you_supporters_trampoline_Small.jpg?changed=2016154045359938
And there is a chance for some extra funding coming up!
Please look out for the flyer we will be circulating soon about the GlobalGiving Rewards Bonus Day that starts at 2pm on 15th June 2016 when donations can be matched. Thanks to everyone's prior support our project has 'Superstar' status which means that we can receive an extra 50% to donations made during the Bonus Day.
Please help our project even more by sharing the Nafasi story our GlobalGiving Project Page, Website and Facebook Page with your family, friends and contacts.
Better still become a regular donor from as little as £5 a month.
We are very grateful for all the support we have already been given from all our donors and especially our GlobalGiving friends. Thanks to you we can carry on this vital work of caring for the vulnerable babies and young children in Uganda.
In the words of Nelson Mandela: "It always seems impossible until it's done."
Thank you again for your support.
For more information go to: www.globalgiving.co.uk/20522 or https://goto.gg/20522
www.nafasiwelfarehome.org/en/ www.facebook.com/nafasiwelfarehome
or send an email to kha.jcvanleeuwen@gmail.com