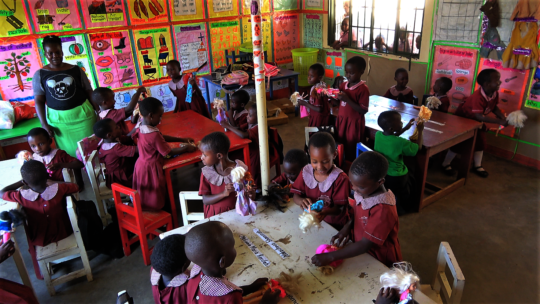 A Teacher's Story from Lockdown
Like so many day-care centres and nursery schools across the world, our SAM buildings have been eerily quiet since the coronavirus pandemic lockdown began in March. Nothing has been allowed to open, not even for key workers' children, so sadly we can't bring you news of our children.
We can however bring you news from one of our brilliant and dedicated teachers - we currently have three former students working as qualified teachers at SAM. They were all selected solely on their qualifications and abilities, and we are delighted that for them as individuals, and us as an organisation, that they have come full circle with us.
Although we are currently unable to visit Uganda, Florence – one of our first teachers in post when SAM opened in September 2019, now tells us her lockdown story... so over to Florence:
"We miss the children very much because it has now been a very long period. I'm afraid that they will forget a lot of things they have been taught in school and fall behind in their education. We tried with WhatsApp to send work to the children, but for the young children that is very difficult, they really just need a teacher! And not everyone has access to adequate internet. Power failures and unstable internet are part of daily life here.
As staff members of SAM, we enjoy the same benefits as the rest of the Kinderhulp Afrika's employees at Children's Welfare Mission and we are all very happy indeed that we still receive 70% of our salary. I live on the school campus together with many other permanent staff members. We have a place to live, we are safe, our children have food, and we have access to medical care in the Clinic on the campus if we are sick. We are very grateful for this. I am happy to report that my partner and I and our two little girls have been safe and well during these difficult times. We have been able to see other staff members living on the campus and to help each other, although we have missed being able to go to the Church that has had to be closed.
When I was 10 years old, I came to Children's Welfare Mission. I was staying with extended family as both my parents had died. I should have gone into Primary Class P5, but the teachers put me in P3 because I had missed a lot of schooling and was unable to keep up. I settled in quickly and thought it was a very nice place to be and was proud of it. At home we were very poor, so it was a real difference to have a bed and regular meals. The rest of the family were jealous that I went to this school. I worked really hard in my lessons, my results improved and I passed primary school exams in P7. Primary school is compulsory in Uganda, although not every child gets the opportunity to complete and pass the national exams, so I was very fortunate to carry on to secondary school. The conditions were good, the teachers and staff very kind and supportive, and we had enough school materials and books.
When I finished S4 ('O' level), my sponsor family encouraged me to do a course. I wanted to continue with secondary school, do 'A' level and go to University, so I was not keen at first. However, I was persuaded to do a teaching course, and on completing that course I got a job right away! I had a place to live and I worked really hard.
Then I met my partner and we moved to another place. There we soon discovered it was very hard work, long hours, poor conditions, and our salaries weren't paid every month. It wasn't a nice place to live, certainly not for a young family. Someone offered me a job in the Middle East, where I worked as a housekeeper with a family. This was a terrible time…I wanted to go back home, but that wasn't easy. After 3 months I was finally able to return home.
I went back to the Mission and told them my story and then applied and got a job as a teacher for P1. I was and am so very happy about this! I'm very proud of this school. It's a very good place to work. In hindsight, I'm very happy that I had the opportunity to do the teaching course. I really love primary school teaching and when the Day Care and Kindergarten opened, I was given the responsibility of leading the team at SAM.
I am really very grateful that my sponsor family gave me the wonderful opportunity to go to school and do the teacher training course. Their generosity helped change my life and now I am able to teach other sponsor children".
Thank you to Florence for her story, I will let you know as soon as SAM can finally re-open their doors and the eerie silence is once again replaced by children's laughter!
In the meantime, we do have a positive update from our Samaritan Primary and Namugongo Secondary Vocational School, which was selected to re-open in October for 220 pupils in their national exam years. We are delighted that children in Class P7, sitting Primary School Exams are back with us. We have also welcomed back students in Classes S3 (National Vocational Exams), S4 ('O' level) and S6 ('A' level), with the expectation that these exams will take place in March and April 2021. The rest of the education system should hopefully resume at the end of January, but of course nothing can be certain in these pandemic times!
"FROM HELPLESS TO HOPEFUL..."
Our organisation's slogan is "from helpless to hopeful, give a child a chance!", and I am sure you will agree that Florence's story really epitomises this! Helping disadvantaged children like Florence, supporting her family and contributing to their wellbeing, and therefore to the local community, is why we all work so hard. In Uganda and in the office in the Netherlands, we are determined to keep on helping individuals and families in need, our young infants at SAM, the pupils in the primary and students in the secondary and vocational schools and all the staff and patients at the clinic. Working to bring our slogan to life and give it an even broader meaning!
Christmas Extra
With your fantastic support and generous donations, we have already been able to give an extra Emergency Aid Parcels to 100 of our children's families to help them survive in lockdown.
We would now like to give all the families of our sponsor children and all the permanent staff members an extra Christmas Food Parcel to the value of €20. To do this we are asking our supporters to donate and help us achieve our target of 400 Christmas parcels, which will cost in total €8000, i.e. £7,150 or $9,500.
Worldwide Giving Tuesday – 1st December
It is wonderful to receive donations on any day, and on Tuesday 1st December they can go even further!
Our thanks to our fantastic platform GlobalGiving – it is participating in this year's Giving Tuesday campaign and has ONE MILLION DOLLARS to share out proportionally to all its projects!
IF YOU CAN MAKE YOUR DONATION ON TUESDAY 1ST DECEMBER - IT WILL HELP SAM AND KINDERHULP-AFRIKA EARN A LARGER SUM FROM THE MILLION DOLLAR FUND!
Click here to give: www.globalgiving.org/42553
#GLOBALGIVING 42553, #MoveAMillion.
You can donate in $, £ or €!
Giving Tuesday lasts a full 24 hours and starts at midnight ET in the USA, 5am GMT in the UK, and 6am CET in Europe.
Corona proof Christmas Presents!
This Christmas holiday season is going to be a little different this year—but you can still share the joy of giving with GlobalGiving Gift Cards. If you are looking for Corona proof presents this Christmas, look no further! Why not consider sending a GlobalGiving Gift Card and ask the receiver to support SAM.
It's easy! Just click this link: https://www.globalgiving.org/gifts/ to buy and send the cards digitally. The recipient can then choose which project to support, so it's very important that you kindly ask them to donate their card to SAM! www.globalgiving.org/42553
Thank you!
Thank you for your support and interest during this very difficult year. 2020 will be a year none of us will forget in a hurry. If you can't give now, we of course understand, and would be grateful if you can help us by sharing the link and telling your friends about the work we are doing and all that we are achieving in Uganda.
I would like to take this opportunity on behalf of all the staff at SAM and Kinderhulp Afrika to wish to and your family a Very Happy Christmas and Best Wishes for a healthier, happier, and safer 2021! For all of us, "FROM HELPLESS TO HOPEFUL"!
Jill van Leeuwen.
For more information visit our website: www.kinderhulp-afrika.nl/en/