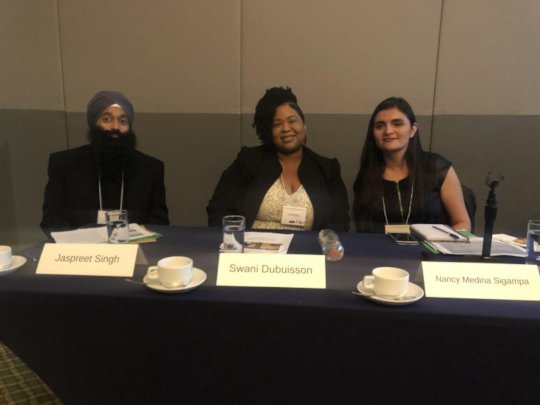 ICAAD Looking to Replicate TrackGBV in Latin America: Building Partnerships
In late 2018, ICAAD presented TrackGBV on a panel on GBV research methodologies at a conference in Mexico City, which was hosted by the Center for Human Rights & Humanitarian Law at American University Washington College of Law (AUWCL) and the Swedish Embassy. During the presentation, we emphasized that TrackGBV provides a template for systemic change using data to drive systems and behaviour change in a relatively short period of time. The presentation garnered the interest of a number of local stakeholders who were interested in seeing TrackGBV replicated in Latin America.
Since that time, ICAAD has been engaging in discussions with AUWCL. Along with Clifford Chance and AUWCL, ICAAD will conduct strategic assessments to determine which Latin American countries hold the most promise for the initial phases of TrackGBV. AUWCL has strong connections in Chile, Columbia, and Mexico and emphasised how important this work could be for the newly formed gender units in specific court judiciaries. Moreover, AUWCL already works closely with the Inter-American Court of Human Rights (IACHR) in Costa Rica, which provides a significant opportunity for widespread adoption of TrackGBV if the initiative is supported by the Court.
Additionally, ICAAD is cooperating with a Chilean non-profit organization La Fundación Henry Dunant América Latina/Instituto Internacional Henry Dunant (FuHD/IIHD). The Foundation has developed an International Diploma Course on Human Rights following a judgment at the IACHR that found that the Supreme Court of Chile had violated the rights of a lesbian woman to live free from discrimination when the court revoked custody of her children. The IACHR ordered Chile to make reparations and adopt "legislation, policies and programmes" to prohibit discrimination against vulnerable groups, and the Diploma Course seeks to respond to the Court's order by training graduate students and professionals working in the public sector. ICAAD is laying the foundation for engagement in Latin America through its partnership with FuHD and will have opportunities through the cooperation agreement to integrate TrackGBV training into the Diploma Course.
Update on Sexual Harassment Toolkit
In 2017, ICAAD in partnership with The Fiji Women's Rights Movement (FWRM) and the law firm Manatt Phelps organised the first ever train the trainers workshop to raise awareness on combating sexual harassment in the workplace. The training targeted key stakeholders and agencies to strengthen implementation of laws and policies.
The 3-day training workshop was supported by the Australian Government, the United States Embassy in Fiji, and implemented through the We Rise Coalition. It was especially timely as it coincided with the 16 Days of Activism against Gender Based Violence, with Nov. 25th marking the International Day for the Elimination of Violence against Women and December 10th marking Human Rights Day. The training was held from Nov. 27- 29, 2017 at Victoria Palms Hotel in Suva, Fiji.
As part of our impact assessment, we received feedback on how the training has been leveraged locally in Fiji. Over the last two years:
FWRM has received 10 requests for training;
FWRM and other partners have drafted or enhanced existing sexual harassment policies;
FWRM provides two types of service options: 1 hr. Awareness training and a multi-day full training package. These services allow FWRM to create an earned-income stream to tackle an extremely pervasive issue in Fiji.
Going forward, we will continue to monitor the impact of the sexual harassment training program and assess whether it makes sense to replicate the training in other Pacific Island jurisdictions.