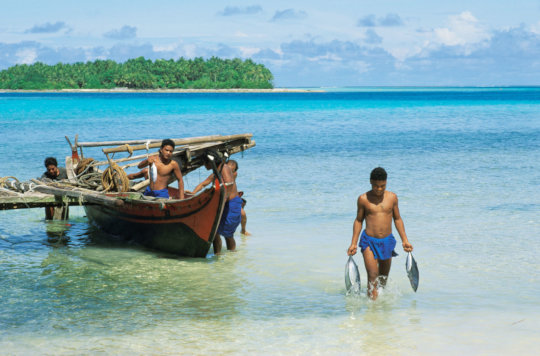 Connecting Virtually and Gaining Momentum
Thanks to your support, we have been able to gain momentum on our Climate + Gender Justice projects. We've been planning around COVID-19 and building our virtual teams around two major activities: 1) a virtual training program on climate and gender justice in Micronesia and 2) a life with dignity project to support legal protections for those displaced by climate change and environmental degradation.
Micronesia Training Development
We have been working closely with the Micronesia Climate Change Alliance (MCCA) to develop the curriculum for our virtual climate justice and human rights training program. The 3-day workshop will be entirely virtual and will bring together 12 young Indigenous leaders from across Micronesia. The program will also pair them with a mentor and provide a micro-grant to support their own community-based project towards sustainability and human rights.
Life with Dignity & Predictive Modeling
In our life with dignity project, we have brought together a team of climate scientists, lawyers, technologists, and social scientists to support climate justice on an international scale. We are working to connect the concept of the "right to life with dignity" from international human rights law to bolster protections for those displaced by climate change and environmental degradation. Over the past couple months, we have been conducting legal research and collaborating with Indigenous leaders from the Pacific to develop the framework for this research.
Expanding TrackGBV
We are pleased to announce that TrackGBV is expanding to Latin America and the Caribbean. In the coming months we will be conducting strategic assessments and pilot case law analysis in multiple countries in the region, as well as partnering with local governments and organizations.
We have already started working with United Belize Advocacy Movement (UNIBAM) to conduct a needs assessment, outreach to the Supreme Court, and to connect with local grassroots activists to better understand the access to justice barriers in Belize.
Dashboard Development
We have begun development of the interactive data dashboard for TrackGBV, after receiving support from Clifford Chance. Combined with case law analysis of 5,000 cases in 12 countries across the Pacific, the dashboard will provide valuable data to advocates and judiciaries across the region. The database and dashboard are being designed and tested with users in the Pacific.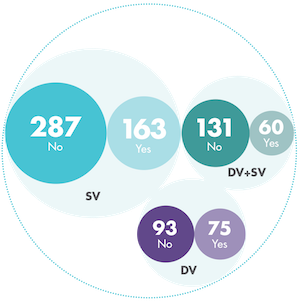 Example: Data on inclusion of medical reports
Train the Trainers Program
We are currently developing a Train the Trainers program for TrackGBV alongside pro bono lawyers at Clifford Chance. The program will cover the foundations of gender discrimination, including: defining gender-based violence (GBV) and related concepts; GBV's connection to bias, myths, stereotypes; and specific customary practices. The program will also provide the preliminary regional and country-specific TrackGBV data from ICAAD's case law analysis as well as an overview of legislation and policies related to domestic violence and sexual offences. The result of the training will be that participants will have the tools needed to identify gaps in judicial decision making regarding GBV cases and can use these tools to suggest reform. The training is being developed at the request of the Ministry of Justice in Samoa.

Discriminatory Laws Under the Spotlight
The Commonwealth Equality & Justice Forum 2020 was hosted by the Royal Commonwealth Society and brought together over fifty Equality & Justice Alliance programme partners, Government officials, civil society leaders and legal experts to share experiences on reforming discriminatory laws in different Commonwealth countries.
At the Forum, which ran from Feb. 12-14, ICAAD launched and presented a new report, A Comparative Legal Review of the Impact of Gender Stereotyping on Judicial Decisions in Violence Against Women Cases Across the Pacific Island Region. The report was authored by ICAAD, and was commissioned and edited by Sisters for Change as part of its work under the Equality & Justice Alliance Programme to reform laws that discriminate against women and girls and LGBT people across the Commonwealth.
Hansdeep Singh and Jaspreet Singh, ICAAD Co-Founders with Jane Gordon and Ali Gordon, Co-Founders of Sisters for Change
The report analyzes the development of international and regional standards and jurisprudence on State obligations to eliminate gender bias and stereotyping. It also identifies case studies of good practice from Commonwealth jurisdictions including Canada, Fiji, Namibia, Australia, New Zealand and the United Kingdom, which have produced pioneering case law and domestic legislation explicitly targeting gender bias. Finally, the report examines the scope of gender-based violence against women and girls in the Pacific Island Region and provides an in-depth analysis of the impact of gender bias and stereotyping on judicial decisions in violence against women across seven countries in the Commonwealth Pacific Island Region – Fiji, Vanuatu, Tonga, Samoa, Solomon Islands, Papua New Guinea, and Kiribati.
Jaspreet Singh Presenting on the Impact of Bias on Judicial Sentencing in GBV Cases
Some of the excellent presentations at the Forum included:
Ending Discrimination in the Commonwealth: Challenges & Opportunities

Application of Good Practice Research to the Reform of Sexual Offences Laws

Civil Society Insights on Curbing Faith-Based Backlash to Equality Laws

Building Technical Capacity and Engaging with Parliament and Civil Society to Reform Discriminatory Laws in St. Lucia

The Role of Youth Champions in Advancing Equality in the Commonwealth

Anti-Discrimination and Hate Crimes Legislation, Belize

Making the Case for Sexual Reproductive Health Rights

Advancing Equality in Seychelles

Gender Stereotyping in Violence Against Women Cases In the Pacific Island Region
The Conference included wide-ranging stakeholders in both civil society and government. Moreover, the President of Seychelles Danny Faure met with all the delegates from the Annual Forum and pledged that his country would reform its discriminatory laws this year.
ICAAD is a registered 501(c)(3) with special consultative status with the United Nations Economic and Social Council.
WARNING: Javascript is currently disabled or is not available in your browser. GlobalGiving makes extensive use of Javascript and will not function properly with Javascript disabled.
Please enable Javascript
and refresh this page.