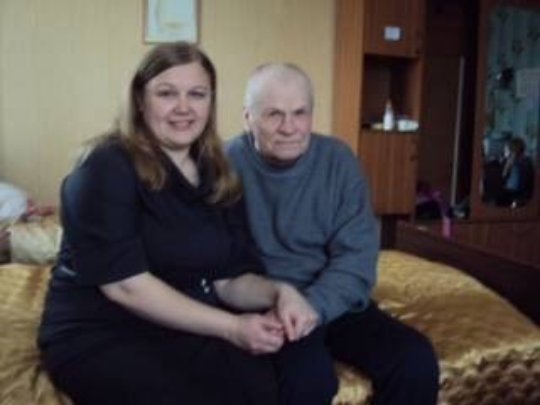 Dear friends,
Many times we say that one important function brought by nurses is saving old people from communication hunger and isolation from the word.
In normal life we learn something every day through internet, our work, communication with other people. But many old people especially those called "immobilized" live in constant isolation, their communication to other people and connection to the outside world is extremely limited. Imagine if the old lady wants to discuss something with the staff nurse, eg a book, or a news, or has a question. In the best case the staff nurse would say she has no time which is true.
In such isolation, your brain and interest to life die out. Therefore, our nurses are happy when old people ask them questions.
"We read books, letters, some babushkas ask us to read biographies of certain writers. I seek that in internet and read to them and they're very interested" – writes our nurse Oxana from Tulskaya region.
"There's one babushka Lyudmila Vasilievna in our home. She's completely blind and bed-ridden but still she doesn't lose her spirit and sustains her natural curiosity. She asks a lot of questions about actors, songs, she knows geography very well. I constantly explore her questions on web. Me together with internet are a great companion to her" – writes our nurse Vera from Vyshny Volochek in Tver region.
"Leonid asks me interesting questions every day, most of them I can answer only after through research on web, eg technical characteristics of "Topol M" rocket" – says Anna from Vyshny Volochek also.
And in Scopin nursery home, Ryazan region, due to your donations we could organize computer classes. Several old people learnt to use computers and internet which saves them from information deficit. By the way, in this home our nurses also organize regular literature evenings and talk about writers of Ryazan region.
Sometimes our nurses manage to find and restore the connection of old people with their relatives. Here's two recent stories, one from Vyazma (Smolenk region), the other one from Nyandoma (Arkhangelsk region).
Vasily Petrovich lives in Vyazma. He can hardly talk, rather wheezes, bed-ridden for many years. But he has a passion for music and songs, when we visit him he always ask to play the "Amur Waves". Recently, he faced a big trouble, serious leg illness. Without an urgent operations his leg would have to be amputated, otherwise, he would die painfully from of gangrene. Well, our Fund doctor Marina Andreevna persuades Vasily Petrovich to go for the operation, our Fund makes all the necessary effort to collect documents, organize transport, care. But then it suddenly turns out that Vasily Petrovich himself categorically refuses to go anywhere. "Why should I deprive my leg and remain alive if I do not have anyone and I do not need anyone? I buried my wife long ago, my son and daughter quarreled many years ago and they do not communicate with each other, moved to different cities, I have not seen anyone since. For what or for whom should I live now? "
We don't know what would be the end of this story if not our doctor Marina. She discussed the situation with our Fund nurses in Vyazma. Our senior nurse, Olesya, found the phone numbers of both Vasily Petrovich's children, reached them and explained the situation.
And right on the next day both Vasily Petrovich's son and daughter appeared simultaneously at his door (this really how it happened). They reconciled with themselves, then with their father, and finally persuaded him to do the surgery. He agreed, went for the very complicated treatment. Now he wants to live again – and he started to! Can you imagine? After a hard operation and many years of being bed-ridden! Now he asks to help him getting into the wheelchair to go out with his children to the yard.
Meanwhile, in Nyandoma another story happened. Gennady Fyodorovich got into the nursing home just recently. He lived alone for many years in Moscow suburbs while his children were somewhere in Arkhangelsk. Any connection was completely lost, no phone numbers, no addresses. Besides, he got blind and had to go to the nursing home in Nyandoma. There we have our Fund nurse Masha Nikeshina, he asked her is there some possibility to find his children. Masha immediately consulted with the local social worker, wrote the requests, searched through the old addresses - and finally found out out the younger son of Gennady Fyodorovich. Masha reached out to him, told him about his father, then Gennady himself could talk to his son. They agreed that the son would visit him. Masha organized everything for the visit, rented a hotel room in Nyandomam helped Gennady Fedorovich to get there. And although he couldn't see, he still could hug his son and his grandchildren about which he didn't even know. Now whole his family promises to visit him, and the grandchildren are happy that now they have a grand-farther.
What to say here. "When you receive such letters from our nurses almost every day, you realize you will take whatever efforts for these stories to continue" – writes Liza Oleskina.
And these stories are possible due to your regular donations. Thank you, our donors!