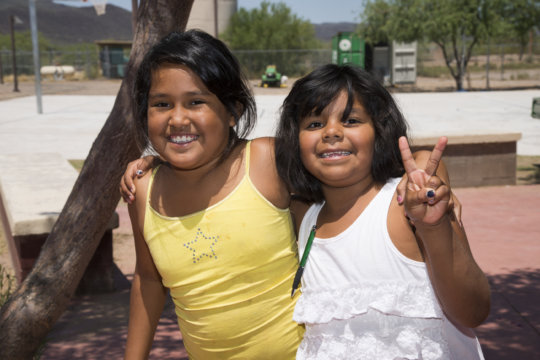 Dear Friends,

Thanks to your support, the 2015 Gu Vo Academic After-School Program has been our strongest to date. Fall semester alone, we served over 2,000 healthy meals to students. This is crucial on such a remote tribal nation where healthy food options are few and far between. Our students love the change of pace with a warm, nutritious dinner each evening during the school week.
We spent the summer meeting with celebrated after-school professionals all over the state of Arizona in an effort to refine our program to be as effective as possible. After months of planning and guidance, our program is thriving, with an average of 32 students per day. We are also incredibly fortunate for the volunteerism of the Gu Vo Youth Leadership Council who, along with our staff, mentor the students daily.
Each after-school session is made up of lessons in math, reading, writing, composition, STEM lessons, tribal culture and tradition, art-and-crafts, and play time. Our students cannot wait to get to the program. In fact, they are so happy with it, we have extended our calendar into winter break, taking our 36-week program to 42 weeks. You, the donor, made this (and so much more) happen!
Refining our after-school program to its current, top-notch state, was only the beginning, as we continue to improve and find new ways to give these underserved kids the lessons and tools needed to break the cycle of poverty on the Tohono O'odham Nation. Please consider making another donation to the Native American Advancement Foundation so we can continue this great program into 2016. The beautiful thing about supporting nonprofits is that every action is meaningful. If you are unable to give, please follow us on Facebook by clicking here and/or subscribe to our newsletter by clicking here and filling in the field on the right side of the page.

We truly cannot express how much your support means to us and our young scholars. Together we can make a meaningful difference for these eager students so many have forgotten.
Sincerely,

Jim Kober, MPA
Executive Director
Native American Advancement Foundation (NAAF)