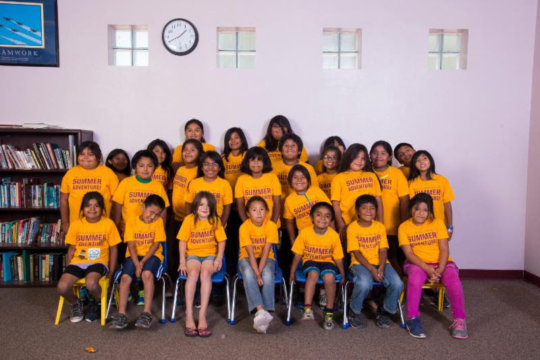 Dear Friends,
Our 6-week academic Summer Adventure has come to an end. We could not have hoped for a better group of kids, volunteers, and staff. These dedicated youth worked hard each day to improve their reading, writing, math, and science skills. They also attended multiple educational field trips, including: the Arizona Science Center, the Musical Instrument Museum, the local Border Patrol station, the Tohono O'odham Cultural Center and Museum, and IMAX. On the second-to-last day, the Tohono O'odham Fire Department swung by for a "wet-down" where they soaked the campers with a fire hose. Needless to say, this is always a huge hit with the kids!
Although we are sad to see the campers go, we are excited to share with you plenty of photos and testimonials. We asked these youth what they liked best about Summer Adventure, what they would like to see in next year's camp, and if they plan on coming back. After all, this is their Summer Adventure, and they know how to share the experience better than anyone. So, without further delay, we present to you, NAAF's 2015 Summer Adventure as told by our amazing, intelligent, studious, and smiling young campers:

"I really liked doing the math on the laptops, because it helped me with my math skills. I like reading, too! I want to thank everyone that ran the program, especially Trevor for cooking for us." - Zoe (age 6)

"My favorite part of the camp was learning. Also, I like coming to the recreation center. I liked the healthy food we ate. It was very good. I liked camp because every day is a new day for new activities. I would have liked to attend a basketball game in a stadium. I also would've liked to see the ocean, because I want to see the boats and birds" - Idynna (age 7)

"My favorite was when we went on the elevator!" Aldrina (age 7)

"My favorite part was reading on the computer and eating!" - Damian (age 6)

"The best was going to the Musical Instrument Museum in Phoenix. I love music. I love this camp because it is fun. We do math, reading, and writing in our journals. I think other kids should come to Summer Adventure. I also think we should play with water balloons next year!" - Autumn (age 11)
"I most liked the part when we play games with the staff. I also liked going on field trips, learning and seeing new things. I didn't like that the program was only five hours a day. I wish it could've been longer." - Demetri (age 5)

"I liked when we danced Cumbia in the multipurpose room. That was fun. I loved all the arts and crafts, too. I plan on coming back next year." - Jaleesa (age 8)

"My favorite part is to go to math." - Keira (age 8)

"I like that we get to go on the laptop and do reading and math." - Dilah (age 8)

"I like math and reading on the laptops." - Rose (age 9)

Q: What was your favorite part of camp?
A: Getting wet by the firefighter.
Q: Why?
A: Because I got soaked and wet!
Q: What would you like to see at next year's camp?
A: Water balloons!
Q: Why is that?
A: Because we can get wet by them and cool down.
Q: That makes sense. Will you be coming back next year?
A: I would love to come back!
Q: That's great! Why?
A: Because we learn.
- Amoni (age 9)
In case you are wondering, 100% of our campers stated they would return next year! Oh, and it looks like we may have to extend our hours, according to Demetri! :)
We honestly cannot wait for next summer. We will be ready for these great kids with an even stronger program!
Thank you all for your support. You truly have made the best kind of difference in these kids' lives. We are so grateful to you!